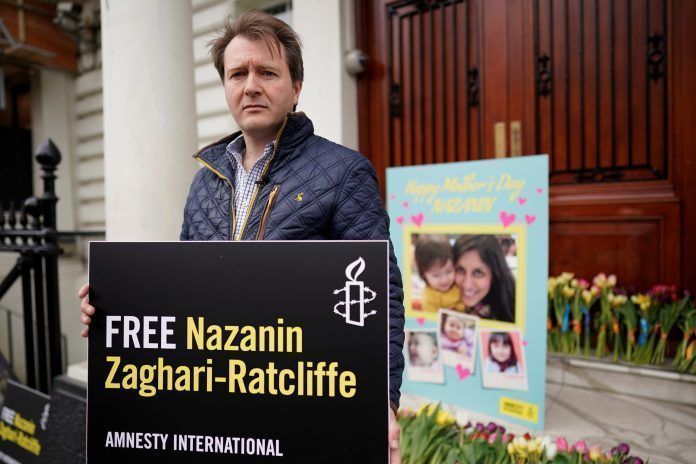 Richard Ratcliffe, the husband of the detained British dual national Nazanin Zaghari-Ratcliffe, announced a new alliance at the United Nations General Assembly in New York demanding that the international community hold the Iranian government to account for its treatment of detainees.
The Family Alliance Against State Hostage Taking, which launched at the summit, has been established by families of hostages and former hostages held in Iran and elsewhere to address what the group describes in its press release as state hostage taking. The aims of the alliance are to stop states using prisoners as leverage in diplomatic talks, encourage the United Nations to do more for prisoners, and raise awareness around individual cases.
On October 2, Mrs. Zaghari-Ratcliffe made a separate public appeal for her release in a letter she wrote inside Evin Prison, which was sent to the Center for Human Rights in Iran (CHRI). She described her distress at being separated from her daughter in detail, and accused the Iranian government of 'putting her on sale' in return for 400 million pounds owed to Iran after a pre-revolution deal between the UK and Iran that was never completed.
Mrs. Zaghari-Ratcliffe has served three years of a five year prison sentence for allegedly trying to bring down the Iranian government.
Her husband, meanwhile, urged UK Prime Minister Boris Johnson to secure Nazenin's release while at the UN General Assembly. That was shortly before Johnson met with Iran's President Hassan Rouhani and called for Mrs. Zaghari-Ratcliffe's release during the meeting, inviting Rouhani to London for further talks.
Concerns that the Iranian government has used prisoners as part of a diplomatic barter system were raised when Iranian Foreign Minister Javad Zarif told the Assembly that the Iranian government had offered to release Mrs. Zaghari-Ratcliffe in return for the 400 million pounds owed to Iran by the UK.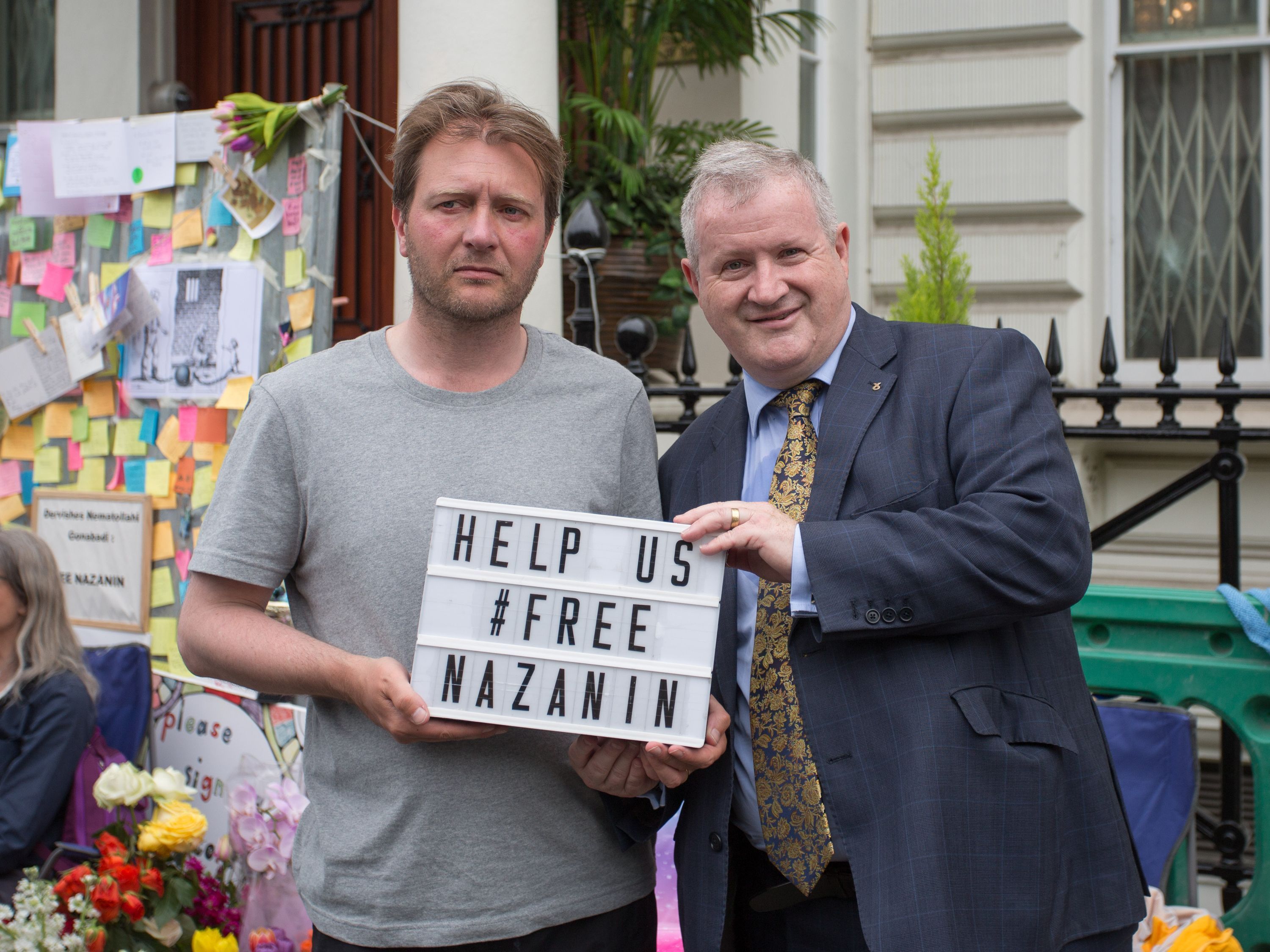 Speaking to Kayhan Life, Richard Ratcliffe said there was an urgent need for a coordinated and international approach to penalize Iran for what he called its hostage taking practices.
"This should no longer be seen as a clever diplomatic tactic. Javad Zarif should not be coming to the United Nations General Assembly to market hostage deals, as he did this year for Nazanin and others," he said.
While at the U.N., Richard and several other members of the Alliance attended the UK government's conference investigating human rights abuses by the Iranian judiciary, which was also attended by the Iranian Mission. The event included an in-depth discussion about the judiciary's direct role in seizing foreign and dual nationals.
The group then met with Iranian actress and human rights activist Nazanin Boniadi, as well as human rights organizations and specialist hostage groups to discuss possible collaborations for future campaigns.
"Other countries are also watching and beginning to emulate Iran's strategy, and this will quickly get out of control. This issue can no longer be pretended away, by treating these as normal consular cases," Ratcliffe explained.
The UK Foreign Office has also been critical of the Iranian government using prisoners as bargaining chips in diplomatic talks.
Foreign Office officials told The Telegraph daily that Tehran was using two British-Australian women in prison as leverage, in the hope of securing the release of an Iranian imprisoned in the U.S. on charges of sanctions evasion.
Travel bloggers Jolie King and her partner Mark Firkin were arrested for using a drone in a restricted area, and have been held in Evin prison for more than two months. Kylie Moore-Gilbert, a Middle East politics specialist at Melbourne University, was sentenced to ten years in prison on spying charges, and is also being held in Evin prison.
Despite being unable to discuss Iran's policy towards prisoners with the Iranian mission at the summit, the Alliance were able to hand Iranian officials a copy of the group's concept paper, and spoke with missions from Germany, France, Netherlands, Denmark, Canada, the U.S. and the UK.
"This year's United Nations General Assembly felt like a breakthrough. We finally got recognition that these foreign and dual national cases are almost all victims of a kind of hostage taking," Richard said.
"In the end it needed us as families to come together in the Alliance to say it for ourselves — which felt brave and exposed — but now we can ask the world to do something about Iran's use of prisoners at the diplomacy table."
---