---
---
The Iranian government's statement that it made a mistake in shooting down a Ukrainian commercial jet which killed all 176 passengers last month would not be a valid legal defense in the $1.1 billion suit launched against it, lawyer Mark Arnold has told Kayhan Life.
Mr. Arnold, a Canada based lawyer who launched the suit with his son and co-counsel Jonah Arnold in Toronto, has successfully sued Iran in the past, and has been responsible for several landmark cases which changed the law in Canada on suing states engaged in terrorism.  
The lead plaintiff, who lost a relative on the flight, is referred to only as John Doe in the claim, amid fears that his family members, who live in Iran, may otherwise be at risk of harm or death by Iranian authorities.
In a video which Mr. Arnold recorded for a Feb. 16 memorial service held in Toronto for the victims of the crash, he explained how the lawsuit was prepared, and why he believed Iran's 'accident defense' would not be upheld in court.
The claim alleges that the incident on Jan. 8 was "an intentional and deliberate act of terrorism," and names Iran, its Supreme Leader, the Islamic Revolutionary Guard Corps (IRGC) and several other government departments and officials as defendants. It has been raised on behalf of all of the victims on board Ukraine International Airlines Flight 752.
"In my view, by way of an analogy, if you pick up a gun, point it at someone's head, and then pull the trigger and kill them, it is not a defense to say you are mistaken."
The memorial service was held 40 days after the crash, in line with mourning customs under Sharia law. Mr. Arnold said he expected 300 to 400 people to attend the service, including Canadian Members of Parliament. 
Mr. Arnold hopes the Canadian court will grant him permission to raise the claim as a class action, which would allow victims from other countries to join the suit. 
"The class action is filed on behalf of all of the family victims that were on that plane. So we are hoping that the court will endorse this suit as a class action on behalf of all of the victims on that plane, regardless of nationality."
Responding to Iran's Foreign Minister Mohammad Javad Zarif, who said the lawsuit had no legal basis, Mr. Arnold said, "Zarif says the claim is not viable under international law, but this is not a claim brought under international law. This is a claim brought in Canada under Canadian law."
Under Canada's laws, Iran is recognized as a state sponsor of terrorism, which is the suit's legal basis for launching the action. Mr. Arnold said he expected the Iranian government to counter the suit by saying the incident was a mistake, posing a challenge to the suit's legal basis, which alleges that the incident was a deliberate act of terror. 
Some analysts say that the Iranian government chose not to close down commercial flight paths so that passenger planes would act as human shields, blocking opposing forces from attacking Iran's military bases during a period of heightened tension between Tehran and Washington. 
Reflecting on what arguments he might include at a later stage of the process, Arnold said, "Anything and everything will be part of the case once I get full documentary evidence."
Information about the plane crash held in the Boeing 737-800's black boxes has yet to be extracted, as Iranian officials continue to investigate the incident jointly with Ukraine. Canada's requests to hand over the black boxes have been largely ignored by Iran. But on Feb. 18, Iran's Minister of Road and Urban Development, Mohammad Eslami, said Iran would send the black boxes to a third country if neither Iran or Ukraine could open them. Eslami did not give any details about which country might receive the black boxes.
The lawsuit is likely to take several years to pass through the courts, and though judgments have been made against Iran, full recovery of damages and other punitive measures is rare.  
While the Iranian government tends not to respond through legal channels to foreign lawsuits naming Iran as a defendant, Arnold has personal experience of situations where this has not always been the case. 
"In the Tracy case, Iran at first instance did not appear, but when they realized we were going to get judgment against them, they did appear and attempted to argue in both the lower court and the court of appeal, that the default judgment should be set aside because they hadn't defended it in the first instance, but the court did not accept that."
He added, "In the end last year, we seized a great deal of assets in Canada."
In Tracy v. The Iranian Ministry of Information and Security, a judge in Ontario's Supreme Court of Justice ordered that several Iranian-owned properties in Canada be seized and sold, with the proceeds given to victims of Iran-backed Hamas and Hezbollah. News of the sale of these properties angered Iranian officials, who called on Canada to revoke the judgment and threatened to seize Canadian shipments going through the Strait of Hormuz. 
Arnold believes the lawsuit places Iran's leaders in a difficult position.
"The Iranian government are on the horns of a dilemma. If they don't defend the claim, they will be noted in default and we will try to obtain default judgment. If they do defend and claim negligence, they're going to have to produce documentary material, which gives us full discovery rights and access to all their information."
Of the 176 people who lost their lives on the flight, 57 were Canadian, at least 83 were Iranian, while 11 victims were from Ukraine, four were from Afghanistan, four were Britons and three were Germans. There were 15 children in total on the flight. No passengers survived.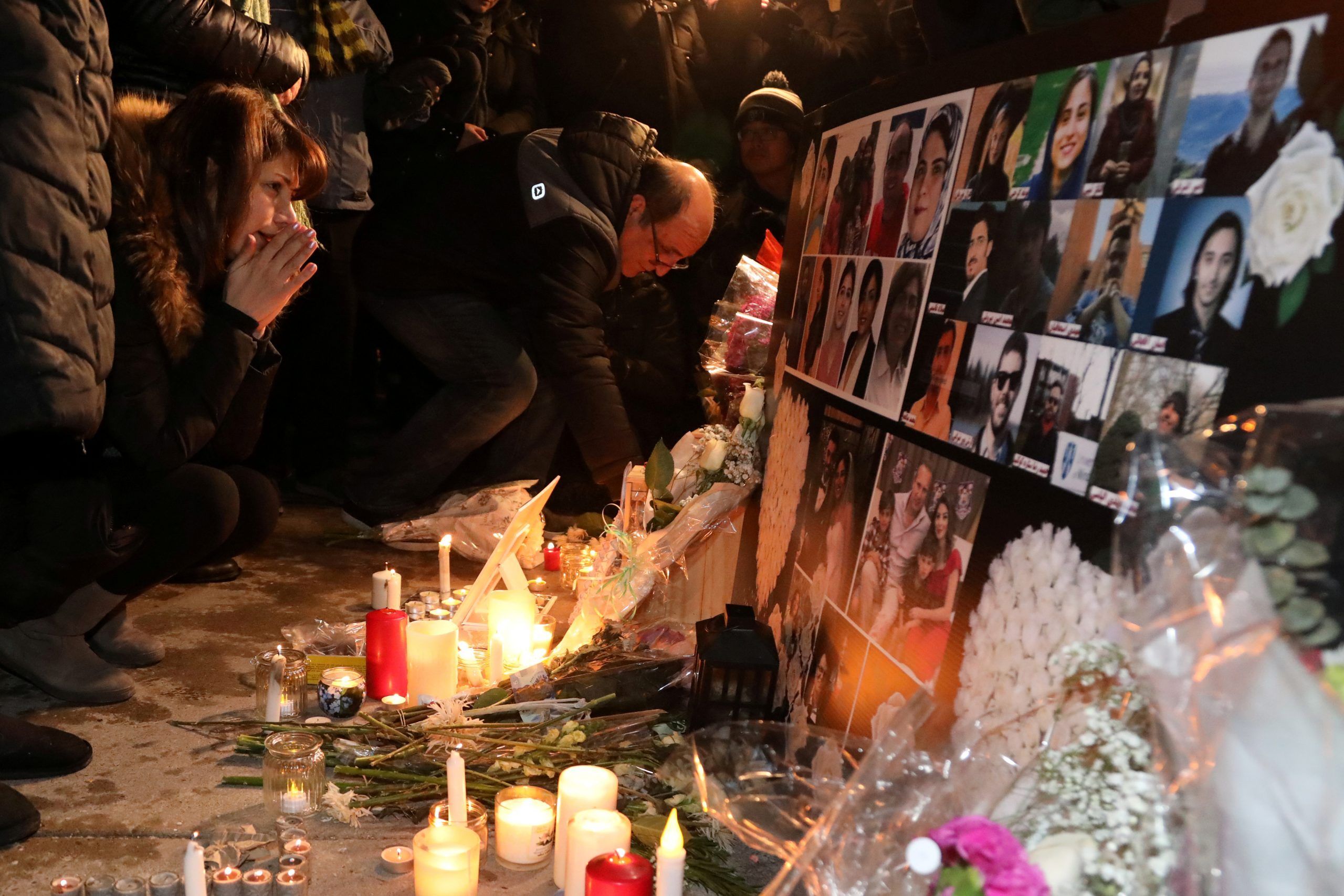 ---