---
By Nazanine Nouri
---
The Iranian-born filmmaker and graphic novelist has taken up a new artistic discipline: painting.
A series of her canvases recently went on show at the Art Paris art fair, held in a sprawling temporary structure, the Grand Palais Ephemere, at the foot of the Eiffel Tower. Exhibited by the Francoise Livinec gallery, they are striking portraits of women with red lips and manes of jet-black hair, painted in Satrapi's signature colors.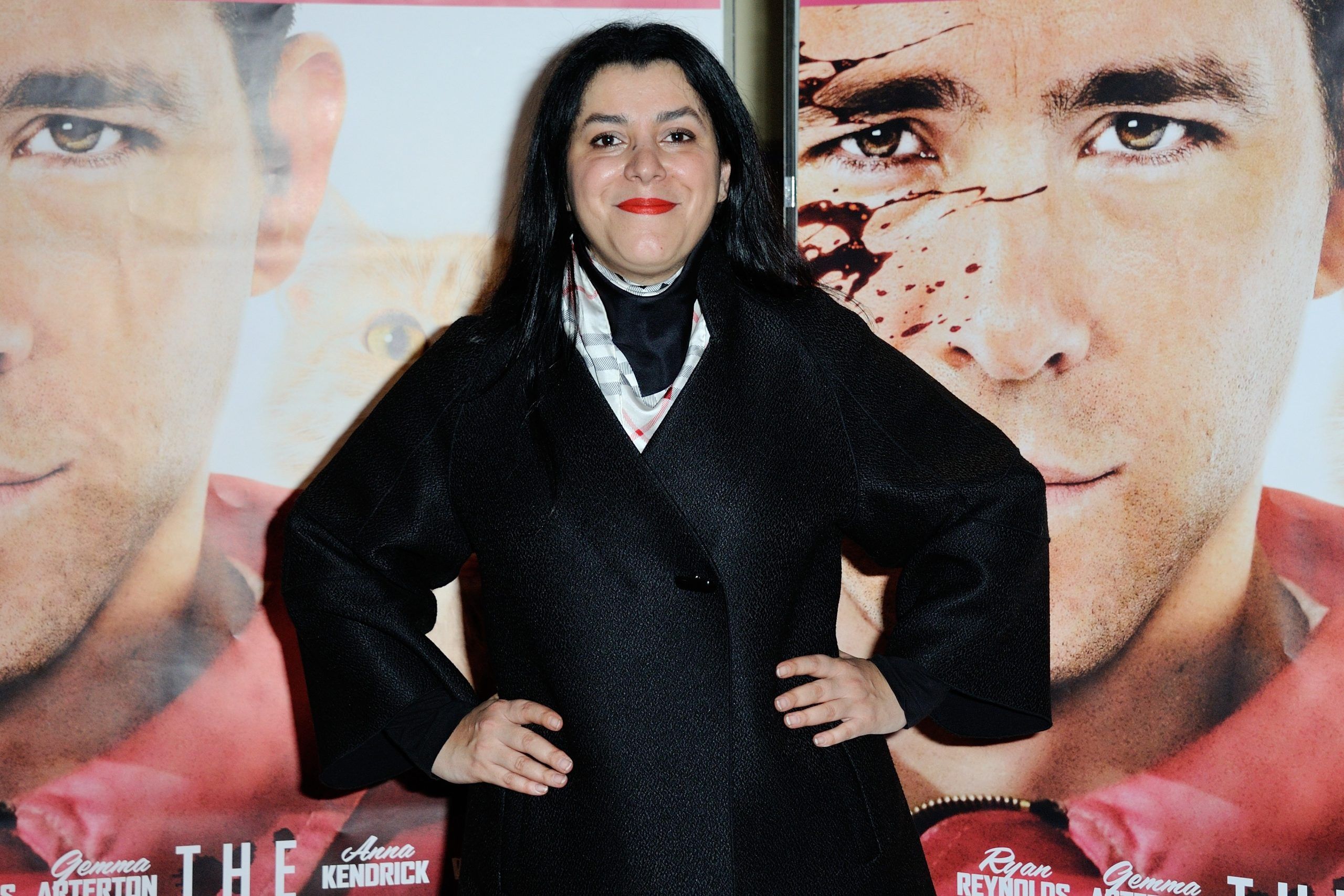 The painting display comes weeks after Satrapi revealed her design for a tapestry that was commissioned by the French government to commemorate the 2024 Paris Olympic Games and that will be woven by the country's finest ateliers.
"I have a particular relationship with France," Satrapi told Paris Match magazine in a July interview. "It's my adoptive stepmother. She has been kind to me, kinder than my own mother. Many of the things that I was able to do in my life, I owe to France and to its generosity."
Satrapi's paintings have been on show at the Galerie Francoise Livinec since October 2020 – when France was in and out of lockdown.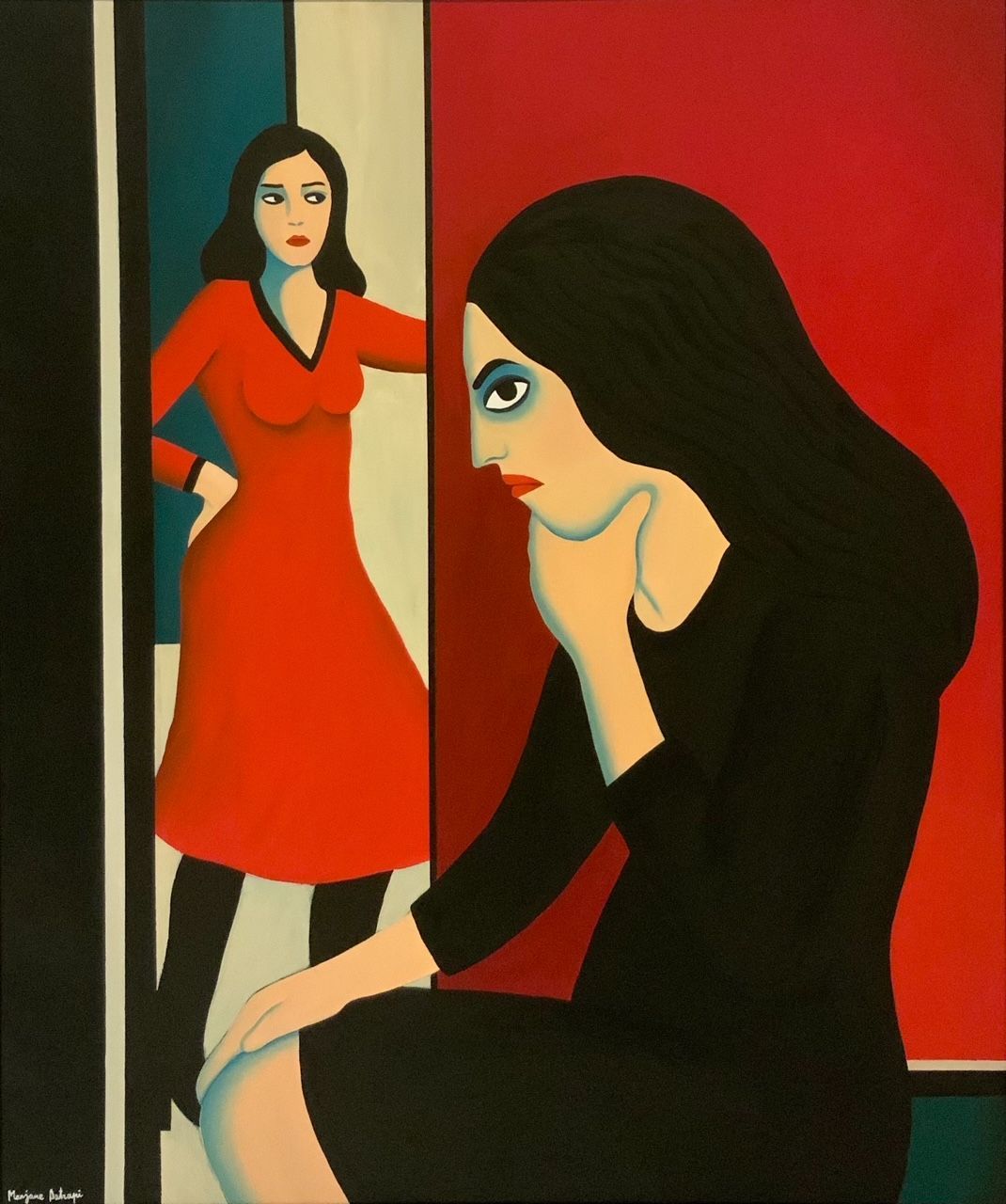 "Painting is about going back to the origin of what I liked doing. And my mental health depends on it," Satrapi said in an interview with Agence France-Presse at the time. "Like the Old Masters, I would like to satisfy the public need for beauty."
None of her portraits feature men because in her eyes, men do not fill this need. "All that badly shaved skin. The male peacock may be more beautiful than the female, but with humans it's the women who are much prettier," she said.
Satrapi was born in Rasht, Iran in 1969.  The only child of Westernized and well-to-do parents whom she describes as "Gauche caviar" ('caviar leftists'), she grew up in Tehran and attended the Lycée Français.
In 1984, when she was in her teens, her parents grew concerned for her safety in Iran. So  she was sent to Austria. She stayed in Vienna through her high school years, studying at the Lycée Français and moving from one residence to another as her circumstances evolved.
Feeling alienated after a failed relationship, she lapsed into a state of depression that left her homeless and using drugs. She then returned to Tehran at 18.
There, she attended college and had a short-lived marriage before moving back to France in 1993 where she earned a degree in illustration at the Strasbourg School of Decorative Arts.
Satrapi first gained recognition with "Persepolis," an autobiographical graphic novel about her experience as a young girl growing up in Iran during the Islamic Revolution of 1979 and the Iran-Iraq War that ensued in 1980.
Originally published in French in two volumes in 2000 and 2001, the graphic memoir was later translated into English as "Persepolis: The Story of a Childhood" (2003) and ultimately into at least 20 other languages, with more than 2 million copies sold worldwide.
The sequel, "Persepolis 2: The Story of a Return," was published in 2004 and told the story of Satrapi's years in Austria and her return to Iran at 18, as she struggled to put up with life under a strict government and in a country at war. The graphic novel was later adapted by Satrapi for the big screen, and the animation film was nominated for an Academy Award for best animated feature in 2007.
Satrapi followed up with "Embroideries," an account of her candid conversations in Tehran with her mother, grandmother and other female relatives and friends about love, sex and men;  "Chicken with Plums," (adapted into a movie in 2011), the story of her great-uncle, a renowned "tar" (lute) player who resolves to die when he cannot properly replace his broken instrument; and the illustrated children's books "Monsters Are Afraid of the Moon" and "The Sigh." She also directed "The Voices" (2014) and "Radioactive" (2019), a biopic about Marie Curie.
Marjane Satrapi Releases 'Radioactive,' Biopic of Marie Curie
Satrapi told Agence France-Presse in the interview that she missed the warmth of her homeland, "its hospitality, the Elburz mountains and Farsi jokes…and its poetry, the purest form of expression. We are the only people who, when we want to be really understood, quote Saadi, Hafez, and Omar Khayyam."
"A people whose mausoleums for its poets are fuller than its mosques cannot be bad," she added.
Satrapi now lives in the Marais district of Paris with her Swedish husband Mattias Ripa.
---
Similar Articles to This Post