---
By Kayhan Life Staff
---
Some 70,000 underage children are working as street traders and peddlers in Iran, the deputy director of the State Welfare Organization (SWO) Habibollah Massoudi-Farid has said, citing a recent study by the University of Social Welfare and Rehabilitation Sciences in Tehran.
Mr. Massoudi-Farid divided children who are part of the country's labor force into various categories.
"Children who spend their time peddling goods in the streets either make their living that way or lack responsible adult supervision. They are street children," Massoudi-Farid was quoted by the Iranian Students News Agency (ISNA) on Sept. 11, as saying. "While most of these children spend a few hours a day in the streets, a small minority virtually live there."
"Many children do not peddle goods in the streets but have jobs in workshops," Massoudi-Farid explained. "They work under stressful conditions. However, most of them prefer working outdoors, because they do not get abused in public the way they do in workshops. Society has a greater awareness of street children's plight, and people try to protect them against harm."
"We do not know the identity of most of the children who are hired by workshops, because various agencies monitor the operation of these establishments, including the SWO and the Ministry of Labor and Social Affairs," Massoudi-Farid noted. "However, many of these workshops do not have an operating license. They do not even have a sign above their door to identify them as a business."
"There is no data on the exact number of children hired by workshops," Massoudi-Farid added.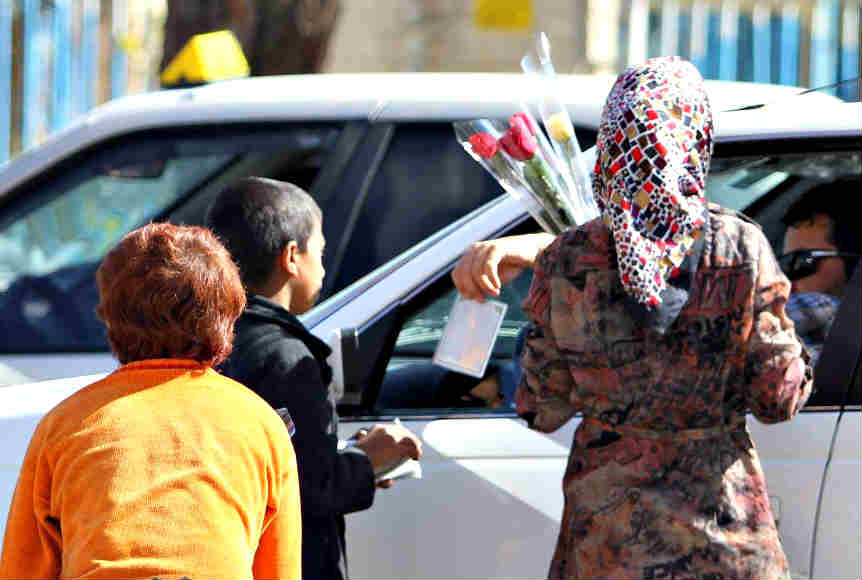 According to official reports released earlier this year, nearly half a million children between the ages of 10 and 17 are in the labor force in Iran, 410,000 have jobs, and the remaining 90,000 continually look for work.
In comments reported by the Islamic Republic News agency (IRNA) in June, Tehran's Deputy Mayor Mohammad Reza Javadi-Yeganeh said the poverty level had increased in the capital in recent years, "forcing many families to send their children into the street to peddle goods or collect trash."
"Tragically, these children do not attend school," Javadi-Yeganeh added.
In an interview with the Iranian Labor News Agency (ILNA) in February, the Secretary-General of the Workers' House, Alireza Mahjoub, said: "The Labour market is full of children younger than 18 who have been forced by their parents to work after they had lost their jobs. Some unscrupulous people exploit and sexually abuse these children."
"Children should be in school, not in a workshop or on the streets," Mr. Mahjoob added. "During my visit to Shush Street [a poor district in the south of Tehran], I saw parents offering their children for day labor. This is against labor laws, and the Child Protection Act, which Majlis [Iranian Parliament] has yet to pass."
In a statement released on June 12 to mark UN World Day Against Child Labor, Iran's Minister of Cooperation, Labor and Social Welfare Mohammad Shariatmadari, said: "All relevant organizations, institutions, and agencies must make concerted efforts to fight child labor."
This article was translated and adapted from Persian by Fardine Hamidi.
---