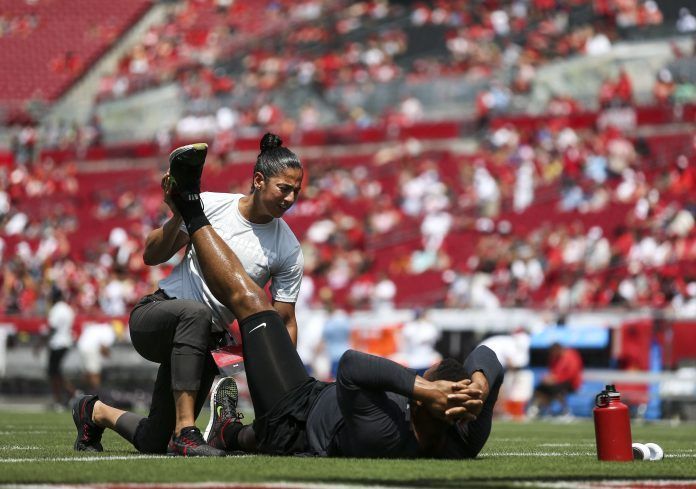 ---
By Nazanine Nouri
---
For the first time ever in the history of the Super Bowl, Iranian-American Maral Javadifar was one of three women to be on a coaching staff on Sunday. Javadifar, an assistant strength and conditioning coach for the Tampa Bay Buccaneers, was on active duty as her team faced the Kansas City Chiefs in Tampa, Florida.
"I do look forward to the day when it's no longer newsworthy to be a woman working in the pros or making the Super Bowl for that matter," Javadifar told reporters on an NFL Zoom call. "I hope we get to a point where all people are afforded equal opportunities to work in professional sports, because there are a lot of great, qualified coaches out there. I've said it before, it doesn't matter your gender, or your race or your ethnicity."
"I'm so proud to work for a head coach like Bruce Arians and be a part of an organization like the Tampa Bay Buccaneers," she added, "where all the characteristics of gender, race, all that stuff doesn't matter and they're looking to hire a qualified person."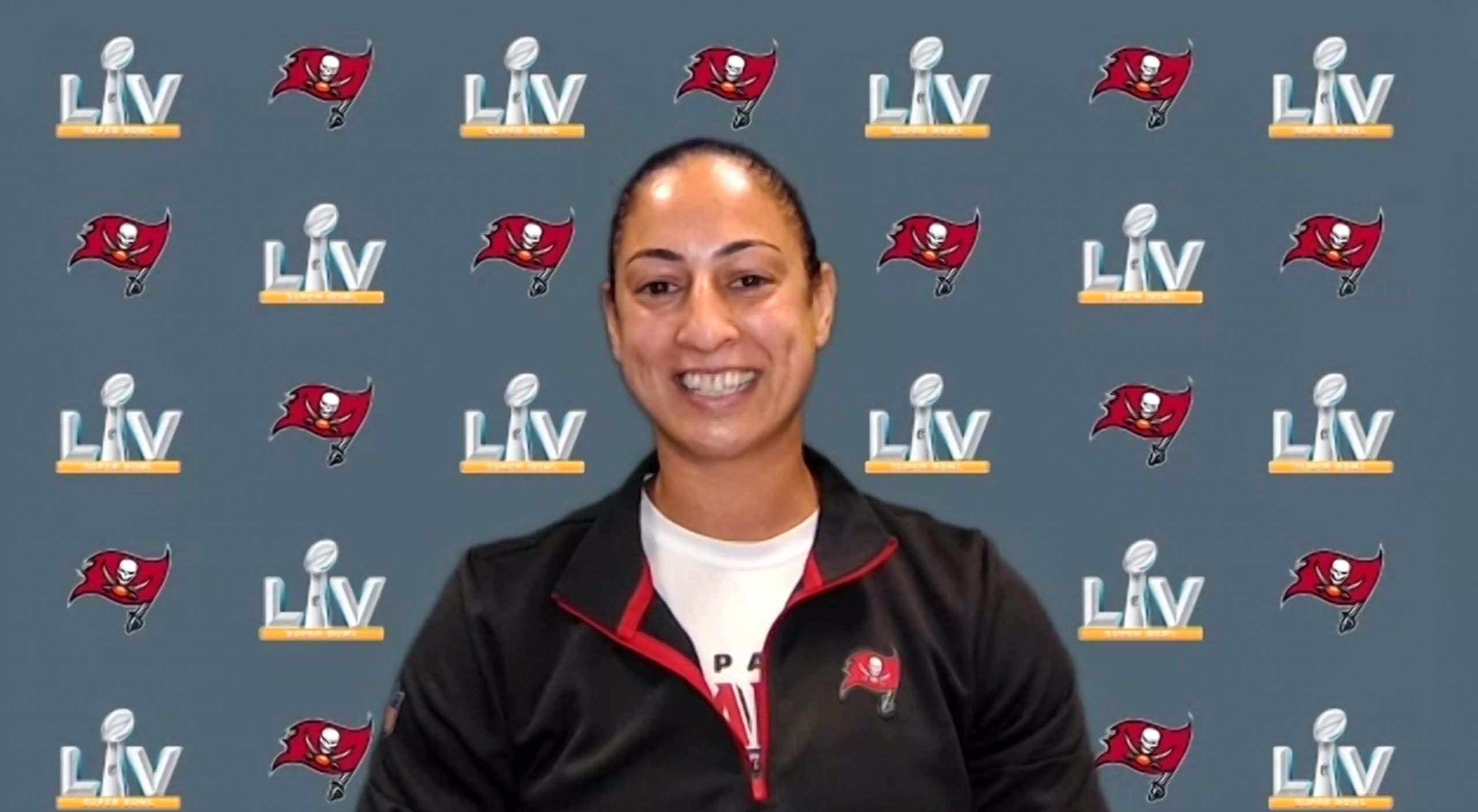 Maral Javadifar, known as MJ, was born to Iranian parents who fled war-torn Iran in 1984. She grew up in the New York City borough of Queens, watching her parents work hard as immigrants so that she and her brother could pursue their passions.  While growing up, their mother shared stories about the opportunities that had been denied to women in her native Iran, including the ability to attend sporting events.
"She was escaping a revolution and she didn't have any of these opportunities to be a woman in society," Javadifar told the Tampa Bay Times in May 2019. "So when she came here, it was kind of like, 'We're going to break down barriers.'"
Maral became interested in physical therapy after an anterior cruciate ligament (ACL) tear during her high school years at The Mary Louis Academy.  After a successful physical therapy rehabilitation and strength and conditioning program, she received a college basketball scholarship from Pace University, where she went on to compete in the National Collegiate Athletic Association (NCAA) tournament three times during her collegiate career.
Maral earned a Bachelor of Science degree in molecular biology from Pace, and a Doctor of Physical Therapy degree from New York Medical College.  After  completing her Sports Physical Therapy Residency at Virginia Commonwealth University, in 2019, she was brought in as Assistant Strength and Conditioning Coach for the Tampa Buccaneers.
Together with Lori Locust (Assistant Defensive Line Coach), they became the first full-time female coaches in franchise history, making Tampa Bay the first NFL team with two female coaches on staff. (It was Bruce Arians, the Buccaneers head coach, who made the decision to add women to his staff when he took over.)
Among all the candidates the team had considered at the time, Javadifar easily stood out for Anthony Piroli, the Buccaneers Head Strength and Conditioning Coach.  "We spoke to some good people, but it wasn't even close in my eyes," he told the New York Post this week. "I think after the phone interview I definitely thought that she was the best person we spoke to.  But once we interviewed in person, it was a done deal in my opinion.  She just really covered all the bases I want someone on our strength staff to cover and then some."
Javadifar is able to combine being a performance coach with a sports medicine background.  She is a natural bridge between the team's strength and conditioning staff and its medical team. "Having a doctor of physical therapy with a performance background on a strength staff in and of itself is more than something that most of us strength coaches would like to have," Piroli told the Tampa Bay Times.
In a recent interview with ESPN, Cameron Brate, the Buccaneers tight end, noted that given Javadifar's wealth of experience and knowledge of the human body, the players found out quickly that she was someone to go to. "Every morning before meetings and after every practice, there's a line of five or six guys waiting to have her work on them," he said.
---
Similar Articles to This Post