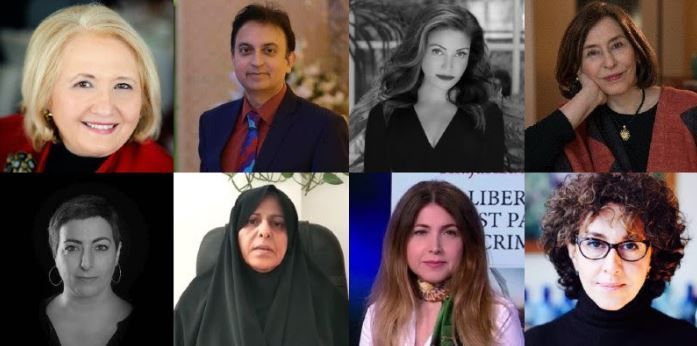 ---
By Kayhan Life Staff
---
The status of women in present-day Iran will be the focus of two panels hosted by Georgetown University's  Institute for Women, Peace and Security on Sept. 1 and Sept. 8.  The conversation will be led by prominent Iranian and international advocates of human rights and women's rights.
The Georgetown Institute for Women, Peace and Security is led by Melanne Verveer, who in 2009 was appointed the first U.S. Ambassador for Global Women's Issues by U.S. President Barack Obama. The institute "engages in cutting-edge research on women's roles in a number of areas including peace and security efforts, economic empowerment and countering violent extremism."
The Sept. 1 panel, titled "Beyond Geopolitics: The State of Women's Rights in Iran," will spotlight the long history of Iranian women's leadership and resilience despite severe pushback, as well as the need to center Iranian women's rights within global discussions on human rights and women's rights.
Leaders and activists on the frontlines will strategize the way forward for the Iranian women's movement and recommend key actions for the international community to support them in the Sept. 8 panel, titled "Iranian Women on the Frontlines: Strategies for Change."
The panels are co-hosted by Shéhérazade Semsar de Boisséson, former CEO of Politico, Europe and Nazenin Ansari, managing editor of Kayhan London and Kayhan Life.
The full list of speakers and details is below.
Part I (Sept. 1): "Beyond Geopolitics: The State of Women's Rights in Iran" 
Dr. Javaid Rehman, United Nations Special Rapporteur on Human Rights in Iran
Ms. Asieh Amini,  Writer, Poet & Social Analyst , Board member, Norwegian PEN , Founder of the Stop Stoning Forever Campaign
Dr. Nina Ansary, Author, Historian & UN Women Global Champion for Innovation
Dr. Azar Nafisi, Georgetown Centennial Fellow, Author of Reading Lolita in Tehran
Ms. Fatemeh Sepehri,  A "Martyr's Wife" , Secular Democrat Activist & Prisoner of Conscience
Ms. Shaparak Shajarizadeh,  Women's Rights Advoate,  Girls of Revolution Street Movement
Ambassador Melanne Verveer, Executive Director,   Georgetown Institute for Women, Peace, and Security (GIWPS)
Moderated by:
Ms. Nazenin Ansari, Managing Editor, Kayhan London & Kayhan Life
Wednesday, September 1
10:00AM-11:30AM EDT
RSVP here for the virtual event
---
Part II (Sept. 8): "Iranian Women on the Frontlines: Strategies for Change" 
Ms. Nazanin Boniadi, Actress , Ambassador, Amnesty International UK Women's Rights Advocate
Ms. Masih Alinejad, Journalist, Author, & Women's Rights Activist
Ms. Narges Mohammadi, Spokesperson, Defenders of Human Rights Centre (DHRC)
Ms. Narges Mansouri,  Women's Rights Activist & Member of the Workers Syndicate of Tehran and Suburbs Bus Company
Ms.  Shéhérazade Semsar de Boisséson, Member of the Board of Advisors, Georgetown University Walsh School of Foreign Service, Former CEO of Politico Europe
Ambassador Melanne Verveer,  Executive Director, Georgetown Institute for Women, Peace, and Security
Moderated by:
Ms. Azadeh Pourzand,  Co-Founder and Director of the Siamak Pourzand Foundation
Wednesday, September 8
16:00-17:30 CEST
RSVP here for the virtual event
---