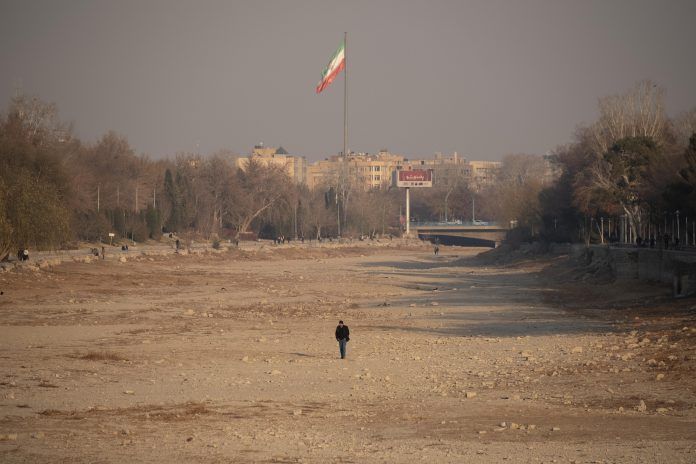 ---
By Kayhan Life Staff
---
Entire areas of the northern, north-central, and central provinces of Alborz, Yazd, and Semnan in Iran are affected by severe drought, the Islamic Republic News Agency (IRNA) said, citing a report by the Iran Meteorological Organization.
The Iran Meteorological Organization has monitored the progression of droughts in Iranian provinces over the past decade using the SPEI (the Standardized Precipitation-Evapotranspiration Index) system.
The SPEI is a multi-scalar drought index based on climatic data. It can determine the onset, duration, and magnitude of drought conditions in various natural settings and managed systems, such as crops, ecosystems, rivers, and water resources.
There are five categories of drought: meteorological drought, agricultural drought, hydrological drought, socioeconomic drought, and ecological drought.
There are also four levels of drought: moderate (D1), severe (D2), extreme (D3), and exceptional (D4).
According to the Iran Meteorological Organization report, 97 percent of Semnan, 87.6 percent of Alborz, and 67.9 percent of Yazd were impacted by D3 and D4 drought.
Mohammad-Ali Fahimi, the head of the groundwater research group at Yazd's Regional Water Authority, was recently quoted by the Iranian Labor News Agency (ILNA) as saying: "Severe land subsidence has reached within a few hundred meters of houses in some parts of the province. Besides incurring financial losses, it threatens people's lives."
ANALYSIS: Mapping Iran's Biodiversity Hotspots To Create New Protected Areas
Noting that the land subsidence in some regions is 100 times the international standards, Mr. Fahimi warned: "Critical land subsidence has been observed in three plains in Yazd, including around Ardakan, Abar Kouh, and Bahadoran. Other plains in the province will suffer the same fate if we continue to extract the same volume of water from the aquifers (underground layers)."
Subsidence is caused by removing water from the ground by pumping, fracking, or mining. Subsidence can also be caused by natural events such as earthquakes, soil compaction, erosion, sinkhole formation, and adding water to fine soils deposited by wind.
Subsidence can fill pockets within the soil that serve as natural reservoirs for underground water. As a result, soil loses its permutability, resulting in what experts call the "death of aquifers."
Land subsidence in certain areas like Abar Kouh has caused the collapse of the surface layer, creating sinkholes. According to Fahimi, there are 35 sinkholes in the Abar Kouh region, with some measuring 80 meters in diameter and 40 meters deep.
Earlier this month, Mohammad-Saleh Jokar, a Majlis (Iranian Parliament) deputy representing Yazd and Ashkezar electoral districts, said that the water shortage had caused many wells in Yazd Province to be deeper than 120 meters.
"Even if it were to rain, it would not help the wells at this depth," Mr. Jokar said.
Jokar noted that all cities and towns in Yazd were struggling with water scarcity, adding that tankers supplied water to 300 villages.
"Land subsidence has damaged farms and roads significantly," Jokar added. "Rail tracks, buildings, and historical sites have also been affected."
Mohammad Bazargan, the secretary of the water and environment working group, which operates under the auspices of the Expediency Council's agriculture committee, warned that prolonged drought will force a large segment of the population to migrate from southern regions to northern provinces by 2050, compounding the problems.
According to Mr. Bazargan, there are 609 plains in Iran, of which 430 are in "supercritical" conditions. There are no aquifers in 130 plains that face "supercritical" water conditions.
Under "supercritical" conditions, water is not a solid, a liquid, or a gas but appears as vapor.
In April, the head of Iran's Crisis Management Organization, Mohammad Hassan Nami, released a report that said 125,000 square kilometers of Iran's total area, i.e. 9 percent of its land mass, has been impacted by subsidence.
ANALYSIS: Much of Iran Is Threatened By Drought and Water Scarcity 
According to Mr. Nami, 200 cities and 9,200 villages with a population of nearly 19 million are facing the dangerous effects of subsidence.
In comments reported by the Iranian Students News Agency (ISNA) on June 19, Majid Aghazadeh, deputy director of Iran's Water and Water Waste Management Organization, said that 27,000 villages with a population of 10 million were facing water scarcity.
"Currently, 13,300 villages with a population of 1.6 million have no indoor plumbing and sewage system," Mr. Aghazadeh explained. "While 9,800 villages with a population of 1.9 million provide their water themselves, 17,600 villages with a population of 8.4 million face water scarcity."
Iran's Energy Minister, Ali Akbar Mehrabian, said in March that 300 major cities and provincial capitals were struggling with water scarcity.
In April 2022, Ahad Vazifeh, director of the Center for Drought and Crisis Management of Iran, said: "Summers start earlier and last longer, and winters are warmer than before. These changes have gradually destabilized the environment and the ecosystem."
Mr. Vazifeh explained that Iran had lost billions of cubic meters of accessible water in the past 50 years, damaging the environment, and causing mass migration.
According to a recent report by the water resources research office, which operates under the auspices of the Ministry of Energy, between Sept. 23. 2022 and May 5 of this year, only 188.1 millimeters of rain fell in the country, showing a 15 percent drop compared to a similar period.
The water reservoirs in the country's 33 dams have also shrunk. While the water level in the Chah Nimeh reservoir in the southeastern province of Sistan and Baluchestan has shrunk by 59 percent, it has dropped by 53 percent in the Doosti reservoir (the Iran–Turkmenistan Friendship Dam) on the northeastern Iran-Turkmenistan border.
According to a recent report by the Ministry of Energy, the five dams that supply water to Tehran Province, i.e. Taleghan, Latyan, Mamlou, Karaj, and Lar, hold 504 million cubic meters of water, showing a drop of 41 million cubic meters from last year.
In October 2021, Mostafa Fadaei-Fard, the director of the Flood Assessment Commission of the Iranian National Committee on Large Dams (IRCOLD), warned about the lack of a "cohesive and reliable water policy" in the country.
"Vast areas of the country are threatened by subsidence, resulting in inevitable migration of 37 million people to the northern and western regions," Mr. Fadaei-Fard added.
In its May 25, 2022 issue, the Tehran-based Shargh newspaper reported on the "agricultural and water crisis and a drop in food production," warning that the situation would "force thousands of Iranians to migrate."
Shargh's article headlined "Food Migration" included data from the UN Food and Agriculture Organization, which warned that Iran could lose 70 percent of its farmland, given the worsening of water scarcity, global crisis, and increasing food prices.
According to recent studies, water scarcity and drought are among Iran's biggest challenges.
"Iran has been suffering from unprecedented and widespread drought since July 2021," a report by the International Federation of Red Cross and Red Crescent Societies (IFRC) said. "A lack of safe and sufficient water supply for drinking, hygiene, agriculture, animal farming, and electrical power has a devastating and increasingly unsustainable strain on people's health and income."
In March, the UN World Water Development Report said that nearly 2 billion people worldwide had no access to clean and safe drinking water, adding that "approximately 3.6 billion people — 46 percent of the world's population — lack adequate sanitation services."
A March report by the World Resource Institute predicted that water scarcity will become a widespread crisis by 2040.
According to the outlook, "44 countries face either 'extremely high' or 'high' water-stress levels by 2040."
The World Resource Institute included Iran in its list of 17 countries with "extremely high baseline water stress."
Similar Articles to This Post