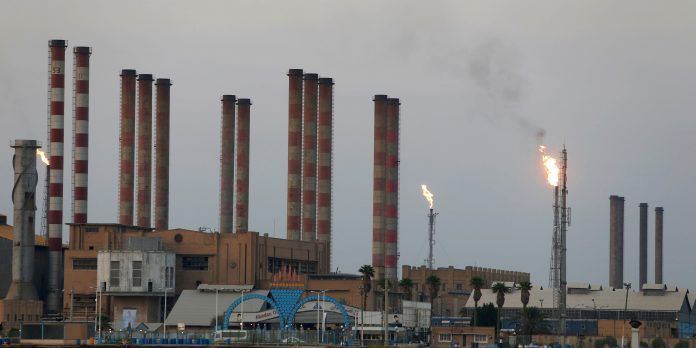 ---
By Kayhan Life Staff
---
Some oil-producing nations have benefited from Russia's recent military invasion of Ukraine. Iran is not one of them.
Stringent sanctions imposed on Russia following its invasion of Ukraine have caused an energy shortage in many countries that rely on Russian oil and gas.
To calm energy markets, shaken by Russia's invasion of Ukraine, Japan's three biggest banks, Mizuho Bank, Sumitomo Mitsui Banking Corp, and MUFG Bank, and British HSBC Bank and JP Morgan in the U.S. have agreed to lend $1 billion to Kuwait to increase its oil output, Japan's Nikkei Asia news agency reported on March 27.
None of that money will go to Iran.
Japan, Europe, and the U.S. are trying to discover and develop new oil fields to replace Russian oil. They are also urging oil-producing countries to increase output, the report by Nikkei Asia added.
It is not surprising that Kuwait should get the loan, given that it is the third-largest oil exporter to Japan after Saudi Arabia and the United Arab Emirates (UAE).
Iran's share of the most significant global commodity is minimal.
Japan imports 1.28 million barrels of oil per day (b/d) from Saudi Arabia, 1.1 million b/d from the UAE, 210,000 b/d from Kuwait, and 151,000 b/d from Qatar. Close to 95 percent of Japan's oil imports come from the Middle Eastern countries.
Seven major industrial countries, including Japan, agreed last week to reduce their purchase of Russian oil because of its military attack on Ukraine. Britain and the U.S. have stopped buying Russian oil altogether.
Japan's Minister of Economy, Trade, and Industry, Hagiuda Koichi, will meet Kuwait's Oil Minister Mohammed Al-Fares to complete the $1 million loan agreement. Kuwait produces 2.5 million barrels of oil every day, making it the fourth-largest OPEC oil producer after Saudi Arabia, Iraq, and the UAE.
Iran could have benefited immensely from stringent sanctions on Russia and become part of the global economy. However, the Islamic Republic has been under stringent economic sanctions for many years, preventing it from selling its oil on the world market.
Iran could have bolstered its oil and gas industry if it received a portion of the loan that Kuwait would get.
Sept. 11 Victims Seek Seizure of Iran Oil From U.S.-Owned Tanker
In an interview with the Iranian Students News Agency (ISNA) on March 28, Morteza Behrouzifar, an energy expert, said: "Iranian oil industry needs between $250 billion and $300 billion in investment to maintain the same output and improve its current situation. However, it would need much more if it wants to increase output, using its reserve."
"We have seen no significant investment in the oil and gas sector in the past four decades," Mr. Behrouzifar noted. "The only reason we might resume the same level of production — if sanctions were lifted — is because of the hard work of dedicated colleagues in the oil industry."
"Investment is the key to Iran's ability to secure a place in the global market," Behrouzifar argued. "Iran was the second largest OPEC oil producer at one time. However, it has dropped to fifth place now, which shows how badly it needs investment in the current situation."
Iran has great potential to meet global energy needs. However, chronic mismanagement and rampant corruption have been at the root of the state's failure to develop the country's industries. Consecutive governments have squandered Iran's precious natural resources, opportunities to develop its infrastructure and better people's lives.
Data shows that Iran secured a prominent place in the global energy market soon after discovering the first oil reserves in 1908 in Masjed Soleiman, in the southeastern province of Khuzestan.
Iran's oil revenue reached $112 billion between 1972 and 1977. The late Mohammad Reza Shah Pahlavi invested the oil revenue to develop the country's infrastructure and improve people's living standards.
Oil revenue soared after the 1979 Islamic Revolution, but consecutive Iranian governments have failed to develop the oil industry and invest the revenue in the country in the past four decades.
Iran generated $110 billion in oil revenue during its war with Iraq between 1980 and 1988. During the late Ali Akbar Hashemi Rafsanjani's presidency (in office from 1989 to 1997), Iran's oil revenue stood at $141 billion. It sold $157 billion worth of oil during President Mohammad Khatami's two terms in office, from 1997 to 2005.
The oil revenue increased significantly, reaching $618 billion between 2005 and 2018, when Mahmoud Ahmadinejad was president. The oil revenue has dropped to $350 billion since the U.S. and other countries imposed stringent economic sanctions on Iran in 2012.
Similar Articles to This Post