---
By Nazanine Nouri
---
Iranians around the world are mourning the loss of the legendary classical Persian music singer, Mohammad Reza Shajarian (1940-2020). News of his death has spurred an outpouring of grief, and the master is being remembered by the iconic song that ended every one of his concerts: Morgh-e Sahar [Bird of Dawn], the unofficial anthem of Iranian freedom.
Described by the New York Times as "an ode to the lost hopes of a people who sought liberty but were caged like a bird," Morgh-e Sahar is a tasnif [song] in Mahur mode, with the verse in two stanzas and written by one of the greatest poets of early 20th century Iran, Mohammad-Taqi Bahar, known as Malek Al-Shoara Bahar (1886-1951). The music is by the celebrated Iranian Jewish composer and Tar performer, Morteza Neydavoud (1900-1990).  Bahar, whose poetry was composed in the classical Persian style, "was unique in his expression of modern social ideas and criticism of his country and government, often in biting satire," according to Encyclopedia Britannica.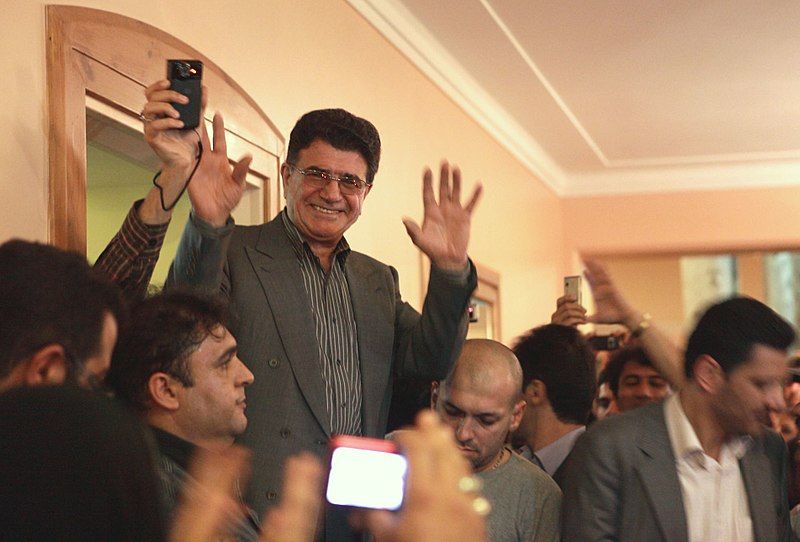 Morgh-e Sahar has been sung for decades as an evocation of dictatorial regimes, and as an expression of hope that one day a dawn bird will arise from the darkness of night. The verses were most probably written by the great poet around 1921, when the first signs of dictatorship were appearing. Only the first, more lyrical stanza was sung in public gatherings; the second, which dealt more with social and political issues, was sung at private parties, where the atmosphere was more suited to political debate.
Reza Shah Pahlavi heard the song performed by Qamar-al-Moluk Vaziri and accompanied by Morteza Neydavoud and his brother Mousa at a gathering at the home of his minister, Teymourtash. He banned its second stanza throughout his reign, which lasted from 1925 to 1941.
Morg-e Sahar was sung for the first time by Qamar-al-Moluk Vaziri (1905-1959), commonly referred to as Qamar, at her first formal performance as a vocalist at Tehran's Grand Hotel in 1924. Qamar, who was trained by Morteza Neydavoud, was the first female vocalist to perform in public without the socially and religiously sanctioned veil. She was also the first recording artist to do so, and the first female vocalist to sing and record other highly charged political songs, such as Abolqassem Aref Qazvini's Constitutional Revolution song Marsh-e Jomhuri.
"Qamar was respected for her musical as well as her pioneering spirit as a vocalist in public concerts," says Encyclopedia Iranica, and for "her progressive social and political tendencies and legendary compassion for the poor and the powerless and her generosity to them. Her strong legacy as a vocalist preceded and became the exemplary foundation for the career of Persian female vocalists, who followed her until the Revolution of 1979 and the advent of the Islamic Republic."
The following is a translation of Morgh-e Sahar in English, as published by Encyclopedia Iranica, for readers unable to appreciate the beauty of the verse in Farsi.
First stanza
Dawn bird, lament!
Make my brand burn even more.
With the sparks from your sign, break
And turn this cage upside down.
Wing-tied nightingale come out of the corner of your cage, and
Sing the song of freedom for human kind.
With your fiery breath ignite,
The breath of this peopled land.
The cruelty of the cruel and the tyranny of the hunter
Have blown away my nest.
O God, O Heavens, O Nature,
Turn our dark night to dawn.
It's a new spring, roses are in bloom
Dew drops are falling from my cloudy eyes
This cage, like my heart, is narrow and dark.
O fiery sigh set alight this cage
O fate, do not pick the flower of my life.
O rose, look towards this lover,
Look again, again, again.
O heart-lost bird, shorten, shorten, shorten,
The tale of separation.
Second stanza
Truth's life has come to an end
Faith and fidelity have been replaced by the shield of war.
Lover's lament and beloved's coyness,
Are but lies and have no power.
Truth, love and affection are but myths
Oath and honor are but vanished.
For thieving, country and religion are pretexts, eyes are wet
Landlord's cruelty, master's tyranny,
The farmer's restless from sorrow.
The cup of the rich is full of pure wine,
Our cup is filled with our heart's blood.
O anxious heart, cry out aloud
And avoid those who have powerful hands,
Count not on justice.
O rosy-cheeked cup-bearer, give the fiery water,
Play a joyful tune, O charming friend.
O sad nightingale lament from your cage.
Because of your grief my heart is
Full of sparks, sparks, sparks.
---