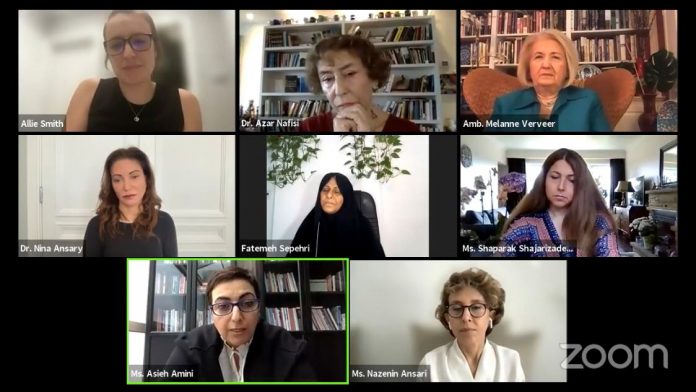 ---
---
An online seminar held on Sept. 1 which featured leading Iranian women's rights advocates explored the state of women's rights in Iran.
The event, titled "Beyond Geopolitics: The State of Women's Rights in Iran," was hosted by the Washington-based Georgetown Institute for Women, Peace, and Security (GIWPS) and chaired by Ms. Nazenin Ansari, managing editor of Kayhan London and Kayhan Life.
The first of two seminars looking at the issue, the session focused on gender inequalities in Iran and ways the international community could support women's movements in the country.
Leading Iranian Women Advocates In the Spotlight As Georgetown Hosts Two Online Panels
The panelists for the event were: Dr. Javaid Rehman, United Nations special rapporteur on human rights in Iran; Ms. Asieh Amini, a writer, social analyst and founder of the Stop Stoning Forever campaign; Dr. Azar Nafisi, a Georgetown centennial fellow and author of "Reading Lolita in Tehran;" Ms. Fatemeh Sepehri, a secular democrat activist and prisoner of conscience; Ms. Shaparak Shajarizadeh, a women's rights advocate and founder of the Girls of Revolution Street movement; Ambassador Melanne Verveer, executive director of the GIWPS; and Dr. Nina Ansary, a historian and United Nations women global champion for innovation.
The speakers raised concerns about the forms of discrimination women experienced in Iran. They noted that these inequalities were often compounded by legislation, policy and cultural norms which enabled and condoned restrictions on women's rights. During the conference, a video was shown explaining how women's rights in Iran had been heavily pared back since the Islamic revolution.
Panelists also expressed their support for women in Afghanistan following the country's takeover by the Taliban. The hardline Sunni Muslim group said it would govern through Sharia law, and has in recent days banned the playing of music in public and told working women to stay at home.
Iranian and Afghan Campaigners Call On UN to Protect Women's Rights in Afghanistan
Opening the event, Ambassador Verveer said: "Today we hope to put a spotlight on the long history of Iranian leadership and resilience by women. This despite pushback and punishment, despite threats and barriers imposed to undermine those rights."
"Indeed, they are some of the most courageous, tenacious, creative women, and they continue to persist, to mobilize and demand change, no matter what they are up against," she said.
Speaking about the Taliban coming to power in Afghanistan, Ambassador Verveer added: "As events continue to unfold in Afghanistan, and we are all very concerned about the fate of women's rights activists there, there is a support network of women's rights activists in Iran and Afghanistan and strong ties between the two."
Chairing the event, Ms. Ansari said the conference was "important and timely, because it throws a historical spotlight on the status of women at the intersection of culture and politics and searches for legal and policy benchmarks to advance progress nationally and internationally."
Delivering his speech in a pre-recorded message, Dr. Rehman told attendees he was deeply concerned by the Iranian regime's ongoing violations of human rights against women and girls.
"An issue of particular concern is the extremely young age girls can be married," he said. "It is unacceptable that Iranian law sets the marriage age for girls as low as 13 years, and allows girls even younger to marry with parental and judicial consent."
Teenager Detained by Iran's Revolutionary Guards Attempts Suicide, Report Says 
Dr. Rehman said that from March 2020 to March 2021, more the 31,000 marriages in Iran were officially registered involving girls aged 10 to 14 years, a 10 percent increase from the previous year. Some reports, he said, involved girls even younger being married. He criticized Iranian laws which mitigated so-called "honor killings" and law enforcement agencies which he said refused to take violence against women — such as rape and domestic abuse — seriously.
Dr. Rehman finished his speech by urging the Iranian government to take concrete steps to address deficiencies in its legislation and create enabling spaces for women.
In her speech, Ms. Shajarizadeh likened gender inequality in Iran to an apartheid movement, and said the country had the highest execution rate for women internationally. She called on international states to boycott Iran's president Ebrahim Raisi for human rights violations he is accused of committing in 1988 following the execution of thousands of political prisoners. Raisi was a prosecutor at the time.
Ms. Shajarizadeh said: "During the time that [Raisi] was Iran's chief justice, he arrested and imprisoned many women's rights activists and suppressed activists in prison by charging them with additional accusations and sending them to prison in other cities far from their families and home towns."
"The fact is, the things that you read in statistics [reports], letters and statements, we experienced them. You may hear about inequality and discrimination against women in Iran, we paid with our tears. You may hear about our struggle with compulsory hijab, we paid with our fear."
EXCLUSIVE – U.N. Expert Backs Probe into Iran's 1988 Killings, Raisi's Role
Dr. Ansary gave the closing remarks for the event, and the floor was opened for questions.
The second seminar for the conference, titled, "Iranian Women on the Frontlines: Strategies for Change," will take place on Sept. 8, and will feature:
Ms. Nazanin Boniadi, an actress, ambassador, and Amnesty International's UK women's rights advocate; Ms. Masih Alinejad, a journalist and women's rights activist; Ms. Narges Mohammadi, spokesperson for the Defenders of Human Rights Center (DHRC); Ms. Narges Mansouri, a women's rights activist and member of the Workers Syndicate of Tehran and Suburbs Bus Company; Ms. Shéhérazade Semsar de Boisséson, a member of the board of advisors at Georgetown University Walsh School of Foreign Service, and former CEO of Politico Europe; Ambassador Melanne Verveer; and Ms. Azadeh Pourzand,  the co-founder and director of the Siamak Pourzand foundation.