---
By Kayhan Life Staff
---
Asghar Sepehri, the brother of imprisoned civil rights activist Fatemeh Sepehri, tweeted a letter on Feb. 15 with the headline "Fatemeh Sepehri's defense from Vakilabad Prison in Mashhad [Central Mashhad Prison]."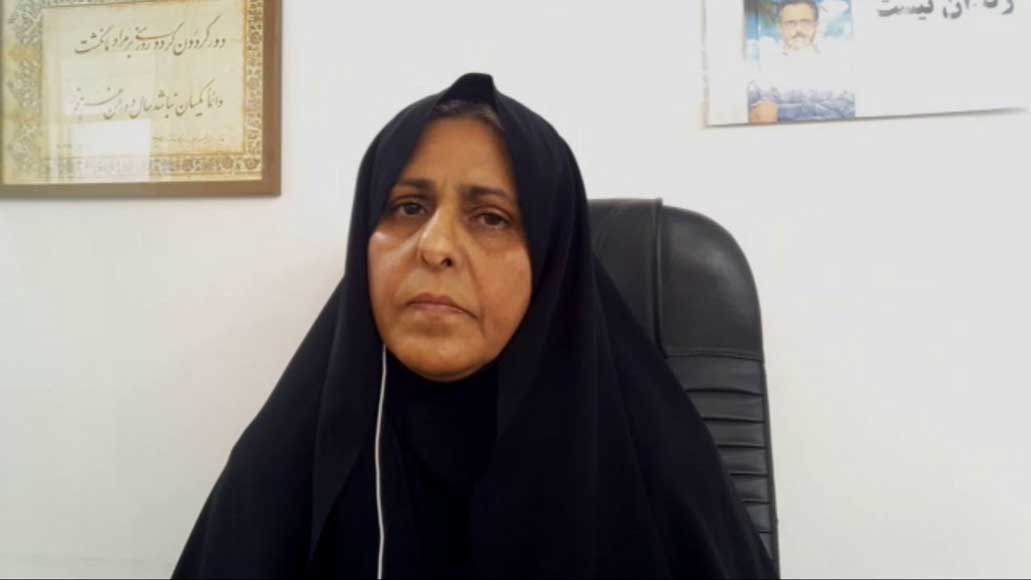 The tweet said: "I, Fatemeh Sepehri, was mistreated by [Ayatollah Ruhollah] Khomeini's lackeys in the Foundation of Martyrs [and Veteran Affairs] after my husband's martyrdom in 1982."
"They took everything from my child and me, even the carpet under [our feet]. No one was accountable until Sept. 21, 2022, when cronies of [Supreme Leader Ayatollah Ali] Khamenei in the Ministry of Intelligence arrested me in my house," she noted.
"On orders from Khamenei, they [authorities] stopped my stipend and kept me in solitary confinement for 31 days," Ms. Sepehri explained. "I was taken to Imam Reza Hospital after my health deteriorated severely. I was returned to Vakilabad Prison at 4 am on October 24 and transferred to cellblock 5. They let me out of my cell for one hour daily to get fresh air."
"My brief phone calls are monitored," she explained. "The prison doctor has diagnosed the chronic pain in my hand for which I have received cortisone shots. The judge, in my case, has ruled against continued medical treatment for me."
"My temporary detention was renewed three times until Dec. 22, 2022, when the presiding judge at Branch 143 [Revolution Court] convicted me of spreading lies about election fraud in the 2009 election, the death of 1,500 people in November 2019 protests, and selling the interests of Iran to China and Russia. I was not in the court when the judge handed me a one-year prison sentence and fined me $500," Sepehri said.
"Hadi Mansouri, a well-known judge, presided over the second trial proceeding on Feb. 6, 2023, in a branch of the Revolutionary Court in Mashhad [the capital of the northeastern province of Khorasan Razavi]," Sepehri explained. 
"The court held a sudden, secret, and illegal proceeding without prior notice to my lawyer and me. I was convicted of insulting the late and present leader, cooperation with hostile governments, and giving interviews to the opposition [news] networks," she noted.
"I denied all charges," Sepehri said.
"I warn the irresponsible officials in charge of the country that before we became the opponents of the system, I and millions of others were the victims of 44 years of hardships and sorrow resulting from your oppressive rule marked by misappropriation of public funds, embezzlement, rape, chronic mismanagement, war mongering, creating domestic and global insecurity and thousands of other crimes," Sepehri added.
"We cannot tolerate you any longer. We will not rest until we have reclaimed our country," Sepehri concluded.
Ms. Sepehri was arrested on Sep. 21 during nationwide protests sparked by the death of Mahsa (Zhina) Amini, a 22-year-old woman, while in the custody of the morality police on Sept. 16 in Tehran.
Sepehri was previously arrested and detained in Mashhad on Aug. 1, 2021, during a peaceful demonstration to support the people of the southwestern province of Khuzestan and against the security situation in Iran.
Sepehri and her brother Mohammad Hossein Sepehri were two of the signatories of the Statement 14 Political Activists petition during the 2017-18 protests, calling on Iran's Supreme Leader Ayatollah Ali Khamenei to resign, and urging the replacement of the Islamic Republic regime with a secular democracy.
The letter was dated Feb. 15, 2023
Similar Articles to This Post