---
By Kayhan Life Staff
---
The commander of the protection unit of Iran's Department of Environment (DoE), Colonel Jamshid Mohabat-Khani, has said the Judiciary will prosecute restaurant owners who break the law by serving dishes made with migratory birds' meat.
"We have received information that some restaurants in the country, including several in Tehran, have been offering migratory birds to their customers," Colonel Mohabat-Khani said in a letter to the Tehran-based Hamshahri newspaper. "It is illegal for restaurants to serve migratory birds. Commanders of the protection units must deal decisively with those who break the law."
According to Mohabat-Khani, authorities have already fined several restaurants for serving dishes that contained game and migratory birds' meat in the past year. However, the Judiciary and the DoE are working closely to enforce the law and prosecute the violators, Mohabat-Khani noted.
Many people have criticized the DoE for not imposing stricter regulations on hunting game and migratory birds.
In comments reported by Hamshahri on Oct. 10, the director of the DoE, Isa Kalantari, said only a few hunting permits and licenses are issued every year.
"All decisions regarding wildlife habitats are based on expert research and studies. The DoE has broken no law," Mr. Kalantari said. "A certain number of permits are issued to domestic and foreign hunters every year, allowing them to hunt only male animals older than nine years old. That is because the life expectancy of most animal species is between 10 to 11 years."
"Some 250 hunting permits were issued last year," Kalantari added. "Some applicants are foreign nationals who pay $20 per animal. Park rangers provide them with a list of animals that can be hunted."
Many conservationists doubt that hunters can accurately determine an animal's age and avoid killing those younger than nine. They have asked the DoE to raise the $20 hunting fee per animal significantly.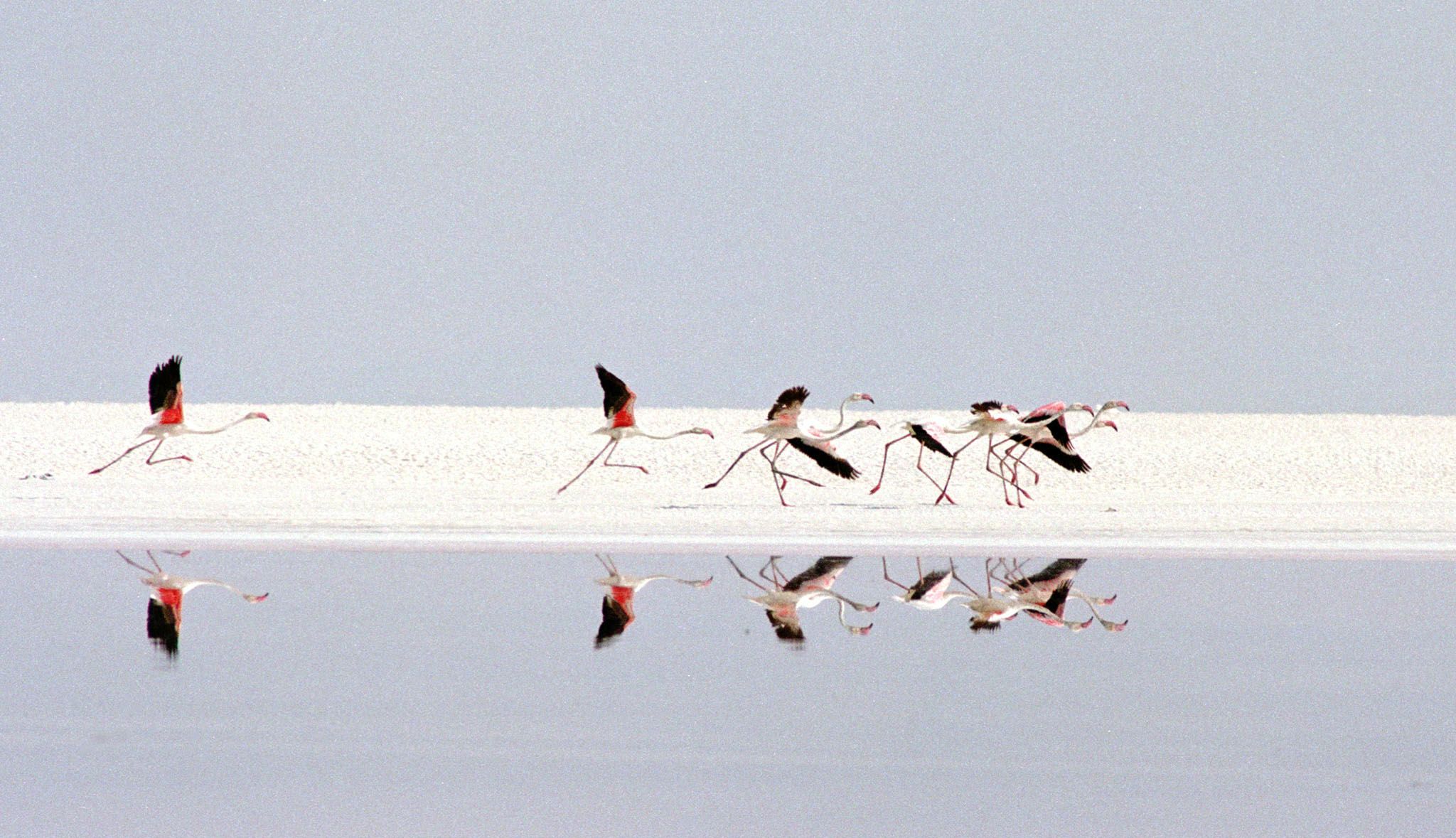 Several reports have said that many migratory birds in Fereydunkenar wetland, in the northern province of Mazandaran, and other marshes and wildlife habitats are killed and sold to restaurants across the country. The illegal hunting of migratory birds has reportedly developed into a lucrative business in recent years.
Fereydunkenar international wetland is a sanctuary for migratory birds that leave their natural habitats in Siberia during winter for warmer climates. Fereydunkenar covers 5,427 hectares and is home to many endangered bird species, including Siberian crane, white-headed ducks, red-breasted geese, lesser white-fronted geese, northern lapwings, and wintering raptors such as falcons.
In February 2018, the Guardian newspaper reported that a million wild birds a year were being killed illegally at the Fereydunkenar wetlands. The Mazandaran Department of Environment has continually warned the public not to buy or consume wildlife meat, particularly birds. However, the fine for illegal hunting of birds is less than a dollar.



It is estimated that up to one million migratory birds are hunted in Fereydunkenar wetland every year, generating some $3 million a year, the report by Hamshahri said.
The most popular migratory bird offered for sale is Mallard (dabbling duck). It was reportedly sold for $6 a pair last year; the report added. A single goose fetched between $4.50 and $6, and a green-winged teal (the Eurasian teal) sold for around $2. Customers paid between $2 and $4 for a common duck and $1 for a coot.
According to some conservationists, several restaurants in Tehran charge up to $15 for dishes made with the game and migratory birds' meat.
In an interview with Hamshahri, the director of Terlan Ornithology and Birdwatchers Society, Alireza Hashemi, warned that migratory birds were being "slaughtered in Iran."
"Illegal hunting has decimated migratory birds' population," Mr. Hashemi said. "These wildlife habitats are looted. I say loot because except for the traditional hunting, all other methods are illegal, crude, and inhumane."
"Between half a million and one million migratory birds go missing in the country's north every year. Why hasn't the DoE — which is responsible for the safety of animal sanctuaries and wildlife habitats — done anything about this?" Hashemi asked. "The hunting of migratory birds is not regulated and monitored in Iran."
Meanwhile, the head of the Mazandaran DoE's wildlife office, Kouros Rabiei, has said that hunting had been banned in all protected wildlife habitats, marshes, and woodlands in the country's north.
"No hunting permit or license has been issued for game birds and quadrupeds in the protected wildlife and woodlands in the country's north this year," Mr. Rabiei said in an interview with the Islamic Republic News Agency (IRNA). "Mazandaran DoE's wildlife office has not recommended an area for hunting, so the DoE's supreme council has issued no license or permit."
Other environmental hazards and diseases have threatened the migratory birds in the northern marshes and woodlands in recent years.
In February, some 6,000 migratory birds died of apparent bacterial infection in the Miankaleh Wildlife Sanctuary and Wetland in Mazandaran and Golestan.



An initial report by Iran's Veterinary Organization suspected botulism toxin (produced by the bacterium Clostridium botulinum) or Newcastle disease (infection of domestic poultry) or bird flu as causes of death. Subsequent tests, however, showed that the birds had died after eating algae and plankton contaminated with harmful bacteria.
The Miankaleh Wildlife Sanctuary and Wetland is one of the 12 largest biosphere reserves on the planet. It covers an area of 40,000 hectares and is home to 260 species of birds. It also provides refuge to 1.5 million migratory birds that visit the wetland every year. The sanctuary is part of the Miankaleh Peninsula that stretches for 48 kilometers along the Caspian Sea and is 3.2 kilometers at its widest point.
Some environmentalists have warned that illegal dumping of industrial waste, misappropriation of lagoons for private use, and unlicensed hunting have posed severe threats to the ecosystem of the Miankaleh Wildlife Sanctuary and Wetland.
Several conservationists have suggested that wastewater from Mazandaran's Neka Power Plant has contaminated the wildlife refuge. Neka is the largest thermal power plant in the Middle East. It is also the primary energy provider for the northern provinces.
This article was translated and adapted from Persian by Fardine Hamidi.
---