---
By Ahmad Rafat
---
Toomaj Salah, who in recent months has become the most popular rap artist in Iran, has been ordered to appear in a revolutionary court on Jan. 12 in Shahin Shahr, in the central province of Isfahan. Mr. Salehi was previously arrested on Sept. 12, 2021, by dozens of security officers who raided his house. Following a social media outcry over his detention, he was released on bail eight days later, pending a trial. Before his detention, Salehi had predicted his impending arrest in a tweet.
Authorities arrested Salehi after he published several music videos with political content — criticizing the Islamic Republic's policies and its efforts to silence its critics — including "Normal" and Soorakh Moosh ("Rat Hole"). Since publishing his music, Salehi has become arguably the most famous Iranian rapper.
Prince Reza Pahlavi has described Toomaj Salehi and Sheydaye Hamedani, an Iranian poet who was also arrested, as artists whose work personified nationwide protests.
"Works of Toomaj Salehi and Sheydaye Hamedani crystallize widespread protests," Reza Pahlavi tweeted on Sept. 18. "Their popularity shows a prevalent dialogue regarding a [regime] change."
"They have courageously become the voice of [nationwide protests] in December [2018] and November [2019] and in Khuzestan [province, in July 2021]," Reza Pahlavi added. "Their arrest has made their courageous cries of patriotism and freedom louder."
Toomaj Salehi, who makes a living as a welder, is very active on social media, courageously highlighting social and political issues in the country.
His arrest sparked massive reactions inside Iran and abroad, prompting the launch of a Twitter account with the hashtag #Free Toomaj.
"Iran's authorities must immediately and unconditionally release #ToomajSalehi, a dissident rap artist detained solely for exercising his right to freedom of expression," Amnesty International tweeted shortly after his arrest on Sept. 17. "In his songs, he spoke out against repression, corruption, poverty, and impunity & called for accountability."
Gerd Elmark, executive director of the Denmark-based Freemuse (Defending Artistic Freedom), said: "Freedom of expression is a basic human right guaranteed by Iran's obligations to international laws such as Article 19 of the ICCPR [The International Covenant on Civil and Political Rights]. Arresting Toomaj Salehi for his songs is an unlawful breach of these human rights."
"We urge the Iranian authorities to drop the charges against Toomaj Salehi," Ms. Elmark added. "Artistic expression should be protected and guaranteed not only regarding positive and neutral expressions but also those that can shock and disturb."
Authorities have accused Salehi of "insulting the [Supreme] leader of the Islamic Republic [Ayatollah Ali Khamenei]" and spreading "propaganda against the state" in his songs. However, Salahi's music videos and songs mainly highlight poverty, corruption, and oppression. In a country where corruption and oppression are prevalent, nearly 60 percent of Iranians live in poverty. That is a reason for his massive popularity.
Salahi also criticizes those who do not raise their voice against corruption and oppression in Iran. In his song "Rat Hole," he says: "If you covered up a murder, you are also a murderer. To cover up a crime, you must walk on blood [of the victims]. Iran has enough prisons for you all. The system is incomplete without you as its apologist."
Rathole is available on YouTube with English subtitles:
Another one of Salehi's popular songs is "Turkmenchay," referencing the 1928 "Treaty of Turkmenchay" signed at the end of a two-year war between the Qajar dynasty and the Russian Empire, under which Persia had to cede or recognize Russian control over territories which were formerly part of Iran. Iranians have always considered the treaty a humiliating experience in their history.
Salehi compares the Turkmenchay experience with the signing of a 25-year accord between Iran and China in March of last year, which prompted 120,000 people to sign a petition on social media, protesting against "selling" Iran to China.
Salehi's two other popular songs are Anar ("Pomegranate"), highlighting the plight of protesting workers demanding better pays and work conditions, and "No to Capital Punishment," released on Oct. 10, marking World Day Against the Death Penalty.
Similar Articles to This Post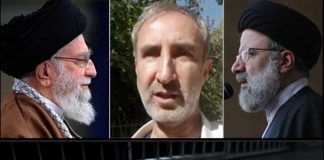 By Kayhan Life Staff The Islamic Republic News Agency (IRNA) published an article on May 22 with the headline "A Dangerous Game That Is Beneath...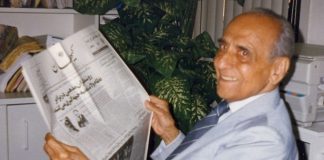 June 4, 2023 I congratulate Kayhan London, its publisher, managing editor, editorial staff, contributors, and readers on the 40th Anniversary of the founding of this...
By Kayhan Life Staff Lord Stuart Polak, CBE has been the Director of the Conservative Friends of Israel -- a group that aims to support...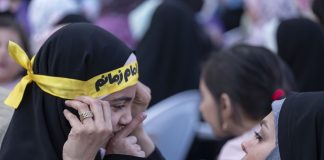 By Kayhan Life Staff A recent report by the Statistical Center of Iran (SCI) said that 27,448 girls aged under 15 were married between December...