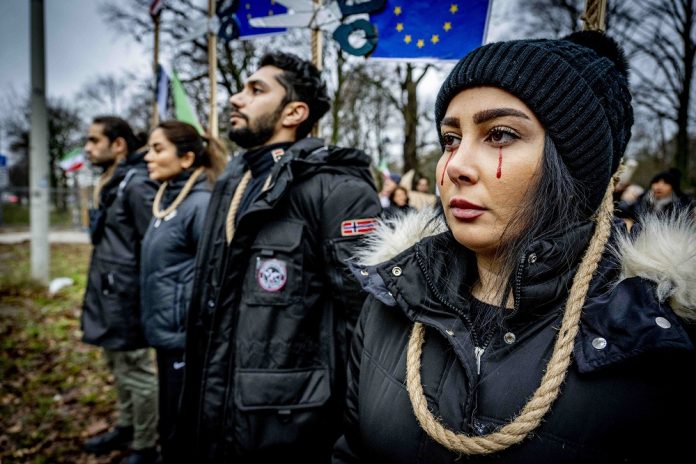 ---
By Kayhan Life Staff
---
According to human rights groups, many people arrested since the start of nationwide protests in Iran more than three months ago have suffered physical, sexual, and psychological torture while in detention.
The ongoing protest was sparked by the death of Mahsa (Zhina) Amini, a 22-year-old woman who died while in the custody of the morality police on Sept. 16 in Tehran.
The very first victims of the dictatorship in #Iran were Iranian women and ever since, they have been on the forefront of the movement to free our nation from its yoke. Today, they succeeded in removing this regime from a place it never belonged: the @UN_CSW. #MahsaAmini

— Reza Pahlavi (@PahlaviReza) December 14, 2022
Mohammad Haji Rasoulpour, a Kurdish protester, is one of the latest victims. He died of severe injuries he allegedly suffered during his detention in Bukan, in the northwestern province of West Azerbaijan, the Hengaw Organization for Human Rights reported on Dec. 19.
Mr. Rasoulpour, a former political prisoner arrested during the recent protests, died of his serious injuries and of prison conditions, bringing the number the people who have lost their lives under torture so far to 10, Hengaw said.
Authorities arrested Rasoulpour on Oct. 1 but released him on bail after 16 days, the report added. He was arrested again on Nov. 23 at his shop in Bukan. Authorities ignored his family's pleas for Rasoulpour to be transferred to a medical center where he could receive treatment.
Rasoulpour, who had fallen into a coma because of severe injuries he reportedly suffered in prison, died at Gholipour Hospital in Bukan 20 days after his arrest.
"They contacted the family on Dec. 13, saying bail was $13,700," a person close to Rasoulpour told Hengaw. "However, when the family turned up, they found him in a coma and in a wheelchair. That is how the authorities released him to the family."
Rasoulpour's family reportedly took him to Gholipour Hospital, where he died five days later.
Foreign media have reported extensively on alleged crimes — including torture and rape — committed against protesters, including children, while in the custody of the Iranian security forces.
Masoumeh, a 14-year-old girl, died of a torn vagina and massive blood loss after being reportedly raped in jail.
"One gauge of the hypocrisy of the Iranian regime is that there are credible reports that it is enforcing its supposedly strict moral code by arresting women and girls accused of advocating immodesty and then sexually assaulting them," The New York Times columnist Nicholas Kristof said in an opinion piece titled "Iran Uses Rape to Enforce Women's Modesty," on Dec. 17.
Citing a report by the Center for Human Rights in Iran, which is based in New York, Mr. Kristof described the prison ordeal of "a 14-year-old girl from a poor neighborhood in Tehran who protested by taking off her headscarf at school."
"The girl, Masoumeh, was identified by school cameras and detained; soon afterward, she was taken to the hospital to be treated for severe vaginal tears," he said. "The girl died, and her mother, after initially saying she wanted to go public, has disappeared."
A Nov. 21 CNN investigative report titled "How Iran's Security Forces Use Rape to Quell Protests" included testimonies revealing "sexual assaults on male and female activists."
"With media access inside Iran severely constrained, CNN went to the region near Iraq's border with Iran, interviewing eyewitnesses who had left the country and verifying accounts from survivors and sources both in and outside Iran," the report said.
"CNN corroborated several reports of sexual violence against protesters and heard accounts of many more."
"At least one of these caused severe injury, and another involved the rape of an underage boy. In some of the cases CNN uncovered, the sexual assault was filmed and used to blackmail the protesters into silence, according to sources who spoke to the victims," the report explained.
"In recent weeks, videos published on social media allegedly show Iranian security forces sexually assaulting female demonstrators on the streets. Reports of sexual violence against activists in prisons has begun rto surface," CNN added.
Meanwhile on Dec. 8, The Guardian reported: "Iranian security forces are targeting women at anti-regime protests with shotgun fire to their faces, breasts, and genitals, according to interviews with medics across the country."
"The Guardian has spoken to 10 medical professionals who warned about the seriousness of the injuries that could leave hundreds of young Iranians with permanent damage," the report added.
According to human rights groups, Iranian authorities have used torture to extract "forced confessions" from protesters charged with serious crimes of "spreading corruption on earth," "enmity against God," and "armed rebellion against the state."
Ali Sharifzadeh-Ardakani, the lawyer for Mohammad Hosseini, a protester sentenced to death, said that his client's entire confession "was extracted under torture and had no legal validity."
Mr. Sharifzadeh-Ardakani made the comments after meeting his client for the first time in Karaj prison, 43 kilometers northwest of Tehran.
"I visited Seyyed Mohammad Hosseini in Karaj prison," Sharifzadeh-Ardakani tweeted on Dec. 18. "He explained, while crying, how he had been blindfolded, tied up, punched, and kicked until he had passed out. [Prison authorities] had hit the bottom of his feet with a metal pipe and tased various parts of his body."
According to social media users, Hosseini's parents are deceased, and he had no one else pursuing his case. Officials from the Judiciary had not let Hosseini's lawyer work on his defense for a long time.
Hosseini has been sentenced to death as a "secondary party" in the murder of a Basij militia, killed on the 40th day of mourning for Hadith Najafi, a 22-year-old woman who was shot dead on Sept. 21 in Mehrshahr.
On Sept. 23, the Prosecutor of Alborz Province, Hossein Fazeli-Harikandi, claimed that authorities had arrested the culprits in the murder of a Basij militia. He said the perpetrators had used a "knife, baton, brass knuckles, and rocks to commit the murder."
Other defendants in the case have reportedly been tortured in jail, including Dr. Hamid Ghareh-Hassanlou, a radiologist, who has also been sentenced to death.
He reportedly suffered broken ribs and punctured lungs under severe torture. Dr. Ghareh-Hassanlou has been in the hospital for the past two months and has undergone two surgical procedures.
Majid Reza Rahnavard, a 23-year-old man, was executed on Dec. 12 in public in Iran for allegedly fatally stabbing two Basij militias.
A picture shared on social media after his arrest by the Intelligence Organization of the Islamic Revolutionary Guards Corps (IRGC) showed Mr. Rahnavard with a bloody nose and a broken arm in a cast being driven to the court in a security forces vehicle.
Upper left photo shows #MajidrezaRahnavard prior to his execution with a fractured left arm. On his left lower arm, he wore a tattoo of Lion and Sun, the national symbol of Iran. Khomeini outlawed the emblem after the 1979 revolution, ordering its removal from the national flag. pic.twitter.com/IMOPtV9Gdq

— Reza Behrouz (@RBehrouzDO) December 24, 2022
Rhanavard's "forced confession" was reportedly extracted under torture.
According to human rights organizations, many people have died under torture while in custody in Iran.
Shahriar Adeli, a 27-year-old resident of Sardasht, was reportedly tortured during his detention at West Azerbaijan's Intelligence office.
He was later released on bail and transferred to a hospital, where he died. Pictures of Mr. Adeli's body showed signs of multiple injuries.
Shadman Ahmadi, a 23-year-old resident of Dehgolan, in the western province of Kurdistan, reportedly died under torture.
Soroush Pourahmadi, abducted by the security units in Karaj, reportedly suffered multiple injuries under torture and later died in the hospital.
Two 16-year-old girls, Nika Shakarami and Sarina Esmaeilzadeh, were reportedly killed by security forces in Tehran and Karaj, respectively. However, Iranian authorities said the two girls had committed suicide by jumping off buildings.
Security forces have reportedly intimidated, arrested, beaten, and tortured medics, doctors, and nurses who have cared for injured protesters.
Dr. Aida Rostami, a 36-year-old general practitioner at the Chamran Hospital in Tehran, who treated protesters' injuries, disappeared on Dec. 12. She was found dead a day later.
Authorities said she had committed suicide by jumping off an overpass in Azadi Square in Tehran. However, her family said Dr. Rostami's body and face showed signs of torture.
Iranian authorities have not handed Dr. Rostami's belongings to her family. They include her bag and mobile phone.
Given the overwhelming evidence challenging suicide as the cause of her death, authorities ruled her death a murder, claiming that they had arrested the culprit who had confessed to killing her.
They even released a video of the alleged suspect's confession. In the footage broadcast on state media, the alleged suspect, whose face is covered, claimed he planned to marry Dr. Rostami.
He alleged that on the day of the incident, Dr. Rostami had ingested many pills before going to his place of work, adding she had refused to go to the hospital.
The suspect claimed he and Dr. Rostami had "argued" before he left her on the bridge. He claimed that when he returned to the bridge, he saw Dr. Rostami lying in the street with "a broken and bloody head."
The suspicious and tragic death of Doniya Farhadi is another example of the regime's brutal treatment of protesters.
Ms. Farhadi, an architecture student at the Azad University of Ahvaz, the capital of the southern province of Khuzestan, went missing on Dec. 7.
Her body was discovered a week later near the Karun River by the residents of Mozafariyeh village.
The body of Shahabedin Hashemi, a student at Allameh Tabatabaei University in Tehran, was found hanging in the university's dormitory.
Authorities were quick to describe his death as a suicide. However, Mr. Hashemi's brother described Shahabedin's death as "suspicious" and called the suicide claim "a shameful lie."
---
---
Similar Articles to This Post