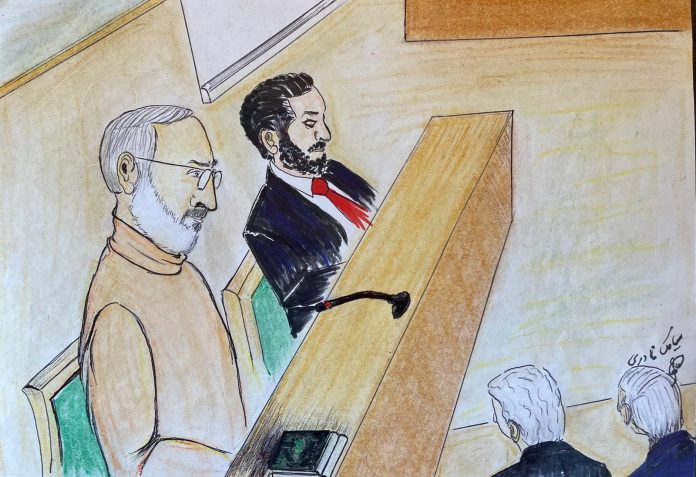 ---
By Ahmad Rafat (in Stockholm)
---
May 4 marked a remarkable day in the Iranian nation's historic quest for justice when a court in Stockholm concluded trial proceedings for an Iranian national, Hamid Nouri, accused of "war crimes."
Mr. Nouri allegedly supervised the mass executions of political prisoners in the summer of 1988 when he was reportedly a deputy prosecutor at Iran's Gohardasht Prison in Karaj, 20 kilometers west of Tehran.
Nouri was purportedly working under Judge Ebrahim Raisi (the current Iranian President), a member of the so-called "death committee," which allegedly expedited the executions of political prisoners in Gohardasht Prison, which started in August 1988 and lasted for five months.
The court will issue its verdict in the case against Nouri on July 14.
Prosecutors in the case have asked the Stockholm court to hand Nouri a life sentence, which is the maximum punishment allowed under Swedish criminal laws. Sweden abolished the death penalty in 1921.
The court proceedings have historical significance for Iran, because it is the first time that a high-ranking official of the Islamic Republic has gone on trial in an international court for alleged war crimes.
The trial also holds special importance for Sweden.
Although Swedish courts usually issue their rulings in written forms to the prosecutor and other relevant parties, the court will read its verdict on Hamid Nouri's trial in an open session.
Undoubtedly, July 14 will be a significant day for pro-democracy and justice-seeking Iranians, including the parents of the victims of 1988 mass executions, the children who grew up without a father or a mother, the men and women who lost their life partners, and others whose lives were shattered after losing a brother or a sister. On July 14, they will gather in front of the courthouse to witness a historic day.
Hamid Nouri and the Islamic Republic regime were on trial in Stockholm.
In her indictment against Hamid Nouri, the prosecutor, Christina Linhoff Carlson, accused the Islamic Republic of killing dissidents in its prisons.
Swedish police arrested Nouri under international law at Stockholm airport in 2019 as he arrived to visit relatives, following a complaint by several prisoners who had survived the 1988 mass executions at Gohardasht Prison.
In November 2019, Swedish prosecutors charged Nouri with "gross violations of international laws," which qualify as war crimes and "murder." Nouri was remanded in custody for 18 months before finally being put on trial. Several former prisoners with first-hand knowledge and families of those executed testified in court.
Hamid Nouri's trial began on Aug. 10, 2020, in Stockholm District Court's Room 37. A jury of two judges and four public members concluded its work on May 4. There were 93 court sessions in total. The court heard testimonies from 34 witnesses, 26 plaintiffs, and 12 experts. They were questioned and cross-examined by  judges, defense attorneys, and prosecutors.
Hamid Nouri, known as Hamid Abbasi to inmates in Gohardasht Prison, allegedly worked under Ebrahim Raisi and other judges in the so-called "death committee."
UN Urged to Open Query Into Iran's 1988 Killings and Raisi Role
The "death committee" was formed following an order by the late Ayatollah Ruhollah Khomeini, the founder of the Islamic Republic, to review prisoners' sentences and expedite their executions. The judges reportedly spent only a few minutes reviewing each case before sentencing a prisoner to death.
While the indictment highlights Nouri's alleged direct involvement in the 1988 executions, it shows that he was carrying Ebrahim Raisi's orders, who must bear greater responsibility for the crimes committed against the prisoners.
If Nouri is convicted, other alleged participants in the crime, including President Ebrahim Raisi, will not be able to travel to Western countries easily. The conviction can also pave the way for the arrest of other culprits in the killing of dissidents.
According to some estimates, between 2,800 and 3,800 people were executed in the summer and fall of 1988.
The Islamic Republic had a somewhat muted response in the months following Nouri's arrest, which led to speculation that Tehran was trying to resolve the issue quietly through secret meetings with prosecutors in Stockholm.
An independent Judiciary is an alien concept to the Islamic Republic system in which the Judiciary does the state and its intelligence agencies' biddings.
Iran's Judiciary Says Iranian-Swedish Djalali's Execution Will Be Carried Out
It was only towards the end of the trial that the Islamic Republic understood the outcome could further isolate Iran from the West and the international community.
The Islamic Republic has responded to Nouri's trial in the usual fashion: by deploying bullying and intimidation tactics.
The Iranian Foreign Ministry summoned the Swedish ambassador to Tehran, Mattias Lentz. Iran reportedly threatened Sweden with a "hard revenge" during the meeting.
A few days later, Iranian Foreign Minister Hossein-Amir Abdollahian reportedly repeated the same threats during a telephone conversation with his Swedish counterpart Ann Christine Linde.
The head of the Iranian Judiciary's Human Rights Headquarters, Kazem Gharibabadi, went further, demanding "justice" for "terrorists whom Sweden supports."
A few short hours after Mr. Gharibabadi made those remarks, Iran announced it planned to execute the Swedish-Iranian doctor, Ahmad Reza Jalali (also spelled Djalali), convicted of espionage, on May 21.
Dr. Jalali was arrested in 2016 on trumped-up charges of "working with a hostile power" and "spying for Israel." His "forced" confession extracted under extreme duress was televised. He was sentenced to death by Branch 15 of Tehran's Revolutionary Court the following year.
Dr. Jalali, who works with Sweden's Karolinska University, Italy's Universita Degli Studi del Piemonte Orientale, and Belgium's Vrije Universiteit Brussel, traveled to Iran in 2016 on an invitation from Tehran University.
ANALYSIS: How Hostage Taking Is An Integral Part of Iran's Foreign Policy
By announcing Jalali's execution date, Tehran may hope to pressure the Swedish government and influence the outcome of Hamid Nouri's trial.
Swedish courts handed life sentences in eight similar cases when the defendants were accused of committing crimes against humanity or war crimes in former Yugoslavia, Rwanda, Iraq, and Syria.
The Islamic Republic is hoping that Nouri will be given an eight-year prison sentence, which, under Swedish law, could see him released from prison after a year and return to Iran.
Ahmad Reza Jalali is not the only foreign or dual national held hostage by the Islamic Republic.
Farajollah Chaab, an ethnic Arab with Iranian-Swedish dual citizenship, was abducted in Turkey and taken to Iran. He was tried and convicted on "terrorism" charges.
The trial of two Swedish nationals, Stephen Kevin Gilbert and Simon Kasper Brown, arrested in July 2020 on drug trafficking charges, started at Branch 15 of Tehran's Revolutionary Court on Aug. 10, 2021 — the same day that Hamid Nouri's trial started in Stockholm. Ahmad Reza Jalali was also tried at Branch 15 of Tehran's Revolutionary Court.
Iranian authorities arrested another Swedish tourist on May 4, the last day of Nouri's trial. Although they have not identified the person or explained the charges, the Swedish embassy in Tehran has confirmed the arrest of one of its nationals.
Swedish Man Detained in Iran as Relations Sour Over War Crimes Trial
The Islamic Republic's long history of taking foreign nationals and Iranians with dual citizenship hostage, and using them as a bargaining chip, dates back to the early days of the 1979 Revolution when a group of Iranian students scaled the walls of the U.S. Embassy in Tehran and held 52 Americans hostage for 444 days.
ANALYSIS: UN Urged to Address Iran's Human Rights Violations
Similar Articles to This Post