---
By Kayhan Life Staff
---
In a series of tweets, Saeed Dehghan, the attorney for Payam Derafshan, an imprisoned litigation lawyer practicing in Tehran, has alleged that his client was arrested in June 2020 and tortured at a safe house belonging to the Intelligence Organization of the Islamic Revolutionary Guards Corps (IRGC) for several days before being transferred to Razi Psychiatric Hospital in Amin Abad, 21 kilometers northeast of Tehran.
"In this thread, I explain how they arrested an attorney at law and admitted him to Razi Psychiatric Hospital in Amin Abad," Mr. Dehghan tweeted on Oct. 17. "Payam Derafshan is not an ordinary human rights activist, and he is also the secretary of the committee defending lawyers who are members of the Iran Central Bar Association. His job is to defend those lawyers who face security and judicial problems."
"On June 8 of last year [2020], 17 security agents raided Payam Derafshan's law office, seizing computers and his files, closing down his practice, and preventing him from representing his clients," Dehghan added.
Dehghan explained in great detail the psychological and physical tortures that Mr. Derafshan reportedly suffered while in custody. Dehghan alleged that Derafshan suffered neurological and brain damage after IRGC agents injected him with an unknown substance while in prison, triggering a seizure and lockjaw in his sleep, which caused him to bite and sever his tongue. Derafshan was subsequently transferred to the Razi Psychiatric Hospital.
Derafshan was arrested by security forces on June 8, 2020, and moved to an undisclosed location to serve his one-year prison sentence. He was tried on charges of "insulting the leadership" at Branch 1 of the Karaj Revolutionary Court. The presiding Judge Asef Alhosseini handed Derafshan a two-year custodial prison sentence and banned him from practicing law for two years.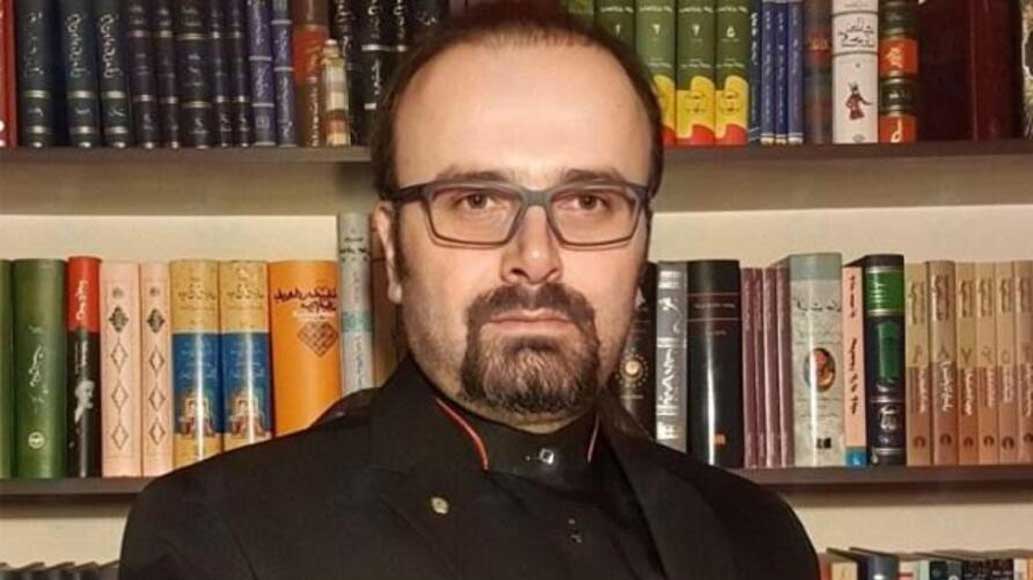 His sentence was reduced on appeal to a one-year custodial prison sentence. Derafshan was also banned from practicing law for two years. The court suspended his prison sentence, but it was reimposed after he reportedly committed the same offense.
Derafshan had received a suspended one-year prison sentence two years earlier and had been banned from practicing law for two years.
After his arrest on June 8, 2020, no one knew Derafshan's fate until it became apparent that he had been transferred to Tehran's Evin Prison on July 2.
According to Dehghan, the investigators from the IRGC's Intelligence Organization who raided Derafshan's office wanted to know why he had represented Kavus Seyyed Emami, an Iranian-Canadian conservationist and the director of the Persian Wildlife Heritage Foundation (PWHF), who died two days after his arrest in 2018 in Evin Prison under suspicious circumstances. According to a report by Iran's Judiciary, Mr. Emami took his own life.
Emami was one of eight environmentalists arrested in January 2018, four of whom were charged with "spreading corruption on earth," another three with "espionage," and another with "working with a hostile government."
Dehghan alleged that in all subsequent interrogations, the agents focused on Derafshan pursuing Emami's case. Dehghan said that to inflict maximum psychological damage on his client, IRGC agents blindfolded Derafshan before transferring him to a safe house instead of a regular prison as required by law. Derafshan was reportedly kept in a room with no lights or windows during summer and was prohibited from contacting his family and lawyers.
According to Dehghan, authorities had transferred Derafshan to Wing 2 of Cellblock A, controlled by the IRGC. The lights are reportedly on 24/7, with three noisy ventilation fans and a filthy toilet. Derafshan was interrogated repeatedly and at great length.
"When Derafshan banged on the door of his prison cell, asking that bright lights that were on all the time and noisy ventilation fans be turned off so he could sleep for a few minutes, three guards entered the cell, brandishing a taser, and threatening to deal with him severely if he did not stop hitting the door," Dehghan said. "He stopped banging on the door of his cell. The same three guards moved Derafshan to Wing 2 of Cellblock A, which is not the prison infirmary. They ridiculed and threatened him, saying they were going to inject him with a drug that would make him sleep soundly."
"Despite his protests, the guards told Derafshan that they were not a joke, and it was not his decision. They injected him using a syringe before returning him to his cell," Dehghan noted. "Although he had fallen asleep, he had a seizure and bit his tongue in half. He choked on his blood and passed out but was not taken to Baghiyyatollah Hospital until the next morning, where doctors operated on his tongue and admitted him to the neurology ward because he had a seizure and became confused and disoriented."
Man Who Witnessed Torture of Iranian Wrestler Afkari Is Found Dead
Jailed Iranian Activist Alleges Rampant Abuse at Bushehr Central Prison
Iran's Inhumane Treatment of Prisoners Is Now Systematic, Human Rights Expert Says 
Dehghan said that authorities did not give Derafshan's family and lawyers any information about him and his condition during that entire time.
"While doctors were trying to diagnose and treat ailments caused by the injection, agents from the IRGC's Intelligence Organization went to the hospital and told Derafshan that the prosecutor had agreed to suspend the warrant and set bail instead, but for that to happen, they had to go to court. However, the hospital would not release Derafshan without his written consent," Dehghan explained. "After giving his written consent, the IRGC agents put Derafshan in the back of a van with no windows in the middle of summer. He was [spitting] serous fluid mixed with the blood but did not have even a piece of cloth to wipe his mouth."
"After getting out of the car, Derafshan realized he was in the courtyard of the Revolution Court and not the Evin's prosecutor office, where the warrant was supposed to be changed," Dehghan said. "To prevent his colleagues from seeing Derafshan in that state, they entered through the backdoor and up a flight of stairs. Derafshan appeared in front of Judge [Mohammad] Moghiseh, ostensibly to hear his complaints against the charges. Instead, he was subjected to the judge's verbal abuse and humiliating comments by the agents."
"He could not make any statement in his defense, given that his tongue was swollen after the surgery to stitch back the severed piece and also because he continued to spit serous fluid mixed with blood," Dehghan noted. "After the court proceedings, they transferred Derafshan to the general population at Evin prison instead of taking him to the hospital despite his recently stitched tongue and bleeding that prevented him from chewing and eating. He needed specialist care to find the cause of his seizure, but they did not even take him to the prison infirmary."
Dehghan alleged that after Derafshan had a seizure, the authorities put him in handcuffs and leg restraints before transferring him to Razi Psychiatric Hospital.
"They had given him electric shocks there [Razi Psychiatric Hospital] which not only worsened his illness but also caused serious brain damage," Dehghan said. "When Derafshan's family and lawyers eventually located him with the help of some political prisoners, they discovered he had been beaten up by security forces of the Prison Organization for protesting against being in handcuffs and leg restraints all the time. The nurses had encouraged the guards to beat Derafshan."
"Although the prison authorities never arranged for Derafshan to appear in court, Judge Afshari handed him a two- and a half-year prison sentence and banned him from practicing law for two years. An appeal court upheld the sentence," Dehghan explained. "Despite his serious issues, they [the courts] did not change the warrant; as a result, he was kept [at the psychiatric hospital]. With the help of a doctor, whom the family paid, and a social worker who signed a release form saying he was well to leave the hospital, Derafshan escaped a fate similar to the late Behnam Mahjoubi and was ultimately returned to Evin Prison."
Behnam Mahjoubi, a 34-year-old Gonabadi dervish and activist, died on Feb. 16 in prison after authorities reportedly denied him medical care for a severe neurological condition.
"His [Derafshan's] condition has somewhat improved recently with the compassionate care of political prisoners in Evin's cell block-4," Dehghan added. "Derafshan was granted a medical furlough with the help of his family and lawyers, and after the medical examiner asked for the sentencing to be postponed because he needed specialist medical help. His leave has been extended. After serving one-third of his sentence, he was granted a conditional release. He is continuing with his medical treatment. It would seem that by deliberately harming Derafshan's tongue, the state is trying to send a message, given that he is a human rights lawyer who protects the voiles of the innocents."
Article 502 of the Code of Criminal Procedure states: "If a defendant suffers from a physical or mental illness and it is deemed that carrying out the sentence could worsen the condition or delay the recovery, following the medical examiner's recommendations, the presiding judge shall suspend the execution of the sentence until the person has recovered. If there is no hope that a patient sentenced to mojazat taziri [punishment for a serious crime not included in the Sharia law] would recover their health, and after establishing the cause and severity of a defendant's illness, the presiding judge in a criminal case, can issue a more appropriate sentence and punishment."