---
By Kayhan Life Staff
---
The Islamic Republic of Iran is using the mandatory hijab rule to further claw back the rights of women and girls in the country.
The government has shut down many businesses in various provinces recently. Law enforcement forces continue to crack down on "hijab violators" on the pretext of "banning evil."
On April 22, authorities reportedly closed 26 businesses in Jahrom, in the southeastern province of Fars, and a psychological and counseling center in Rasht, the capital of the northern province of Gilan, for "mandatory hijab rule violation."
Breaking News
Yesterday, 59 year old woman was killed by Basij in Iran for not wearing hijab.
Basij forces‌ returning from Qasem Soleymani's gravesite attacked this tourist family in Shazdeh Mahan Garden in the city of Mahan Kerman.
"Let them die"
In this video, a basiji woman… pic.twitter.com/DxSuwvnE88

— Masih Alinejad 🏳️ (@AlinejadMasih) April 24, 2023
A government supporter harasses two women who are not wearing hijab. In response, people throw her out of the restaurant. This is the continuation of the fight of Iranian women against the mandatory hijab.#WomanLifeFreedom pic.twitter.com/5503hcn3n6

— Masih Alinejad 🏳️ (@AlinejadMasih) April 24, 2023
According to Ali Heidarkhah, the head of the Gilan Police Department's office for monitoring activity in public places, the psychological and counseling center held mixed-sex classes which "promoted improper hijab and violated Islamic values."
Mr. Heidarkhah said the psychological and counseling center was closed immediately after social media footage showed mixed sessions, adding that "besides shutting the center for promoting inappropriate hijab and violating Islamic values, the 44-year-old director of the center was also arrested."
Colonel Khosrow Razmjouei, Jahrom's police chief, said his forces had shut down 26 businesses for violating "Islamic values and operating without a permit," issued warnings to another 158 establishments, and received guarantees from 63 that they would comply with the "hijab law."
The Islamic Republic ordered that public services not to be provided to women without hijab. That is why this bus driver tells the girl who has taken off her headscarf in protest of the mandatory hijab to obey the law, otherwise the bus will not move. The girl refuses.… pic.twitter.com/WCPKCny6kN

— Masih Alinejad 🏳️ (@AlinejadMasih) April 24, 2023
The new version of the "Hijab and Chastity Law," a proposed bill debated by the Majlis (Parliament) in March, calls for the imposition of stiffer penalties on women who do not respect the mandatory hijab.
Threatening of the protesting people by the forces of the Islamic Republic. Today, April 15, Shahinshahr, Isfahan, protests against the Islamic Republic's chemical attacks on schools.pic.twitter.com/1cJUSdzD7A

— +1500tasvir_en (@1500tasvir_en) April 15, 2023
It calls for canceling the passports and driving licenses of hijab violators and fining them between 500,000 tomans ($9.86) and 3 billion tomans ($58,000). (The conversions are based on the current exchange rate of 51,650 tomans to a U.S. dollar.)
Mahmoud Mousavian, the prosecutor of the central province of Isfahan, recently unveiled a collaborative plan between the Judiciary, the Islamic Revolutionary Guards Corps (IRGC), and the "Enjoying Good and Forbidding Evil HQ" (an Iranian state board on moral propriety) to curb "inappropriate hijab."
"Under the plan, several teams will be deployed in public places to deal with anti-hijab agitators," Mr. Mousavian said. "We will deal decisively with a business owner who enables or serves hijab violators."
Isfahan police chief has urged "the public and the Basij forces to help stop anti-hijab agitators."
The Shargh online newspaper reported on April 1 that authorities had closed a restaurant in Vanak, in north Tehran, reportedly belonging to Amir Ghalehnoei, manager of the Iranian National Football team. The restaurant currently has another tenant.
While authorities tighten their grip on Iranian society, girls and women in Iran continue to defy mandatory hijab in public places.
Javad Karimi-Ghodoosi, a conservative Majlis (Iranian Parliament) member representing the Mashhad and Kalat electoral districts, recently accused people of the Baha'i faith of "masterminding the anti-hijab plot."
In his sermon, marking Eid al-Fitr on April 22, Ahmad Alamolhoda, the Friday Prayers Imam of Mashhad, capital of the northeastern province of Khorasan Razavi, called for "aggressive enforcement of the Hijab and Chastity Law."
"The state must deal decisively with any violation of the law," he said.
Citing Article 19 and Article 20 of the Constitution, Mr. Alamolhoda said: "No citizen should be deprived of their rights in the name of religion or choice, but anyone breaking the law should lose their civil rights."
"A person will not lose her social rights for choices they make but are penalized for breaking the law," He added.
Article 19 of the Islamic Republic Constitution states: "All people of Iran, irrespective of their ethnicity, tribe, color, race, and language, enjoy equal rights."
Article 20 states: "The law protects all citizens of the country, both men and women, equally. Per Islamic criteria, they enjoy human, political, economic, social, and cultural rights equally."
In July 2022, Alamolhoda's son-in-law, Iranian President Ebrahim Raisi, ordered the Supreme Council of the Cultural Revolution to enforce the "Hijab and Chastity Law."
Mr. Raisi accused the "enemies of Iran and Islam" of using global TV and social media to "spread corruption and target cultural, religious principles."
Since coming into office, President Raisi and his hardline government have tried to restrict women's civil rights and freedoms.
Nasir Hosseini, Friday Prayers Imam of Yasuj, the capital of the southwestern province of Kohgiluyeh and Boyer-Ahmad, said hijab was "God's law," and anyone opposing it was pursuing a "Satanic anti-hijab course."
"The enemy is promoting the disgraceful and humiliating anti-hijab campaign," Mr. Hosseini said. "The enemy knows that hijab and moral propriety bring us closer to God and safeguard Islamic unity."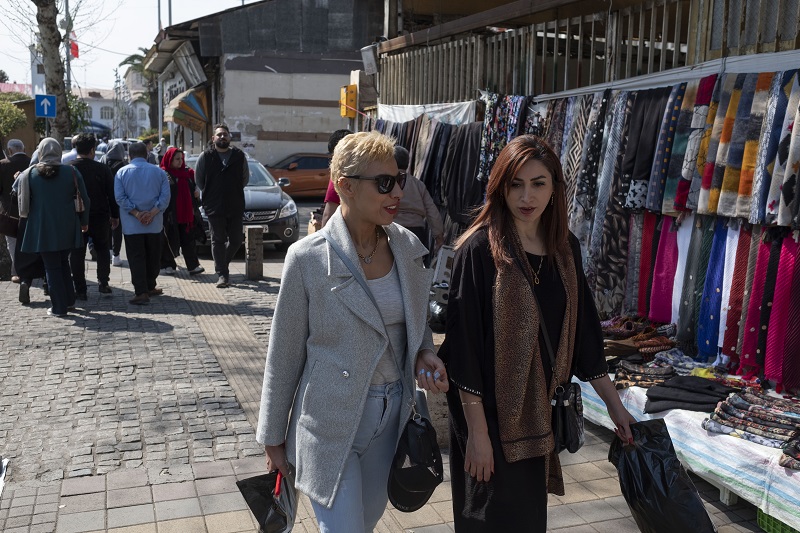 The government's increased efforts to use the mandatory hijab rule to deprive Iranian girls and women of their civil and human rights has alarmed lawyers and legal experts.
Mohsen Borhani, a former student at the Qom Seminary, who holds a doctorate in criminology, has rejected Alamolhoda's assertion that those who wear "inappropriate hijab" are breaking the law and, therefore, "should lose their civil rights."
"No one loses a part of their civil rights automatically, even if they have committed a serious crime. Everything must go through a legal process," Mr. Borhani said in a tweet on April 22. "The Islamic Republic's Criminal Law does not deprive those who do not wear hijab of their social rights."
In an interview with the Tehran-based Hammihan online newspaper, Mohammad Reza Faghihi, a lawyer, said: "Citizens are not servants or agents of the law enforcement forces. They are not responsible for reporting other people's attire or behavior to the Judiciary. If that were to happen, it would create much tension in society."
"Under such conditions, people in residential areas, companies, businesses, and offices would report improper hijab or lack of hijab to police and the Judiciary," Mr. Faghihi argued. "As a result, those reported to the authorities file complaints which would disrupt peaceful coexistence."
Others have warned about the dire consequences of the government's plan, including Mohammad Reza Javadi-Yeganeh, a sociologist, who said: "Up to now [authorities] have only arrested and warned people who do not observe strict hijab dress code. However, although we do not know the details of the new policies, we can surmise from what has been discussed that they entail financial fines."
"Linking what women wear with their economic welfare and that of their husbands results in a short-term success, as was clear by the Pahlavi era's banning hijab or the hiring practices of the past few decades," Mr. Javadi-Yeganeh explained.
"Many people argue that there are not enough cameras [in public places] to resolve the situation," Javadi-Yeganeh noted. "The issue is a probability because anyone could be penalized anytime; the women, their husbands, or the store they shop at. Regardless of how forcefully the measure is implemented, it will generate fear, anger, and humiliation."
During a speech at a gathering of "the guardian of hijab and chastity," Minister of Culture and Islamic Guidance, Mohammad Mehdi Esmaili, said: "Punitive and rewarding measures are needed to safeguard hijab and chastity because we cannot foil the enemy's complex plots only by a cultural viewpoint."
Elahe Tavakolian, Who Lost Eyesight in Iran Protests, Bears Witness 
Similar Articles to This Post