---
By Ahmad Rafat
---
The 10th Lugano Human Rights Film Festival, held from 19 to 29 October, awarded Iranian director Manijeh Hekmat with the Human Rights Author 2023 prize.
Iranian filmmakers also shined at the 36th Tokyo International Film Festival (TIFF), walking away with four prestigious awards.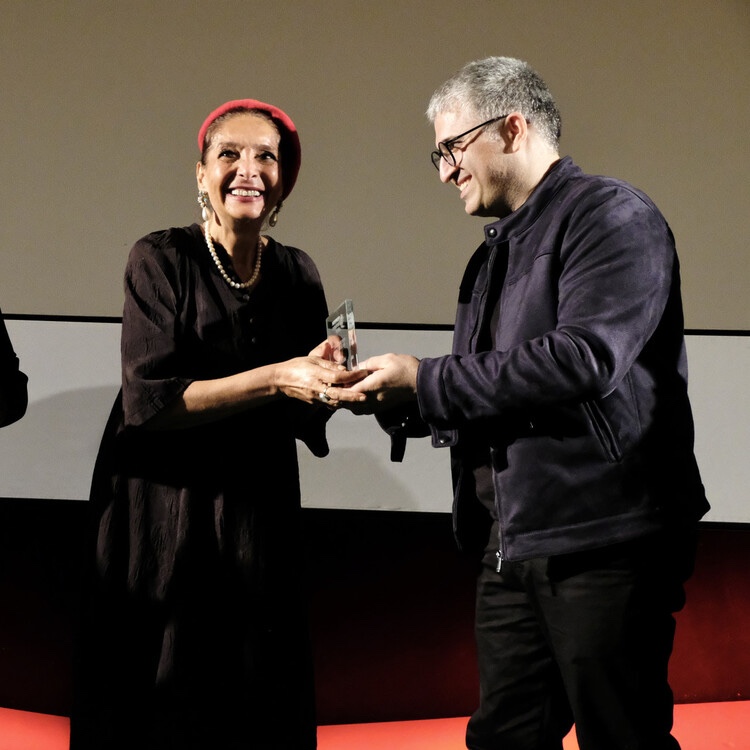 The Lugano festival has always had a special relationship with Iranian cinema, and its director, Antonio Prata, said that by awarding Ms. Hekmat the prize, the festival was "paying homage to a director who, through cinema, has undertaken a resistant and tenacious journey."
"A journey in which she talks about Iranian society with a careful look at the female condition: a cinema that does not limit itself to representing reality but challenges it, explores it, and questions it in a bold and incisive way," Mr. Prata added.
Hekmat accepted her award from Iranian director Abbas Amini in a ceremony on Oct. 27 in Lugano, Switzerland.
"I get my energy from the audience like you who come to watch my films, especially the Iranian people, and specifically, Iranian women," Hekmat said in her acceptance speech.
Hekmat dedicated her award to Mahsa (Zhina) Amini, who died in September 2022 while in the custody of the Morality Police in Tehran; to women in Afghanistan; to all children who died in war zones; and to the renowned Iranian director Dariush Mehrjui, who, along with his wife, Vahideh Mohammadifar, was brutally stabbed to death at their home in a Tehran suburb on Oct. 14.
The festival screened two films by Hekmat: her feature-length "Women's Prison," and her latest work "19" (directed in 2022). Authorities have not issued permits for the release of either film in Iran. They also placed a travel, business, and work ban on Hekmat for a few months last year.
To issue a release permit for "19", Iranian authorities had demanded that Hekmat "cut 40 minutes of the 80-minute" film, which she had refused. Hekmat said she made the decision after "signing a statement supporting her fellow disadvantaged and oppressed compatriots."
Hekmat's sixth feature film "19" tells the story of a 57-year-old artist (painter), played by Iranian actress Pantea Panahiha, who falls into a coma after contracting the Coronavirus, and travels to various places in her mind before dying of the illness.
The film is about an Iranian generation who, before the 1979 Islamic Revolution, had hopes and dreams, none of which have been realized in the past 44 years, which have plunged Iranian society into a coma.
Hekmat's "Women's Prison" was first screened at the 2002 Venice International Film Festival. It was the first film to take a camera into an Iranian women's prison. The film is an audacious journey into the lives of both political and common-law prisoners.
The film depicts relationships between women of different generations imprisoned on various charges. It also explores relationships between the inmates and the correctional officers. It is the first Iranian film about women prisoners, especially those on death row.
Abbas Amini's 2023 film "Endless Borders" was also shown at the Lugano Film Festival. The film has been released widely and won prizes at film festivals in Rotterdam (South Holland), Yerevan (the capital of Armenia), and Tirana (the Albanian capital).
Mr. Amini filmed "Endless Borders" in the southeastern province of Sistan and Baluchestan near the Iran-Afghanistan border. The film tells the story of a teacher exiled to a village on the border with Afghanistan who meets a family of ethnic Hazaras who have entered Iran illegally while fleeing Taliban rule.
The film consists of three narratives: a depiction of poverty in border areas of Sistan and Baluchestan Province; Hazara refugees fleeing Afghanistan after the Taliban's return to power; and a teacher who is exiled to a rural region because of his union activities. Amini successfully ties the three narratives together.
Amini has dedicated "Endless Borders" to fellow Iranian filmmaker Mohammad Rasoulof, who has been repeatedly imprisoned and currently finds himself under a work and travel ban that has been in force for some time. He also dedicated his prize at the Tirana Film Festival to "grieving mothers who have lost their children in the nationwide protests."
At the Tokyo International Film Festival, the Special Jury Prize was given out to the first-ever Iranian-Israeli coproduction: "Tatami," directed by Guy Nattiv and Zar Amir Ebrahimi. Amir Ebrahimi, who also stars in the film, also won the award for Best Female Performance at the Tokyo Festival.
"Tatami," secretly filmed in Georgia, tells the story of Leila Hosseini, an Iranian female judoka (played by Arienne Mandi) who competes in the world championships with her coach Maryam, played by Zar Amir Ebrahimi.
Leila's chances of winning the gold medal increase significantly as she advances in the tournament, but she is warned by the Islamic Republic not to compete against her Israeli opponent in her next match. They order Leila to fake an injury to avoid facing her Israeli opponent.
Since coming to power over four decades ago, the Islamic Republic has forced its athletes not to face their Israeli opponents at any event held during an international sporting competition.
Iranian actor Yasna Mirtahmasb won the Best Actor Award in Tokyo this year for his role in Parviz Shahbazi's "Roxana," which was screened in the official competition. "Roxana" is Mr. Shahbazi's eighth film, and it had its world premiere at this year's Tokyo Festival. Shahbazi's "The Traveler from the South" received TIFF's Gold Award in 1997.
Iranian first-time director Mehdi Asghari Azghadi's "Maria" won the Best Film Award in TIFF's Asia Future category. It tells the story of a young girl practicing the role of a street prostitute. When the video of her acting is shared on social media, everyone believes she is an actual sex worker, and the mistake changes her life and that of members of the film crew.
Similar Articles to This Post