---
By Nazanine Nouri
---
The Iranian artist Khosrow Hassanzadeh has died in a hospital in Tehran aged 60.  According to media reports, the cause of death was alcohol poisoning, contracted after consuming a bootleg drink.
The artist lapsed into a coma 10 days before his death, after swallowing a drink that contained poisonous methanol, according to the reports.
Iranian artist Khosrow Hassanzadeh, has passed away, leaving behind an indelible legacy that transcends borders and time.

Hassanzadeh was a visionary painter and sculptor whose work was celebrated for its profound exploration of identity, culture, and the human condition.… pic.twitter.com/DuDDWNFeG1

— Kayhan Life (@KayhanLife) July 2, 2023
Alcohol has been banned in Iran since the 1979 Revolution, driving many to consume homemade and bootleg drinks that are the cause of blindness and serious injuries and afflictions, as well as  an increasing number of deaths.
Hassanzadeh – a painter, installation and conceptual artist — was one of Iran's leading talents. He treated subjects as varied as the Iran-Iraq war, murdered prostitutes, women in chadors and Iranian wrestlers.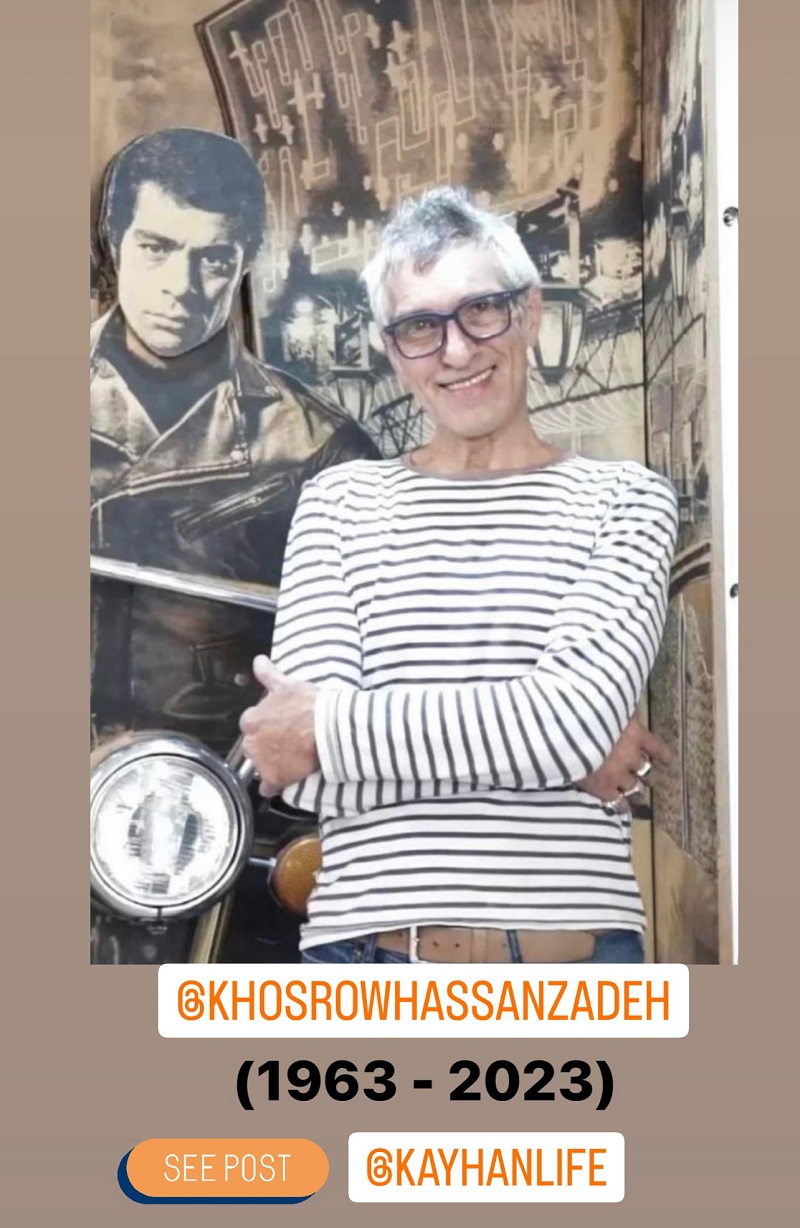 He worked primarily with photography, collage, painting and mixed media, often layering contemporary images and photographs with figures drawn from Persian illuminated manuscripts and calligraphy. His  work was influenced by the Saqqa Khaneh movement of Iranian Modernism which began in the 1960s.  The artist himself called his work "people's art," because it dealt with social issues that affected everyday people.
"I am from downtown Tehran," he said in an interview with the Bagri Foundation, noting that he was most of all interested in recreating the worlds of ordinary people, and of forgotten or ignored members of society.
"I have always chosen to make my work about the subjects that are closest to me," he added in the May 2020 interview. "I love the richness of my culture and traditions, and I embrace the often surprising and humorous way in which they penetrate and express themselves in contemporary society. Iran is a deeply visual country, life is written and painted all around me in everyday local things and street life. I always use popular mediums and materials: silk screen, painting, collage, cheap paper. My work is always about the unknown people because I believe in their importance and sacrifice, I believe they are the root and solution to everything."
Hassanzadeh was born in 1963 into a working-class Azerbaijani family who were fruit sellers in Tehran. He was 17 when the Iran-Iraq war broke out in 1980;  he dropped out of school and enlisted in the Basij militia, fighting as a conscript until 1988.
After the war, he enrolled in the Faculty of Painting of the Mojtama-e-Honar University in Tehran (1989-1991) before studying Persian Literature at Azad University (1995-1999), while also training with his mentor, the Iranian artist Aydin Aghdashloo.
Hassanzadeh's early works — three of which are in the collections of the British Museum — are often portraits of himself or of members of his family, painted in pastel on brown paper bags that he used to sell fruit, and which he joined together to create vast sheets.
The artist gained international recognition with his War series (1998) – a depiction of his own memories as a volunteer soldier during the Iran-Iraq war – exhibited at the Diorama Arts Centre in London. Later works include "Ashura," "Chador," "Prostitute," "Pahlavan," "Terrorist," "Bache Mahal Refighbaz," "Ready to Order," "Ya Ali Madad," "Haft Khan," "Nude," "Warhol Saved Me," "Reza The Motorcyclist Returns," and "Khonyagar."
His "Chador" series (2001) was realized at a time when "the veil symbolized the oppression of Middle Eastern women in the West," said the artist's website www.khosrow-hassanzadeh.com. Hassanzadeh sought to "counterbalance the Western image of the veil by presenting a beautiful and decidedly positive outlook on the chador," with colorful and patterned fabrics replacing the traditional black veil, it added.
The patterns adorning the chadors were taken from the wallpaper in his family home, appealing to, but also subverting, the Orientalist image of the mysterious and subservient Muslim woman.
Hassanzadeh's "Prostitute" series (2002) was realized after filmmaker Maziar Bahari commissioned the artist to create a poster for his documentary film "And Along Came A Spider" – the story of Saeed Hanaei, a serial killer in Mashhad who strangled 16 women he believed to be prostitutes.  Using a mixed-media technique of silkscreens and painting, the artist used the police mug shots and crime scene photos in his visual tribute to the 16 women.
His "Terrorist" series (2004) was a protest against the stereotyping of Iranian artists. It was created for an exhibition entitled "West by East" in Barcelona, where artists and intellectuals from the Middle East and Arab world were invited to give their views of the West.  Hassanzadeh portrayed himself, his mother and sisters as terrorists on huge silkscreens. Each is identified by name, nationality, age and profession, and all are grouped under the heading "Terrorist," as if they were appearing on a 'wanted' poster.
Hassanzadeh's description of his 84-year-old mother, Nadjibeh, which appears on a tag attached to one of the four larger-than-life-sized works in the series, reads:  "Widowhood at fifty years of age. Succeeded in raising her six children alone and under difficult circumstances, thanks to her deep religious beliefs."
Hassanzadeh's work has been displayed in the last 25 years in solo exhibitions in Amsterdam, Beirut, Berlin, Brussels,  Delhi, Dubai, London, Los Angeles, New York, Paris, Phnom Penh, Shanghai, Singapore, and Tehran and is held by such prestigious institutions as the British Museum, the Tehran Museum of Contemporary Art, and the World Bank.