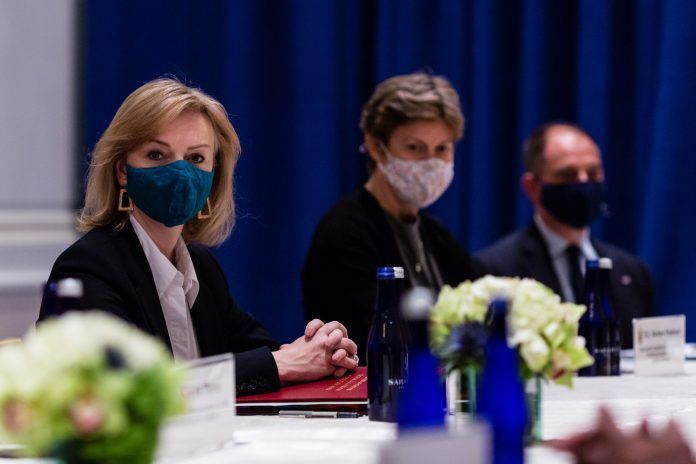 ---
---
Richard Ratcliffe, the husband of the detained British-Iranian Nazanin Zaghari-Ratcliffe, has given a file containing the names of 10 Iranian officials accused of enabling arbitrary detentions to the new British Foreign Secretary Liz Truss.
Ratcliffe appealed to the United Nations to secure his wife's release in August, following her conviction in Iran's revolutionary court on April 26 for spreading propaganda against the regime. Ms. Zaghari-Ratcliffe received a one-year prison sentence and a 12-month travel ban.
The mother of one had previously served a five-year sentence in full after being found guilty of "plotting to topple the Iranian government." She has always denied the charges against her.
Truss met with Iranian Foreign Minister Hossein Amir-Abdollahian on Sept. 23 at the United Nations General Assembly (UNGA) in New York to discuss Zaghari-Ratcliffe's arbitrary detention and ongoing consular cases involving British nationals. On Sept. 22 Truss held a meeting with US Secretary of State Antony Blinken to discuss the need for the immediate release of all arbitrarily detained Britons and Americans.
UK's Truss Urges Iran to Return to Nuclear Deal Negotiations in Vienna -UK Government Spokesman
???? Important meeting today with Iranian Foreign Minister Amir Abdollahian. I pressed two issues:

? I'm absolutely determined to secure the release of detained British nationals

? And I want to bring Iran back to the table on the nuclear deal and return to Vienna talks pic.twitter.com/ceoWP7dS0v

— Liz Truss (@trussliz) September 22, 2021
The 50-page dossier — which asked the British government to impose sanctions on the individuals listed in the file — was given to Truss on Sept.17 shortly before the minister traveled to New York.
Speaking to Kayhan Life about who had been listed, Ratcliffe said: "We have included those who we think engage in abductions and interrogations; those who we believe engage in the judicial process for arbitrary detentions; and those who mistreat people in prison."
"We have also listed individuals who produce propaganda for the state, such as the broadcast of false confessions, and then those who do the marketing to close the deal. Everyone operating within the value chain in the hostage taking industry," he said.
Iran Hostage Release Must Be Part of Nuclear Deal, Richard Ratcliffe Says
The dossier is the first of three files prepared with London-based human rights NGO, Redress, and took one year to produce. The document contains private evidence from detainees and their families; answers from detainees and their family members to a questionnaire produced by Redress; and publicly available documents found in digital databases and online platforms.
The final file, which will be made available to the public, will name all of the individuals accused of enabling arbitrary detentions in Iran and will be published next spring.
A letter signed by 175 lawmakers in the UK called on British Prime Minister Boris Johnson to protect detained British-Iranians abroad. The letter, produced by Ratcliffe, coincides with the 2,000th day since Ms. Zaghari-Ratcliffe was detained in Iran.
The letter urged the government to use "robust protections at its disposal, including the options available under diplomatic protection, sanctions and legal action to protect British citizens." It will be delivered by hand to Johnson at No.10 Downing Street on Sept. 23 at 12.30pm.
Meanwhile, an online event held on Sept. 21 explored the use of data collection to hold the Iranian government to account for its human rights record.
The conference, titled "Data for rights and accountability in Iran," was organized by the international human rights organization Impact Iran. It took place as a side event during the UN Human Rights Council's 48th session in Geneva.
The event highlighted the importance of gathering data to document Iran's human rights record, and the challenges in collecting such information.
New Database Tracks Iran's Human Rights Violations Since 1979
Speakers for the online event were: Javaid Rehman, UN Special Rapporteur on the situation of human rights in Iran; Roya Boroumand, co-founder of the Abdorrahman Boroumand Center; Skylar Thompson, spokesperson for NGO Human Rights Activists in Iran (HRA) and; Azadeh Pourzand, co-founder and director of the Siamak Pourzand foundation and Impact Iran, a coalition of NGOs promoting Iranian civil society engagement with UN human rights bodies.
In his opening remarks, Mr. Rehman said: "With the deficiencies of the national and international orders and obstacles to prompt responses to atrocities and human rights violations, the timely use of data for pursuing accountability is still a dream."
"Documentation efforts in the context of Iran have always been challenging due to the lack of transparency and the ongoing protection concerns, and the risk of reprisals. I humbly praise the work of human rights defenders, and civil society organizations who operate in this challenging environment, despite all the risks and barriers," Rehman said.
Speaking about due process in Iran's court system, Ms. Boroumand said: "The vengeful arbitrary and summary justice of the revolutionary tribunals have normalized arbitrariness and summary justice. These ad hoc courts lacked and continue to lack fairness and independence."
A press conference to raise awareness about Iran's political prisoners on Sept. 21 was held outside the building hosting the UN General Assembly. The meeting was organized by the New York-based Free Iran's Political Prisoners Now campaign, and included speeches by family members of dual nationals held in Iran.
A speech written by Mariam Claren, the daughter of detained German-Iranian Nahid Taghavi, was read out by a member of the campaign during the conference. Ms. Claren called on the UN to stand with all political prisoners in Iran. She also highlighted clauses in the UN's Universal Declaration of Human Rights which she said had been "systematically violated in the Islamic Republic of Iran."
Free Iran's Political Prisoners NOW press conference outside the UN where #Biden and #Raisi (by video) were speaking. Powerful statements from @mariam_claren @lilika49, @KaveMilani, Prof. Azam Niroomand-Rad & more

Go to https://t.co/1Ywyl941Ne to support/join the campaign! pic.twitter.com/Vqr18jP3ea

— Emergency Campaign 2Free Irans Political Prisoners (@IranPrisonEmerg) September 22, 2021
Ms. Taghavi was sentenced to 10 years and 8 months in prison on Aug. 4 by Iran's revolutionary court for participating in the management of an illegal group and for propaganda activities against the regime.
Ms. Claren told Kayhan Life that poor treatment of women in Iran's prisons was systematic.
"I speak to my mother three times a week for 10 minutes. The women are allowed to call on Monday, Wednesday and Saturday. However the men can phone every day, and they can talk for 20 minutes. Even in prison, women are more under pressure," she said. "There was gender inequality during the prison's Covid-19 vaccination drive too. Every man was vaccinated at the same time, which was a good thing, but nearly every woman in the prison caught Covid. There were at least 22 women out of 25 who caught the virus in prison. My mother was one of the first to catch Covid there."
Iran Sentences Two Dual Nationals to 10 Years in Prison Each -Lawyer
Ms. Claren said she was pleased that the UK's foreign secretary wanted to urge her Iranian counterpart to release all British nationals without delay. However, she said she was disappointed that German Foreign Minister Heiko Maas had not responded to her request to make the same demand for German nationals arbitrarily detained in Iran.
Sherry Izadi — whose husband the British-Iranian Anoosheh Ashoori was sentenced to 12 years in Tehran's Evin prison in 2017 for "cooperating with a hostile state against the Islamic Republic" and "obtaining illicit funds," — told Kayhan Life that she had spoken with Truss on Sept. 19 about her husband's case.
"We just urged her to do all she can to put an end to this ordeal. She said that she had studied the case and that she was definitely going to use all her influence at the United Nations in her talk with the Iranian foreign minister," she said. "We also had an online meeting with the new British ambassador to Iran [Simon Shercliff] on July 16, just before he left for Iran. We then had an online meeting with him on Sept. 3 after he arrived. He's been in contact with my mother-in-law in Iran and said if she needs any help she can talk to him."
On the challenges facing detained dual nationals in Iran, Ratcliffe said: "The new government in Iran is still quite cautious, feeling its way through how everything is structured and they may be slightly conflicted. The risk for us at this stage is that we're a downstream part in the bigger picture of the nuclear negotiations."
Iran Hostage Release Must Be Part of Nuclear Deal, Richard Ratcliffe Says
EXCLUSIVE – U.N. Expert Backs Probe into Iran's 1988 Killings, Raisi's Role
Similar Articles to This Post