---
By Kayhan Life Staff
---
The Islamic Revolutionary Guards Corps Navy (IRGCN) unveiled its latest warship, Shahid Roudaki, earlier this month in a ceremony in the port of Bandar Abbas, the capital of the southern province of Hormozgan.
"The 12,000 tons Shahid Roudaki warship is 150 meters [492 feet] long and 22 meters [72 feet] wide. Its open deck is large enough for a helicopter landing pad, together with multiple vehicles," the Tehran-based Young Journalists Club (YJC) news agency reported. "The domestically built warship is designed by our devout revolutionary engineers and technicians."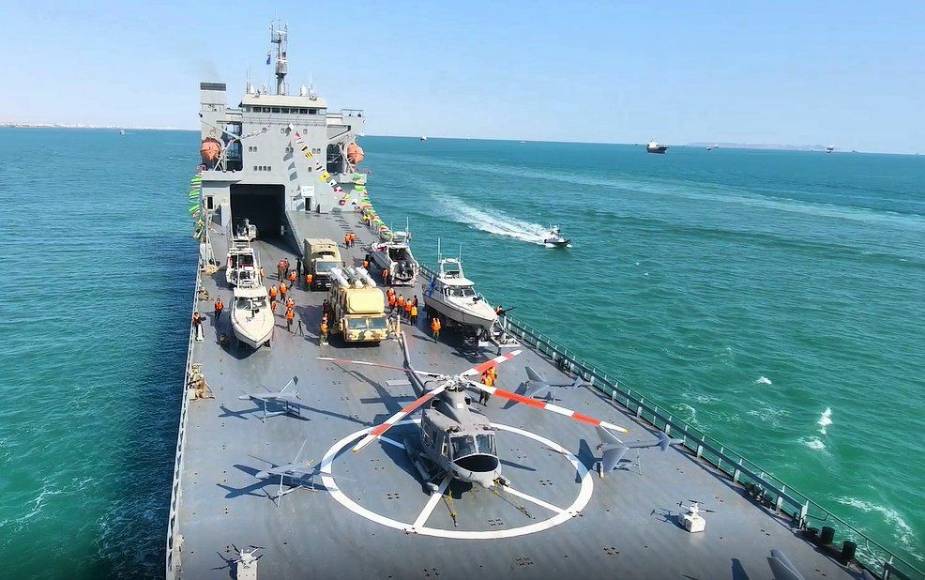 "Major General Hossein Salami, the commander of the IRGC, attended the unveiling ceremony of Shahid Roudaki warship," a tweet by the semi-official Fars news agency said on Nov. 9.
"We stop at nothing to protect our country," Commander Salami said in a speech broadcast by the Islamic Republic of Iran Broadcast (IRIB) IRTV1. "What you see here today is a good example of our resolve to defend our nation against the world hegemony."
The new multirole warship is armed with anti-ship and surface-to-air missiles and can carry helicopters, drones, and speedboats, the IRTV1 report added. Footage of the commissioning ceremony showed a Bell 412 helicopter, four speedboats, six Ababil-2 drones, and the air defense system 3rd Khordad TELAR (Transporter erector launcher and radar) on the ship's deck.
"In protecting our interests and defending the country, we are not restrained by geography," General Salami was quoted by Tasnim News Agency as saying. "A new vessel is joining the IRGCN today. The ship can defend itself and our territorial waters. It will protect our vessels in our waterways and the open sea."
"Maritime sovereignty is our inalienable right. We have every right to have a presence in the Indian Sea," Commodore Alireza Tangsiri, the commander of the IRGCN, was quoted by the Tehran-based Mashregh News as saying. "Maritime laws allow naval vessels to sail within 12 miles of any country's territorial waters. However, we believe that, along with our brothers in the [Islamic Republic of Iran] Navy [NEDAJA], we can maintain security away from our borders and in the open sea."
"We cannot leave our commercial vessels and oil tankers unprotected and vulnerable in the open sea. It is our responsibility to protect them, and we will do it effectively," Commodore Tangsiri added.
General Salami and Commodore Tangsiri seemed to suggest that Shahid Roudaki will escort Iranian commercial vessels and oil tankers — majority of which are under U.S. sanctions — in international waters and in the open sea. 
NEDAJA is more than capable of protecting the country's waterways and commercial vessels. It is unclear why the IRGCN would escort Iranian tankers, given that the force has been designated a terrorist organization by the U.S.
Shahid Roudaki is not the first domestically manufactured ocean-going ship. 
In 2010, the Iran Shipbuilding and Offshore Industries Complex Co (ISOICO) built Iran-Arak, its first ocean-going cargo ship. It joined the Islamic Republic of Iran Shipping Lines (IRISL) in May of that year. Iran-Arak is 185 meters long, 30 meters wide, and can carry up to 30,000 tons of cargo (2,200 containers).
The ISOICO also built a second container ship, Shahr-e Kord, in 2012. It is 187 meters long and 30 meters wide, and could carry up to 30,000 tons of cargo (2,200 containers).
Shahr-e Kord was among the 125 vessels sanctioned by the U.S. in 2019.
The body and primary structure of Shahid Roudaki conspicuously resembles a cargo container. Some experts have suggested it is a repurposed container vessel.
Experts have also noted that the body and primary structure of Iran-Arak and Shahr-e Kord closely resemble the Italian Navy's aircraft carrier, Giuseppe Garibaldi.
This article was translated and adapted from Persian by Fardine Hamidi.