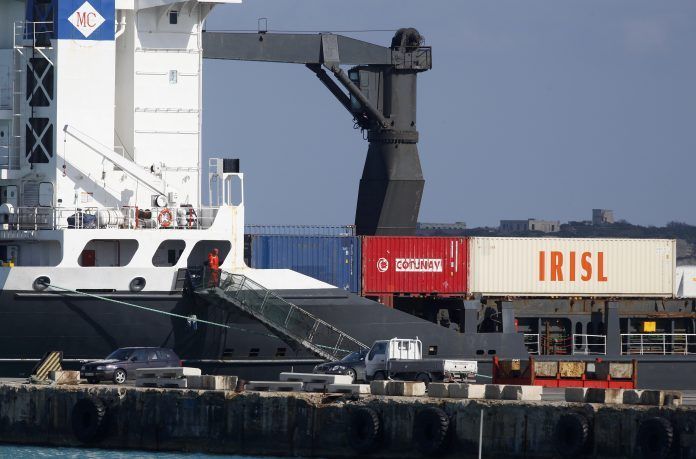 ---
By Kayhan Life Staff
---
According to a recent report by the Islamic Republic of Iran Central Bank, the country exported and imported $34.998 billion and $38.893 billion worth of goods last year, showing a negative balance of trade (BOT) of $3.895 billion.
In October, Iran exported $4.672 billion worth of products, the highest volume of goods shipped out of the country last year. Likewise, the country recorded its highest volume of imports in March, which stood at $4.572 billion.
The International Monetary Fund (IMF) had previously forecast a negative trade balance for Iran in 2020. It had predicted that while Iran's oil, and non-oil exports, and services would be around $46 billion this year, its import would be $18.6 billion higher than that amount.
The balance of trade, also known as net exports (NX), is the difference between the monetary value of a nation's exports and imports over a certain period. The index determines a country's ability to trade and invest in its economy. A favorable trade balance (trade surplus) increases the value of the legal tender and brings more foreign currency into the country.
Iran's trade volume with other countries, including its economic partners, has dropped significantly in recent years, particularly after the U.S. pulled out of the 2015 Joint Comprehensive Plan of Action (JCPOA), better known as the Iran nuclear deal, in May 2018.
---
[contact-form][contact-field label="Name" type="name"][contact-field label="Email" type="email"][/contact-form]
---
Iran also experienced a negative trade balance in 2019, the Central Bank report added. It exported $41.370 billion worth of goods and imported $43.735 billion, showing a trade deficit of $2.365 billion.
While the Central Bank has attributed the trade deficit to a sharp drop in Iran's oil export, it recently said that Iran's trade balance for non-oil products increased by 18.2 percent in 2019. Some 27-percentage points of that figure resulted from a drop in the import of non-oil products, which had a positive effect, and another 8.5-percentage point resulted from a decrease in the export level, which had a negative impact.
A comparison between Iran's non-oil export and its neighbors — which have faced the same problems resulting from the COVID-19 pandemic — shows a worrying trend in the country's production of goods and exports.
According to a recent report by the office of the economic review of Tehran Chamber of Commerce, Industries, Mines, and Agriculture, Turkey's trade volume with the EU in the first four months of 2021 was 94 times Iran's total export to Europe. In the same four months, Iran-EU's total trade volume was around 1,450 million euros, showing a drop of 1.1 percent compared to the same period the year before.
Some 99.6 percent of the total 263 million euros worth of goods Iran exported to the EU in the same period were non-oil products, which showed an increase of 28 percent compared to the same period in 2020.
Turkey's exports to the European Union in the first four months of 2021 were about 24.7 billion euros, averaging to 6.1 billion euros a month. It showed an increase of about 21 percent compared to the same period last year. The figures show that Turkish exports to the EU were 94 times higher than Iran's to the same economic zone for that period.
The Tehran Chamber of Commerce, Industries, Mines, and Agriculture report said Iran had a negative trade balance with the Eurasian Economic Union (EAEU). The report explained that Iran exported $180.2 million worth of goods to the EAEU the first two months of this year, showing a 66.3 percent increase compared to the same period last year. Iran's export to EAEU was 2.9 percent of its total export in the same period. Iran imported $201.800 million from EAEU in May of this year, the report added.
"Data has shown that in recent years, a significant part of Iran's total trade volume has been limited to only five neighboring countries and few others in the region," president of Iran Export Confederation, Mohammad Lahouti, said. "Reportedly, there are plans to develop a large segment of the country's commerce through trade with 15 of our neighbors."
"There is nothing inherently wrong with the plan, but adopting a narrow view of commerce could harm the Iranian economy," Mr. Lahouti warned.
Lahouti believes a country's export should not depend on a handful of neighboring countries.
"We will have a good chance to be part of the international market if we boost production, improve the quality of goods, and offer competitive prices," Lahouti noted.
Lahouti argued that the country's economic program must be ring-fenced. For instance, the first unit comprises trade with 15 neighboring countries, the second focuses on export to the EU and East Asia countries, and the third would involve trade with other continents and distant shores.
Iran's trade deficit poses a severe threat to the country's agricultural products and the industrial sectors. It is unclear how the newly elected Iranian President, Ebrahim Raisi, plans to fulfill his campaign promise of doubling exports. Mr. Raisi's plan aims to raise the country's average economic growth by 5 percent, relying solely on non-oil products. He has also said that Iran's non-oil exports will meet the country's foreign currency needs by 2022.
These promises do not correspond to the realities of the Iranian economy. Moreover, even if the campaign promises motivated people to vote in the elections, they would expect President Raisi and his government to show tangible results in the coming weeks.
---
---
Similar Articles to This Post