---
By Kayhan Life Staff
---
The Iranian security forces, including members of the Islamic Revolutionary Guards Corps (IRGC), have reportedly raided the homes of several women's rights activists in Tehran and Karaj (26 miles northwest of Tehran) in recent days, the Human Rights Activists News Agency (HRANA) said on Sept. 18.
Authorities raided the homes of women's rights activists Pouran Nazemi, Sara Sahranavard-Fard, and Maryam Rahmani, confiscating their phones, computers, documents, and belongings, the report added. The agents reportedly damaged some homes while rummaging through their contents.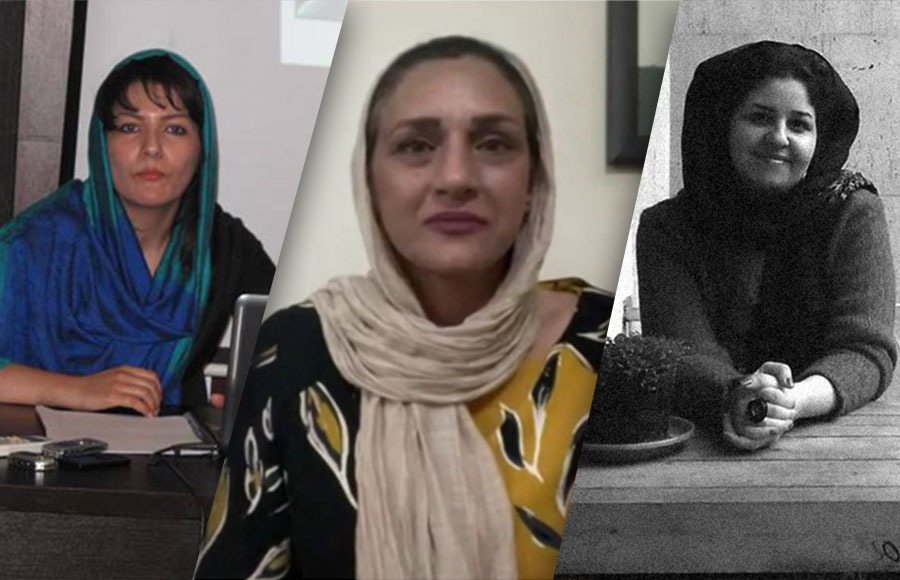 According to reports by several human rights groups, members of the IRGC's Sarallah Unit in Tehran raided the home of Ms. Sahranavard-Fard on Sept. 15, confiscating her cell phone, laptop, and literature on women's rights. They also seized her sister's cell phone.
Ammar Maleki, an assistant professor at Tilburg University in the Netherlands, tweeted: "The Western Taliban attacked the home of Pouran Nazemi, affiliated with the statement of the 14 [Rights Activists], confident that the international community would soon officially recognize the governments of the Western and Eastern Taliban."
"They [Iranian authorities] believe the conditions are like the golden era of the 1980s," Mr. Maleki noted. "However, they are unaware that the situation resembles the last days of the Soviet Union. They are pinning their hopes on external factors while collapsing from within."
The tweet included footage showing the interior of a house with broken shelves, cabinets turned over, and books and other objects thrown on the floor.
طالبان غربی به خانه #پوران_ناظمی، از اعضای بیانیه۱۴ حمله کردند؛ سرمست‌ از اینکه جامعه جهانی بزودی دولتهای طالبان غربی و شرقی را برسمیت میشناسد.
میپندارند شرایط مانند دهه طلایی۶۰ است اما نمیدانند وضعیتشان بیشتر شبیه سالهای آخر شوروی است! از درون پوسیده‌اند و امیدشان به بیرون است! pic.twitter.com/UAK75SuLvt

— Ammar Maleki-عمار ملکی (@AmmarMaleki) September 18, 2021
The distressed voice of an unidentified woman in the clip says: "Look what they have done, what they have done to our house. They intended to destroy [everything]. These were expensive [books]. Look what they have done to them."
The Statement by 14 Political Activists was an open letter signed in 2019 by 14 political and rights activists in Iran, calling for a peaceful regime change and urging the Supreme Leader Ayatollah Ali Khamenei to resign. A second letter, signed by 14 women's rights activists inside Iran, was published shortly afterward, followed by a third letter signed by 14 women's rights activists living abroad.
Security police briefly detained Pouran Nazemi for protesting against the Taliban's oppression of Afghan Women on Aug. 18 and Sept. 8.
Authorities have not explained their reasons for searching the homes of Nazemi, Ms. Rahmani, and Ms. Sahranavard-Fard.
Meanwhile, several human rights groups have said that the Iranian photographer and documentary filmmaker Negar Massoudi has reportedly been ordered to appear at Branch 2 of the prosecutor's office at Tehran's Evin Prison.
Ms. Massoudi was arrested last year after her photography exhibition, which included images of Marzieh Ebrahim, who was the victim of an acid attack, and of homeless women sleeping rough in cardboard boxes. Massoudi was released on bail after spending 72 days in the Evin Prison's Block-A, run by the IRGC's Intelligence Organization.
In the past few decades, the security forces have harassed and suppressed women's rights activists in Iran. Iranian authorities routinely arrest and detain women's rights activists on trumped-up charges.
---
---