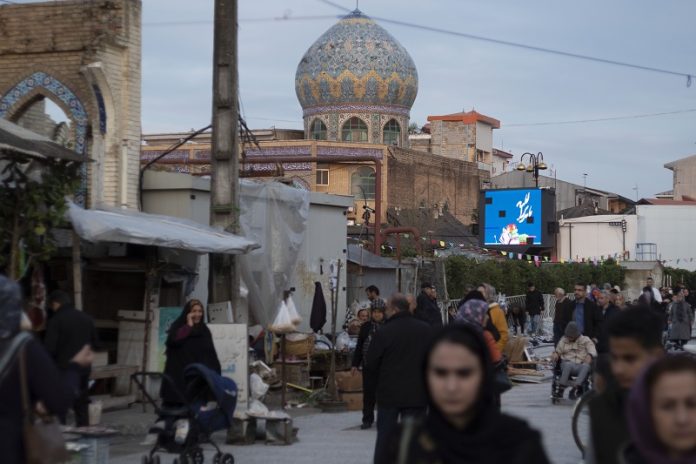 ---
By Kayhan Life Staff
---
Ensiyeh Khazali, Iran's Vice President for Women and Family Affairs, has said that the only way to meet the population challenge in the country is for families to have at least five or six children.
"Nowadays, families do not have more than one or two children, but this number must increase to five or six," Ms. Khazali said at a ceremony on Oct. 3 to distribute land to applicants under the "Youthful Population and Protection of the Family law," in Mashhad, capital of the northeastern province of Khorasan Razavi.
"Realizing this goal will rescue us from the population challenge and the black hole of population," Khazali said.
"The 13th government acts instead of making promises, and giving land under the Youthful Population Law is a practical example of realizing this [plan]," the Young Journalist Club (YJC) news website quoted Khazali, saying.
"Women, as the nucleus of the family, must pay careful attention to the quantity and quality of giving birth and raising children so that we can solve some issues posed by population challenge through support and creation of a culture," Khazali argued.
Iran's Parliament Approves Massive Spending Package for Population Growth
Khazali explained that under the Youthful Population and Protection of the Family law, ratified in 2021, men and women received an equal share of land.
"To avoid falling into a population black hole, we must take advantage of any opportunity to form families, promote modest household living, avoid [lavish marriage] ceremonies, simplify the marriage process, and urge [families] to have children," Khazali added.
Khazali had previously warned about the increasing age of the Iranian population.
In comments reported by the Iranian Students News Agency (ISNA) on Aug. 23, 2022, Khazali warned: "If we become an aging population, it will take 350 years to reverse the process."
"The government has drafted several plans regarding this issue, including infertility treatment for 3.5 million couples who cannot conceive, comprehensive insurance coverage for natural births, mothers throughout the breast-feeding period, and children up to five years old," Khazali explained.
"People have called for insurance coverage to include infertility treatment," Khazali noted. "Visits to various provinces are part of the plan to boost medical and technological capabilities of fertility clinics."
"If private clinics do not provide coverage to people, their licenses will be revoked because infertility treatment is costly," Khazali added.
In comments reported by the semi-official Fars news agency on June 19, Saleh Ghasemi, a sociologist and a member of the Interior Ministry's Population HQ, said: "With 85 million people living in Iran, we need a program to reverse the continued drop in the country's population, because the current rate of growth stands at 0.6 percent. It will reach 0 percent by 2026, and by 2031, there will be 91 million people living in Iran, showing a negative population growth."
"The birth rate has dropped from 6.5 births per woman to 1.6, which is the national average, with 1.4 births per woman in major cities and 1.2 in provinces of Gilan (north), Mazandaran (north), Alborz (north), Markazi (central) and Semnan (central)" Mr. Ghasemi explained.
Ghasemi noted that 12 percent of parents were 60 years and older, warning that the number "will go up to 30 percent in the coming years, i.e., one in three people will be an older adult."
In an interview with the Tehran-based Tasnim news agency on June 17, Deputy Health Minister Hossein Farshidi explained the specifics of the government's "Nafas" (Breath) program for "reducing the abortion rate" in the country.
"Details of pregnant women are stored in the 'National Website for Healthy Pregnancy' and their progress is closely monitored," Mr. Farshidi explained. "Healthcare staff monitoring the situation will counsel a couple who may plan to abort the pregnancy."
The scheme was rolled out at the Nafas Center in Khomeyn, in the central province of Markazi, on Sept. 30.
"Based on unofficial data from government sources, including the Iranian Parliament's Research Center and the Supreme Council of Cultural Revolution, 1,000 criminal abortions were performed daily in 2021 in the country," the director of Khomeyn's Nafas Center, Maryam Ghaffari, said during the opening ceremony of the center.
"We lose 2,000 fetuses daily in the country currently," ISNA quoted Ms. Ghaffari saying. "Many people cite economic hardship as the underlying cause of abortion, given that 1,632 incidents happened in impoverished border provinces and not prosperous regions. Of that number, 13 percent cited economic problems, 41 percent did not want children, and 42 percent said their circumstances prevented them from having children."
In an interview with Fars news agency on Aug. 24, the director of the Iranian Genetic Society (IGS), Mohammad Akrami, warned that some people may travel abroad for fetal ultrasound scans if the manufacturing and import of screening equipment is banned. As a result, many will seek underground establishments to undergo the procedure, which is now a common practice.
Khamenei Expresses Concerns About Iran's Low Population Growth, Flood Damage
Citing the new guideline by the Ministry of Health, Mr. Akrami explained Iran has banned the import of screening equipment to stimulate population growth. Akrami argued that not only a ban on the import of ultrasound scanners would not encourage population growth, but it could also discourage people from "getting pregnant with confidence."
Mohammad Amin Tabatabaifar, an IGS board member and an assistant professor at Isfahan University's Medical School, reportedly broke the news about the import ban of ultrasound scanners for monitoring first through third trimesters.
"Screening the fetus has been an accepted practice for the past few decades, especially for identifying possible cases of Down Syndrome," the Tehran-based Doniya-e Eghtesad said on Aug. 16. "However, Article 53 of the Youthful Population law restricts the screening process. Under the law, it can only be performed with the consent of parents or a specialist doctor."
"The Ministry of Health has gone further by not issuing manufacturing and import permits of equipment to screen first through third trimester, i.e., ultrasound scans cannot be performed even with parental consent and approval of a specialist doctor," the paper explained. "Without a screening kit, clinics cannot perform the test. Lack of domestically manufactured or imported equipment makes it impossible to screen the fetus."
By banning the manufacturing and import of screening equipment, the Islamic Republic aims to stimulate population growth at all costs. Iranian authorities are so focused on increasing the birth rate that they have yet to consider whether the population will be healthy and productive in various economic, social, and cultural fields.