---
---
The Islamic Revolutionary Guards Corps (IRGC) has invented a device that can detect coronavirus in people from a safe distance and without a need for a blood test, according to the commander of the IRGC Major General Hossein Salami.
Commander Salami made the comments during an unveiling ceremony of the device on April 15.
"What we have before us is a new and unique and amazing instrument, developed by our dedicated young Basij [volunteer forces] scientists after the coronavirus outbreak," Mr. Salami was quoted by the Tasnim News Agency as saying. "The device does not require a blood test and can be operated from a safe distance."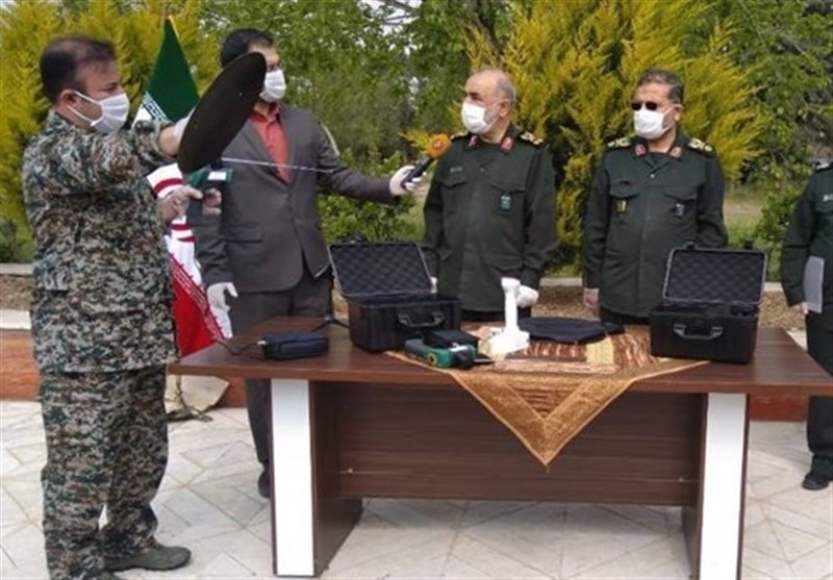 "The instrument generates a magnetic field which is programmed to respond to the virus," Salami explained. "It can detect an infected environment within a 100-meter diameter. The antenna on the device locates the exact position of the virus. It can detect an infected environment in five seconds."
"This is a smart and non-invasive device that can detect those infected with the virus quickly," Salami noted. "It is also programmed for 'smart sterilization,' which means it does not disinfect surfaces unnecessarily. It is a useful device for screening people."
"Hospital tests have shown that the device has an accuracy rate of 80 percent," Salami added. "God willing, we will improve its performance so it can detect every kind of virus."
There is no evidence to date that the device has been tested by an independent medical research lab outside Iran.
A video clip tweeted by Kayhan London on April 15 showed an unidentified IRGC officer displaying the components of the device as commander Salami explained their function. Salami and others at the unveiling ceremony did not offer any scientific data supporting the claims made about the instrument.
Two days earlier, Iran's Vice President for Science and Technology Sorena Sattari toured a production facility in Karaj, 42 kilometers northeast of Tehran, that reportedly makes coronavirus test kits.
"This 'knowledge-enterprise' company manufactures up to 100,000 PCR analysis kits a week," Mr. Sattari was quoted by the Tasnim News Agency as saying. "It can also make up to 2 million serology kits to detect coronavirus."
PCR (polymerase chain reaction) analysis is a technique that allows technicians to create millions of precise DNA replications from a single sample of DNA.
The IRGC had previously unveiled a Chinese-made electro-optic device that it claimed Iranian scientists had invented to measure people's temperatures and diagnose those infected with the virus.
A tweet by Kayhan London on April 6 said: "They have unveiled a Chinese-made electro-optic machine as a device made by Iranian researchers to measure temperature. The imported device was said to measure temperature with a small margin of error. However, when tested on reporters during a live TV interview, it showed their temperatures to be as high as 43, 44, and 45 degrees."
The accompanying footage to the tweet showed the unveiling ceremony of the device on Iranian state TV.
Meanwhile, many doctors, nurses, and healthcare professionals in Iran continue to complain about the shortage of test kits, gowns, masks, and other personal protection equipment (PPE).
According to official figures, the Novel Coronavirus COVID-19 had infected 77,995 people and claimed 4,869 lives in Iran as of April 17. Some believe the actual number of deaths is much higher.
Iran has the eighth-highest number of coronavirus infections in the world after the U.S., Spain, Italy, France, Germany, the UK, and China. It also has the sixth-highest number of coronavirus deaths in the world after the U.S., Italy, Spain, France, and the UK.
This article was translated and adapted from Persian by Fardine Hamidi.