---
---
Several Arabic-language news outlets and websites have reported in recent days that the commander of the Islamic Revolutionary Guards Corps' (IRGC) Aerospace Force Brigadier General Amir Ali Hajizadeh was killed during an Israeli air raid on a Shia militia military base in Syria on December 22.
The Iranian military has, however, dismissed the reports as "fake news."
"We have repeatedly warned that the enemies of the Islamic Revolution and our nation continue to spread vicious lies, unfounded rumors, and fake news," IRGC Spokesman Brigadier General Ramezan Sharif was quoted by the Mehr News Agency as saying on December 23. "Brigadier General Amir Ali Hajizadeh is in perfect health and continues to carry out his duties."
The Saudi-based Al-Hadath news network reported on December 22 that an Israeli airstrike in Syria had killed scores of Iranian-backed Shia militias and a senior IRGC commander. The report, however, did not name the commander.
Other sources identified General Hajizadeh by name.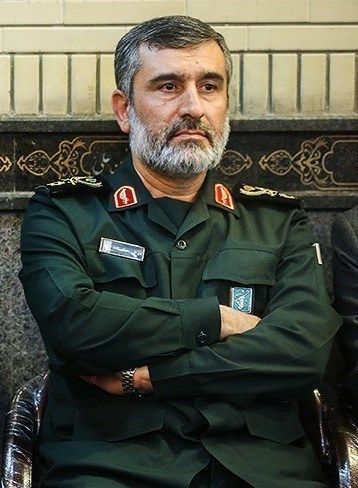 "The last picture of the martyr (commander Amir Ali Hajizadeh) killed by Israeli missiles hours ago," a tweet by Mustafa Alshakaki @AlshakakiM said: "However, we cannot categorically confirm the news."
A photograph of commander Hajizadeh accompanied the tweet.
While Iranian and Syrian officials have vehemently denied the reports, Israeli government and military have not commented on the issue as a matter of policy.
According to the state-run Syrian Arab News Agency (SANA), the Syrian Air Defense Force intercepted several Israeli missiles, including one targeting Aqraba village, 50 kilometers southwest of the capital Damascus, on December 22.
"Several missiles hit Sayyeda Zaynab (also known as Set Zaynabin), 10 kilometers south of Damascus, killing dozens of people and injuring others," The Jerusalem Post reported, citing pro-Hezbollah Lebanese Al Akhbar daily newspaper.
A tweet by the English-language ELINT News (EN) on December 22 said: "Syrian Observatory (SOHR) reports three heavy explosions targeted the Sayyeda Zainab area of southeast Damascus during the suspected Israeli strikes, corresponding with reports from SANA of a missile falling near Aqraba."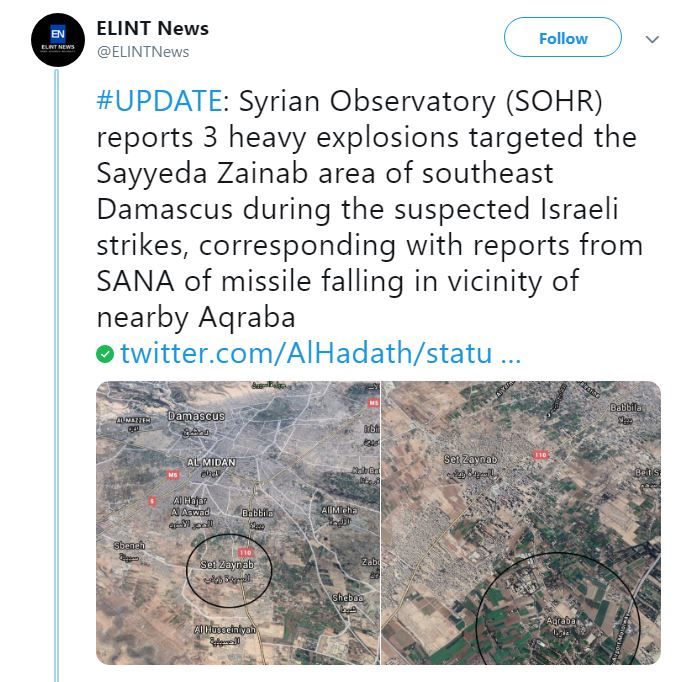 ---
"According to the UK-based Syrian Observatory for Human Rights, there were three explosions in the Damascus suburbs after the missiles targeted Syrian regime and Iranian positions," The Times of Israel said on December 23. "Those ambulances were observed heading toward where the missiles hit. There was no immediate comment from Israel."
Reports suggest that Israeli Airforce fighter jets entered Syrian airspace through Lebanon and bombed areas around Damascus.
Israel's Debak-File online news site said on December 11 that Iran had deployed the long-range road-mobile surface-to-air Bavar-373 missile system in the city of Homs in western Syria. In recent weeks, Israeli sources have warned that Iran might attack that country using cruise missiles and drones.
---
[
Translated from Persian
by Fardine Hamidi]
---