---
By Kayhan Life Staff
---
Iran's Supreme Leader Ayatollah Ali Khamenei has appointed Gholamhossein Mohseni-Ejei as the head of the Judiciary. Mr. Ejei replaces Ebrahim Raisi, who won Iran's presidential elections in June. Mr. Raisi will take office as the head of Iran's 13th government in August.
Ejei has held several high-profile state posts, including Iran's Attorney General, from 2014 to 2021. His appointment does not come as a surprise.
In a letter to Mr. Khamenei, Raisi said that he intended to fulfill his duties until he officially took office as president, urging the leader to select "whomever he sees fit" as the new head of the Judiciary.
Contrary to practice, Mr. Raisi remained in his post as the head of the Judiciary throughout his campaign for the presidency, which drew massive criticism from various political factions and the public.
In his official letter appointing Ejei, Khamenei highlighted what he considered the principal responsibilities of the Judiciary. They included "being resolute in executing Judiciary's function," "pursuing a developmental approach," "implementing the Document on Judicial Transformation," "incorporating technological innovations in judicial organizations," "appointing effective jihad forces to sensitive posts," "supporting judges who fulfill their duties ethically and dealing decisively with judicial misconduct," and "developing the public's trust."
Ejei had previously denied rumors of his appointment to the head of the Judiciary. During a gathering of law clerks on June 15, Ejei was asked if "he was planning to stay in his post or accept a position in the government should Mr. Raisi were to become president," to which he replied, "I will stay in the prosecutor's office." He also denied being considered as the head of the Judiciary, insisting that "these are all rumors."
Ejei has held senior government posts, including the Head of the Ministry of intelligence's Secret Committee (in office from 1984 to 1985), Judiciary's representative to the Ministry of Intelligence (in office from 1991 to 1994), Prosecutor of the Special Clerical Court (in office from 1995 to 1997), and Minister of Intelligence (in office from 2005 to 2009).
Gholamhossein Mohseni-Ejei was born in 1956 in the village of Ezhieh, in the south-central province of Isfahan. He enrolled in the Haghani Seminary in the holy city of Qom in 1972. Ejei was a staunch critic of Pahlavi rule. Like many previous and current officials in the Islamic Republic, he joined the regime's Judicial and security agencies after the 1979 Islamic Revolution.
New Database Tracks Iran's Human Rights Violations Since 1979
He was allegedly involved in the case against Grand Ayatollah Hosseinali Montazeri (1922-2009), a Shia Islamic theologian, democracy advocate, and human rights activist. Ejei was also the presiding judge in several high-profile cases in the 1990s, including the Bank Saderat embezzlement case and former Tehran Mayor Gholamhossein Karbaschi's trial on corruption charges in 1998.
Ejei has also been linked to the "mass executions" of political prisoners. Ghorbanali Dori-Najafabadi, the former Minister of Intelligence (in office from 1997 to 2000), alleged that Ejei had issued a fatwa, declaring Pirouz Davani (1961-1998) an apostate and sentenced him to death. Mr. Davani was a journalist, translator, researcher, Marxist activist, and the founder and spokesperson for the Unity for Democracy in Iran. He was reportedly one victim of the mass executions.
President Mahmoud Ahmadinejad (in office from 2005 to 2013) appointed Ejei as the Minister of Intelligence in 2005. Several Iranian academics, researchers, and activists were arrested and imprisoned as part of the so-called "Velvet Revolution" or "Soft Overthrow" during Ejei's tenure as intelligence minister.
They included Yahya Kian Tajbakhsh (an Iranian-American scholar), Haleh Esfandiari (an Iranian-American academic), Ramin Jahanbegloo (an academic), and Arash and Kamyar Alaei, AIDS activists.
Ejei was abruptly removed as the Minister of Intelligence in July 2009 but appointed as Iran's Attorney General less than a month later.
Iranian authorities brutalized and arrested many people during a bloody nationwide protest sparked by the controversial 2009 presidential elections that handed Mr. Ahmadinejad a second term in office. Later that summer, the head of the Judiciary, Sadegh Larijani, formed a committee to investigate allegations by former Majlis (Iranian Parliament) Speaker Mehdi Karoubi regarding assault, sexual abuse, and rape committed against many of those arrested during the civil unrest. The committee comprised Deputy Chief Justice Ebrahim Raisi, Judicial Advisor Ali Khalfi, and Attorney General Gholamhossein Mohseni-Ejei.
"Gholamhossein Mohseni-Ejei is the Prosecutor General of Iran since September 2009 and spokesperson of the Judiciary, and former Intelligence minister during the 2009 elections," the Official Journal of the European Union said on April 7, 2015. "While he was Intelligence minister during the 2009 election, intelligence agents under his command were responsible for detention, torture, and extraction of false confessions under pressure from hundreds of activists, journalists, dissidents, and reformist politicians. In addition, political figures were coerced into making false confessions under unbearable interrogations, which included torture, abuse, blackmail, and the threatening of family members," the document added.
The U.S. Department of Treasury, Office of Foreign Assets Control (OFAC) added Ejei to its sanctioned persons and entities in October 2010.
"Gholamhossein Mohseni-Ejei is currently the Prosecutor General of Iran. As the Minister of Intelligence at the time of the June 2009 election, Mohseni-Ejei has confirmed that he authorized confrontations with protesters and their arrests during his tenure as Minister of Intelligence," the statement by the U.S. Treasury said. "As a result, protesters were detained without formal charges brought against them, and during this detention, detainees were subjected to beatings, solitary confinement, and a denial of due process rights at the hands of intelligence officers under the direction of Mohseni-Ejei."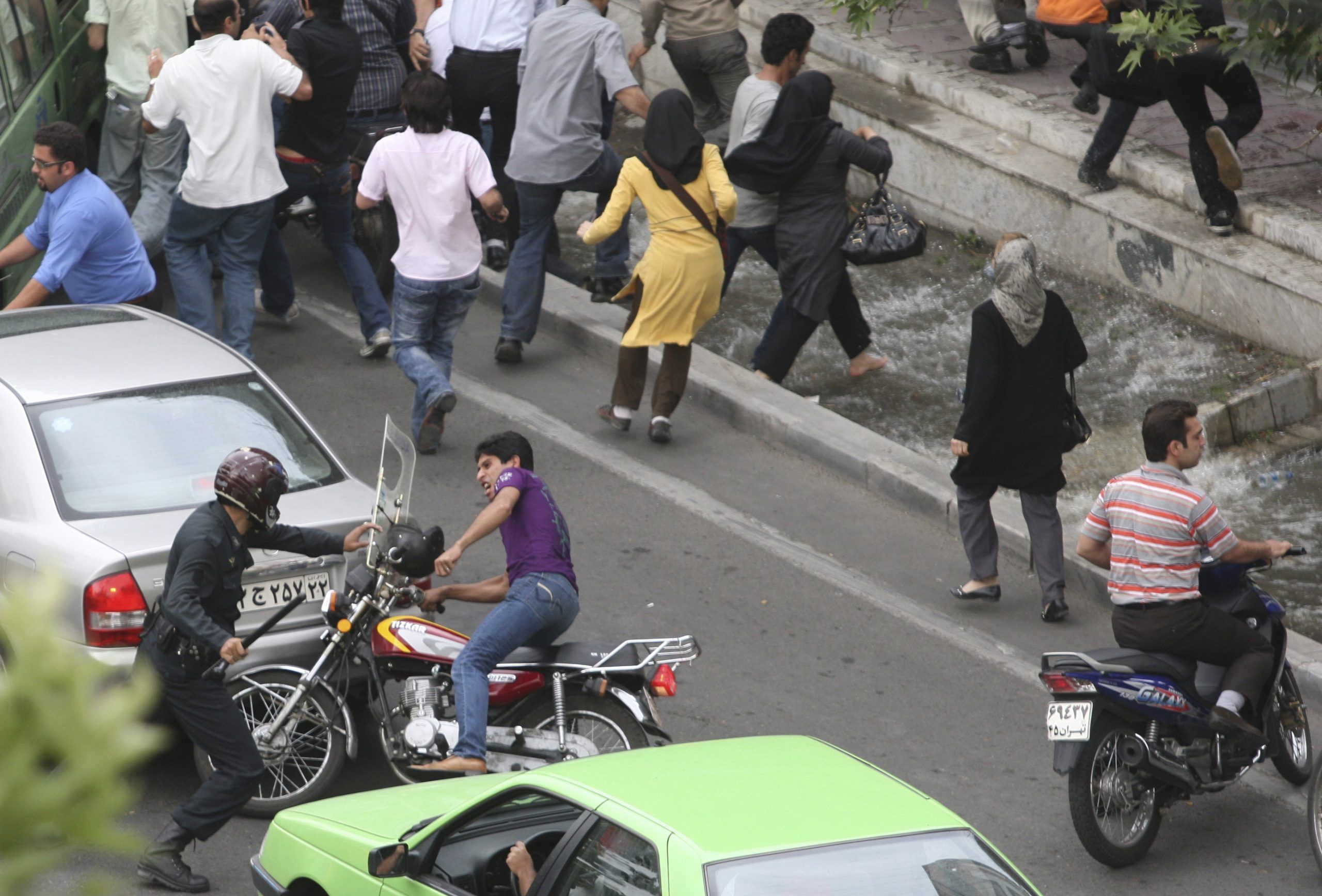 As Deputy Chief Justice, Ejei sent a letter to the Minister of Communications and Information Technology in September 2014, giving the ministry one month to "lay the technical groundwork for effectively blocking messaging platforms Viber, WhatsApp, and Tango."
Ejei famously tried to silence protesting students who were shouting during a gathering at Tehran's Sharif University of Technology (SUT), formerly Aryamehr University, in December 2017, by whistling. The incident was covered extensively by the Iranian media.
Rumors of Ejei's appointment sparked widespread reactions in Iran and abroad in recent weeks. Ali Mojtahedzadeh, a practicing lawyer in Iran, warned against the appointment of Ejei to the head of the Judiciary.
"Put bluntly, Ejei's promotion to the head of the Judiciary means going backward. It would render Mr. Raisi's work useless," Mr. Mojtahedzadeh argued. "If that happens, the price of civil actions will go up significantly. We can then expect the return of the likes of Saeed Mortazavi. We can only hope that the [reports] are not true."
Saeed Mortazavi was a former judge, prosecutor of the Islamic Revolutionary Court, and Tehran Prosecutor. He was accused of the systematic torture and deaths of several prisoners. In 2013, Mortazavi was arrested and tried for the torture and deaths of at least three detainees who took part in the 2009 nationwide protests. In 2014, He was banned from all political activities and holding government jobs.
---
---