---
---
A group of former hostages, including three men previously detained in Iran, have collaborated to form a non-governmental organization in Washington in an effort to stop the unlawful detention of dual nationals and other citizens traveling abroad. Hostage Aid Worldwide (HAW) had its launch event on March 4.
At the launch, HAW announced that it was developing hostage tracker software with the Washington-based nonprofit Peace Tech Lab (PTL). The software will use machine learning and artificial intelligence to track and catalogue cases by gathering information from diplomatic channels, human rights charities and individuals working with hostages and those arbitrarily detained.
HAW's event was streamed on YouTube and hosted by actress and Amnesty International UK ambassador Nazanin Boniadi. It also featured family members of hostages, lawmakers, experts on international law and advisors to the U.S. government.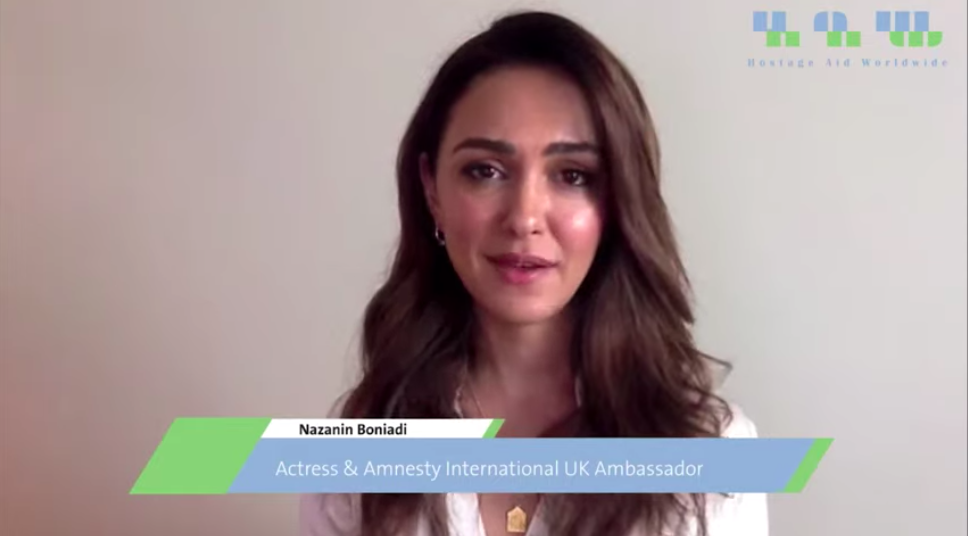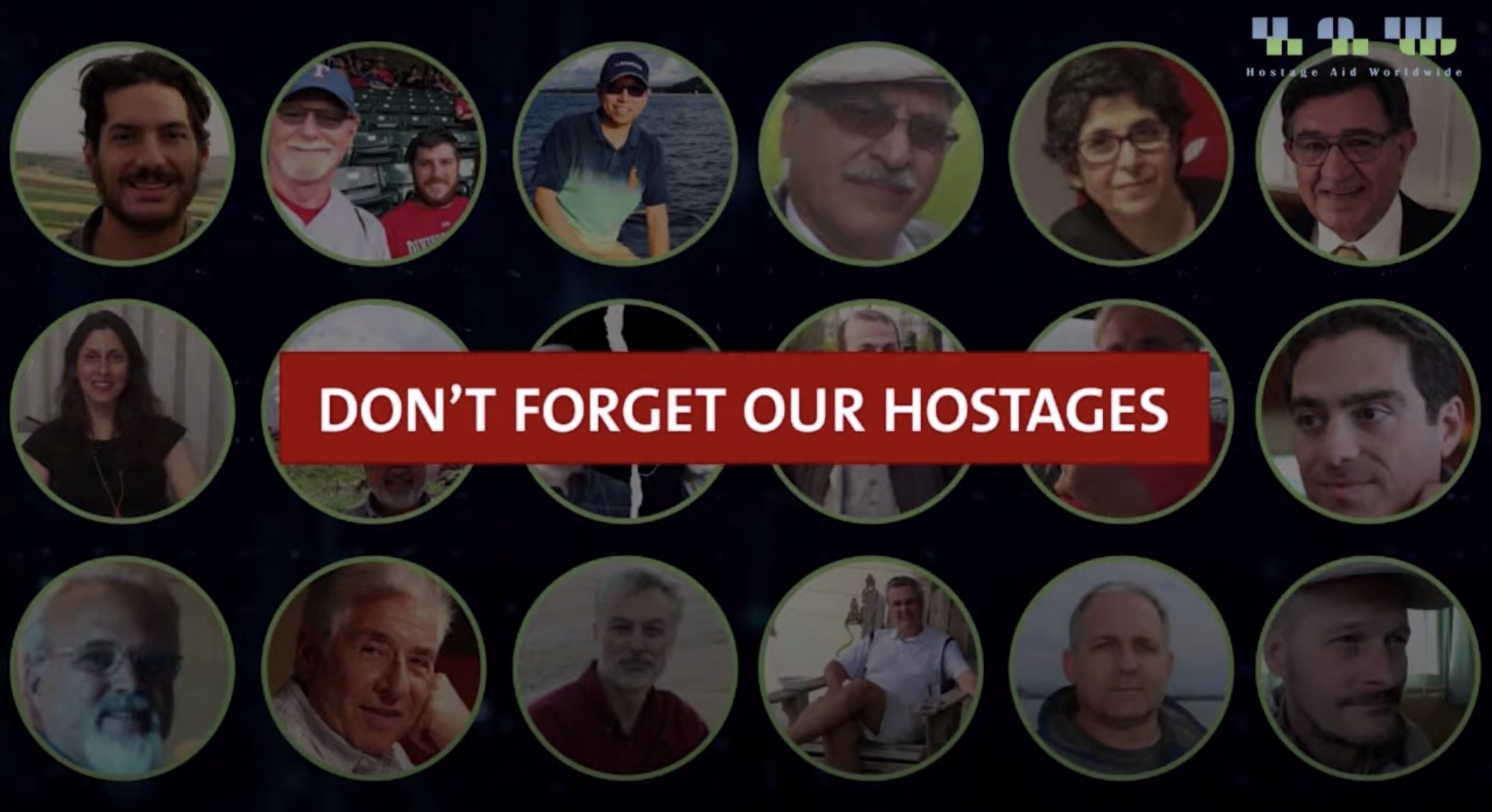 "The issue of hostages has to be dealt with immediately if there is to be any sustainable nuclear deal" between Iran and the West, Boniadi said at a live-streamed conference held on the day of the launch. "It's undeniable that as long as the Islamic Republic holds and uses hostages for material diplomatic gain, by definition, they eliminate any chance of building the trust that is needed for any deal to succeed."
Hostage Aid Worldwide was set up by six human rights activists including Xiyue Wang, a Princeton PhD student who was unlawfully arrested and imprisoned in Iran from 2016 to 2019 on espionage charges; Nizar Zakka, an information and communications technology expert who was kidnapped in 2015 and held hostage in Tehran for four years; Barry Rosen, a former U.S. embassy press attaché and survivor of the 1979 Iran hostage crisis, held for 444 days in Tehran; and Geoffrey Dive, who works with his nephew Richard Ratcliffe on the campaign to free Richard's wife Nazanin Zaghari-Ratcliffe.
Nazanin was arrested in Tehran in 2016, and sentenced to five years in prison for plotting to topple the Iranian government, a charge she has always denied. She was released on March 7 after serving the whole of her sentence, but will have to return to an Iranian court on March 14 to answer a new set of alleged charges.
"The hostage tracker could be the place to go for diplomats, journalists and other groups to evaluate the probability of being taken hostage based on their profile, dates and location of travel, and underlying risk factors," said Tim Receveur, the director of programs at PTL and a former foreign affairs officer at the U.S. State Department, at the launch event.
Receveur added that the software could create regularly updated case reports to be shared with other countries, partner organizations and families, and run online keyword searches to track media and social media reports in any language.
I have been in touch with Nazanin's family. Some news:

1) Thankfully her ankle tag has been removed. Her first trip will be to see her grandmother.

2) Less positive – she has been summoned once again to court next Sunday.#FreeNazanin

— Tulip Siddiq (@TulipSiddiq) March 7, 2021
As part of the conference, three panels examined separate issues rising from arbitrary detentions.
The first panel discussed current legal and diplomatic mechanisms used to combat hostage-taking and what could be done to strengthen those tools. The second panel shared views on what HAW called the 'hostage business model' — often defined as the selection and detention of dual nationals and others by states to achieve a diplomatic or financial goal — and how it could be disrupted. The third panel spoke about the Iran nuclear deal, formally known as the Joint Comprehensive Plan of Action (JCPOA), and solutions that would ensure that American and foreign hostages in Iran were prioritized in any talks about the deal.
U.S. Senator Jeanne Shaheen attended the event as a keynote speaker and said returning hostages had to be a priority for the U.S. government.
The first woman to be elected as both a U.S. governor and a U.S. senator, Senator Shaheen was also one of three law makers who fought for the implementation of the Robert Levinson Hostage Recovery and Hostage-Taking Accountability Act.
The act, passed by the Senate in June 2020, and named in honor of former FBI agent Robert Levinson — whose unlawful detention by the Iranian government made him the longest held American hostage in history — sets out a checklist for the U.S. government to determine whether a U.S. citizen has been unlawfully detained, and makes the U.S. State Department's special envoy for hostage affairs responsible for such cases.
In March 2020, U.S. officials said Levinson had died while in Iranian custody, following years of uncertainty about his whereabouts after his disappearance in Iran in 2007.
Sarah Levinson, Robert Levinson's daughter, attended HAW's event as a panelist, and said there had been a positive response to the legislation.
"In conversations I've had over the past week with many people in the U.S. government, people are really excited about this law as a tool for them to be able to point to, and start using to be able to make a difference," she said.
Ms. Levinson added that March 9 would mark the 14-year anniversary of her father's disappearance.
Keynote speaker Diane Foley, president and founder of the James Foley Legacy Foundation based in Portsmouth, New Hampshire, said, "The return of innocent persons taken hostage abroad requires deep moral outrage and courage by all involved."
Her son, James Foley, a U.S. journalist abducted by a militia group in northwestern Syria in 2012, was regularly subjected to torture and mock executions until his beheading in August 2014. His murder was broadcast by the Islamic State of Iraq and the Levant (ISIS) on YouTube, in a video titled "A Message to America."
Discussing current laws in place to tackle unlawful detentions, Dr. Carla Ferstman, a senior lecturer at the university of Essex school of law in the UK, said the U.S. Magnitsky Act — which enables sanctions against human rights abusers in other parts of the world — could be used to address hostage-taking.
"Even if hostage-taking is not explicitly listed in the Magnitsky Act, and it's not, the conduct which we see as part of the phenomenon of state sanctioned hostage-taking, serial arbitrary detentions, unfair trials, torture and disappearances, all form part of the gross human rights violations captured [in the act].The only challenge we have, is selectivity and how this is going to be addressed in relation to the variety of cases that we see."
"Governments will decide who should be subjected to the sanctions, not a court and not another independent body, so they will naturally be selective as to who they choose to subject to this process. To an extent, the choice of who governments will sanction, will undoubtedly align with their foreign policy objectives," Ferstman added.
The UK government has faced strong criticism from human rights organizations and family members of detained British-Iranian Zaghari-Ratcliffe for appearing to prioritize the 2015 nuclear deal over the unlawful detention of Britain's dual nationals.
Her husband Richard Ratcliffe said governments needed to be held accountable for the way they handled unlawful detention cases, and that countries needed to work together to make hostage-taking an unappealing option for hostile states.
Ratcliffe's uncle, Geoffrey Dive, said there was a defined process for hostage-taking, which appeared to have become a business enterprise for some states, during the seminar.
"Some countries are starting to use arbitrary detention especially of dual nationals to gain political leverage on other states where the dual national normally lives and works. In most cases the victim is held by the arresting country on charges of national security, which serves to garner domestic support, while at the same time causing outrage in the media of the other country. This obviously pressures authorities in that country to make concessions for a release."
---
Similar Articles to This Post