---
---
A nationwide strike by Iranian oil workers on fixed-term contracts — which started a day after the June 18 Iranian presidential elections and spread to 114 oil, gas, and petrochemical companies — has now entered its third month.
Most striking workers have said they will not return to work until their demands are met. The Iranian security forces and judiciary have failed to crush the protests and end the strike.
Initially, workers from 15 companies subcontracted by the Iranian Oil Ministry to hire skilled and unskilled labor started the industrial action. Soon after, many labor and trade unions threw their support behind the protesters.
Their principal demand is to have the same working hours and the same number of days off as workers with permanent contracts. The request, known commonly as "Twenty-Ten," is their primary concern. They get six days off for every 26 days worked, whereas workers on permanent contracts get 10 days off for every 20 days worked.
Striking oil workers have also called for an end to fixed-term (temporary) contracts, for their salaries and wages to be adjusted according to the actual cost of living, and for them to be paid on time. They also want job security and benefits and to be allowed to form independent labor unions. They have called on the government to vaccinate all workers against the coronavirus quickly.
The Islamic Republic has banned independent trade and labor unions in the past four decades. Rather than advocating worker's rights, the state-sponsored Workers' House tries to prevent industrial action. Meanwhile, striking oil workers on fixed-term contracts remain resolute and continue fighting to achieve their demands.
A striking oil worker in Izeh told Kayhan Life: "Between 200 and 300 of us gathered in Ashkoft Soleimani. Workers in other cities were supposed to hold similar protests. There were reports saying strikes had ended, so we held a protest letting everyone know that was not the case because the company had not met our demands."
"Despite efforts by authorities to tighten security and control in several cities, our fellow workers in Masjed Soleiman staged a protest," the worker said. "However, security forces forced them to disperse and stop the protest. Dozens of oil workers in Izeh also staged a protest."
"One of our primary objectives is to have the freedom to form independent trade unions," the worker explained. "The state-sponsored trade unions are more concerned about furthering the establishment's agenda and protecting the contractors than advocating the rights of workers. These companies are directly responsible for violating workers' rights. Our colleagues in Hafshejan have been mobilized. Our protest here in Izeh is a step towards establishing regional trade unions."
"It would be much easier to coordinate our efforts if workers in the provinces of Isfahan [central], Khuzestan and Chaharmahal, and Bakhtiari were to join forces," the worker argued. "Workers in the service industry and other sectors must also try to form independent trade unions. It would stop employers and the state from violating workers' rights."
"All [state institutions and officials] have tried hard to persuade us to return to work," the worker noted. "Several of our fellow workers have been threatened, summoned, and investigated. Many have refused to back down despite being fired. The contractor warned all striking workers they would be fired if they did not return to work by a certain date. Many workers, including me, did not return to work and subsequently received our dismissal letters."
Another oil industry worker told Kayhan Life: "Some workers returned to work after several contractors promised to raise their wages and switch them to the Twenty-Ten scheme. However, only a few contractors have taken those measures. Some other companies made similar promises to striking workers, persuading them to return to their jobs, but ultimately made no changes."
"Most contractors have ignored the demands of the workers, sparking widespread strikes," the worker said. "Some managers have already sent out dismissal letters and hired a new workforce. Some contractors are using the coronavirus pandemic and the new government as an excuse to slow down or halt some projects. I think they are just buying themselves some time."
"Since the start of the strike two months ago, the cost of living has gone up significantly, prompting us to continue with the strike," the worker explained. "Why should we be away from our wives and children for long periods when we are paid so little and have to work in sweltering heat and freezing temperatures in the middle of a desert?"
"The Oil Ministry, state officials, and even the domestic media have remained silent during the past two months, which shows when it was to their advantage, they hailed us as children of the Revolution who were at the forefront of the battle to defy the U.S. and bypass sanctions, but in fact, they do not care about us at all," the worker noted. "The media give extensive coverage to workers' strikes in France, Germany, and Canada, but have remained silent about our plights and struggles."
"We have clear and well-justified demands," the worker explained. "We were adamant about maintaining our focus on the industrial action and not to make it into a political protest. And we succeeded. The new government and its promises to the public have no bearing on our situation. We have specific demands, and we will not stop until we get what we want."
"Our fellow workers in the [South Pars] Phase 17, who had returned to work after contractors promised to meet their demands, went back on strike quickly when they realized the situation had not improved," the worker noted. "As a result, managers had to take the workers' demands seriously and ask for a few days to address those issues. Many oil industry workers on fixed-term contracts have joined the '2021 Protest' in recent days."
"I do not believe the strike has weakened or ended," the worker added. "If the new government and oil minister care about the oil industry, they must then force contractors to stop exploiting and abusing workers."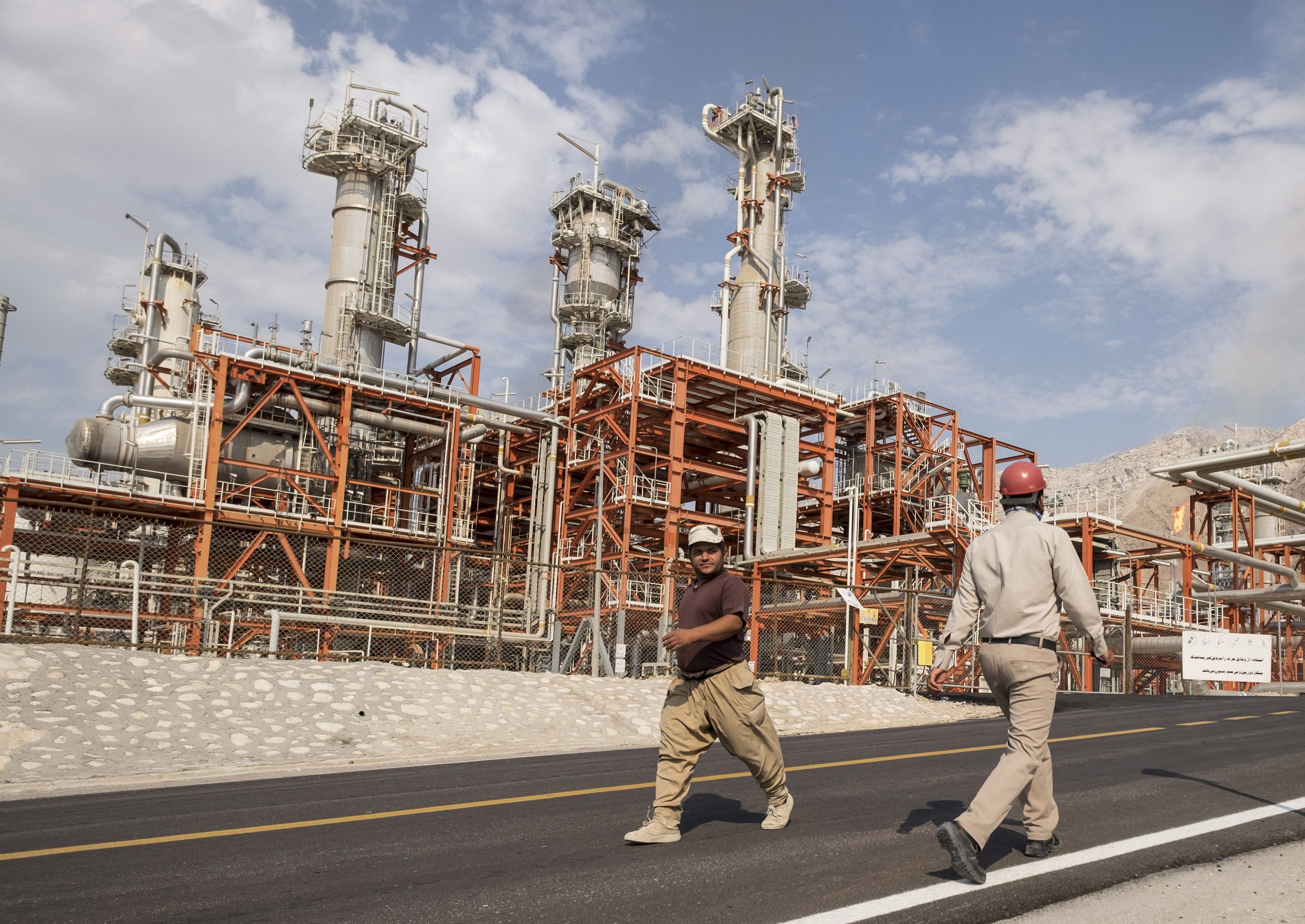 According to this worker, the '2021-Protest' has forced 22 companies in Asaluyeh, in the southern province of Bushehr, to offer free COVID-19 vaccines to their workers.
According to labor activists, workers had planned the industrial action months before it happened. However, anticipating that the strike might become a nationwide event quickly and that heightened security during the presidential elections might give authorities an excuse to crush the protests, strike organizers opted to stage the industrial action after the elections.
A month into the strike, many companies and contractors tried to persuade workers to return to work without success. The strike, dubbed Etesab 1400 (meaning "1400 Protest," referring to the Iranian calendar year), is oil workers' most extensive industrial action in the past four decades.
Dozens of oil workers on fixed-term contracts staged a protest in the city of Izeh, in the southwestern province of Khuzestan on Aug. 25. A week earlier, oil workers on fixed-term contracts in the town of Hafshejan, in Iran's southwestern province of Chaharmahal and Bakhtiari, staged a protest and appointed several labor activists to negotiate on their behalf.
---
---