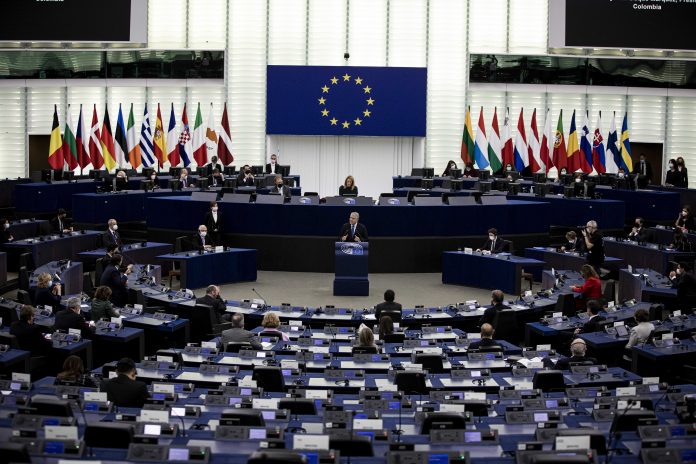 ---
---
Lawmakers in the European Parliament passed a resolution on Feb. 17 which called on Iran to introduce an immediate moratorium on its use of the death penalty, following a sharp rise in executions.
Iran currently has the world's highest rate of executions per capita and has executed more journalists than any country in the world.
The resolution — passed by 617 votes to eight with 59 abstentions — said there had been "a significant rise in the number of executions, including of women" since Iranian President Ibrahim Raisi took office in August.
The European parliament said the United Nations (UN) had documented executions of more than 275 people between Jan. 1 and Dec. 1, 2021 in Iran. It added that in January 2022, at least 85 juvenile offenders were on death row in the country.
The scathing document described more than 16 grave human rights violations by Iran's regime including: laws enabling the murder of more than 400 women annually through so-called honor killings; the execution of children; ongoing arbitrary detentions of dual nationals and human rights advocates; and a disproportionate use of the death penalty against ethnic and religious minorities.
"In 2021 we saw a 26 percent rise in executions over the previous year, a number that is likely conservative given that 88 percent of executions in the country go unreported,"  Skylar Thompson, a senior advocacy coordinator at Virginia-based NGO Human Rights Activists (HRA) told Kayhan Life. "Iran's use of the death penalty is remarkably arbitrary. Trials are often plagued with violations of due process and presided over by individuals who themselves are guilty of some of the most egregious human rights violations."
HRA's latest annual report on the state of human rights in Iran held that the largest number of reported human rights violations in 2021 came from its capital city Tehran (1,164) followed by Khuzestan (729), a province ravaged by poverty and water shortages.
New Database Tracks Iran's Human Rights Violations Since 1979
The report said that the majority of death sentences stemmed from convictions for murder (51 percent), followed by drug offenses (40 percent). Afghan migrants in Iran are particularly vulnerable to execution for drug related crimes which human rights experts say should never carry the death penalty.
"Iran's widespread use of the death penalty should be seen as a state-sanctioned arbitrary deprivation of life and is a violation of the right to life and it must be widely condemned," Thompson said.
The UN has grown increasingly concerned by the Iranian government's use of the death penalty in recent months. A Jan. 13 report by Javaid Rehman, the UN's Special Rapporteur on the situation of human rights in the Islamic Republic of Iran called on Iran to abolish the death penalty for all offenses.
Rehman urged the Islamic Republic to enact legislation to ban the execution of all offenders who committed crimes while under the age of 18 and to commute all of its death sentences.
The rapporteur also criticized a newly ratified law on young people and protection of the family which he said enabled "the imposition of the death penalty under the charge of 'corruption on earth' for anyone who performed abortion on a large scale."
The UN report noted that Iran's revolutionary courts were responsible for "issuing the vast majority of the death penalty sentences, including thousands of summary and arbitrary executions."
The right of revolutionary courts to try certain offenses has been questioned by legal experts, who say there is a tendency for such courts to extend their jurisdiction when authorities feel the punishments handed down by other courts are too lenient.
IRGC Officer Tells Tribunal of Khamenei's Alleged Role in Suppressing 2019 Protests
At Iran Conference in DC, West Is Urged to Recognize Iranian Uprisings
Iranian Opposition Groups Urge UK, France, Germany to Support the Iranian People
Similar Articles to This Post