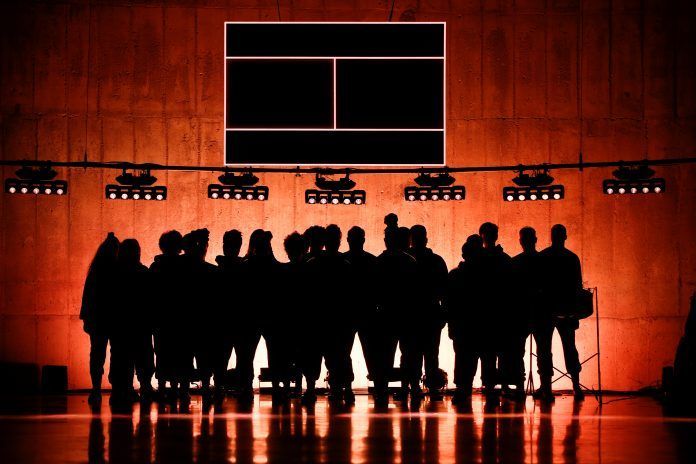 ---
By Nazanine Nouri
---
The British-Iranian fashion designer Paria Farzaneh is a rising star of London menswear. Over the past few seasons, the 26-year-old has made a name for herself with eye-catching designs in which her Iranian heritage is a consistent point of reference.
For her Spring/Summer 2021 collection at London Fashion Week SS21 last September, she staged a pyrotechnic-heavy runway show on a farmer's field in Little Missenden near Amersham, England, featuring models in camouflage and in items of clothing that might ordinarily be worn by workmen.
The show's highlight was the pair of collaborative Converse Pro Leather X2 sneakers worn by the models: basketball sneakers featuring 3M reflective signature Iranian paisley prints (made by traditional Iranian wood-blocking techniques).
The basketball shoe "finds a new life in being built for a utilitarian world, one that's ready to tackle anything you throw at it thanks to a composition of hardwearing materials and tactile components, all while recognizing its roots," wrote Hyperbeast.com in November.
Farzaneh described her philosophy in an interview with the New York Times Style magazine.
"I try to transport people to a place they've never been before," she said in the August interview.
"Eventually, people are going to listen," she added, "because they're tired of seeing and smelling and tasting the same monotonous world.  Success for me is about being honest with myself and not compromising what I believe in. It's about authenticity and realness."
View this post on Instagram
Farzaneh was born into an Iranian family who had emigrated to the United Kingdom prior to her birth. She grew up in the Northern city of Hall, in Yorkshire, England. A year after earning a degree in fashion design from London's Ravensbourne University in 2016, she launched her eponymous label and established herself as a menswear designer.
The Farzaneh family influence can be deeply felt in Paria's work (her grandfather had been a tailor in Iran). It was during her childhood years that the idea of becoming a fashion designer began to take root. It was a time when her mother was making much of her clothing.
Nowadays, she occasionally enlists her father to model for the brand's look books, and she dedicated her Spring 2019 collection to her late uncle, whose presence could be felt in the uniform-like khaki pieces.
She is particularly interested in fabric and handwork, sourcing her signature patterned cotton textiles from the city of Isfahan in Iran, renowned for its textile and rug production.   The florals, paisleys and other motifs are created by hand using the ancient tradition of Ghalamkar printing, in which intricately hand-carved wood blocks are used to stamp patterns onto a length of cloth one color at a time. The dyes used are all plant-based and include saffron, turmeric and pomegranate and the pieces are washed in the river and dried in the sun.
"Iran is my life," she told Hyperbeast in 2017. "I have been there every year of my life without fail.  It's one of the biggest inspirations I have, from its imagery to its fabric to its script."
View this post on Instagram
(Her show in January 2020 recreated the traditions of an Iranian wedding complete with bride, groom and full ceremony, delivered in Farsi.)
View this post on Instagram
"Farzaneh has been intent on altering Western perceptions from the off," wrote Another Man magazine in January 2019. "Forget what you think you know: the designer is celebrating its rich visual legacy and wildly vibrant culture, fusing utilitarian, straight-off-the-street silhouettes with imaginative Iranian flourishes by way of traditional construction and dying methods, and intricate hand drawn motifs that feature throughout her collections."
---
Similar Articles to This Post