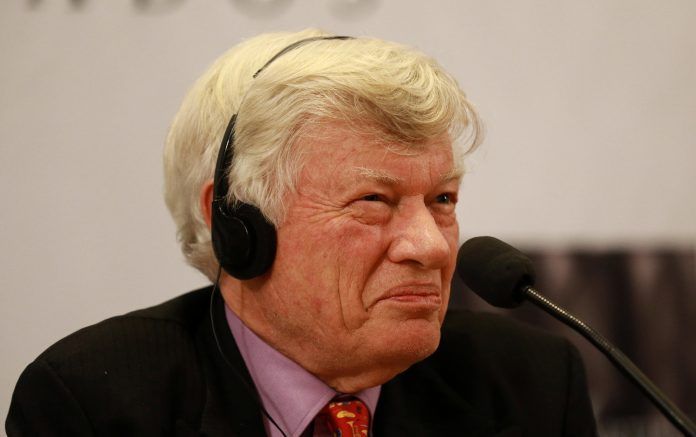 ---
---
A statement made in a letter by the UK Foreign, Commonwealth and Development Office (FCDO) to Nazanin Zaghari-Ratcliffe's lawyers that neither the Foreign Office or the British government have a legal duty to protect her is wrong, Geoffrey Robertson QC, one of Britain's most prominent lawyers, has said.
The Foreign Office said in the letter that British citizens arrested overseas through no fault of their own did not have a right to government assistance or protection, even if they had been victims of torture, or detained to put diplomatic pressure on Britain.
British citizens who face false accusations abroad have "no legal right to consular assistance," Sarah Broughton, the head of consular affairs at the Foreign Office, wrote in the letter obtained by Kayhan Life. She added that even though Britain had granted Zaghari-Ratcliffe diplomatic protection, that "does not confer any specific legal obligations upon us."
Ms. Zaghari-Ratcliffe, a project manager with the Thomson Reuters Foundation, was sentenced by Iran's judiciary to five years in prison in 2016 after being found guilty of conspiracy to overthrow the Iranian government, a claim she has always denied.  She became the first British citizen in modern history to be given U.K. diplomatic protection, making her case a state affair.
The Foreign Office letter could have serious implications for British citizens living and working abroad. Speaking to Kayhan Life, Mr. Robertson, who represented Ms. Zaghari-Ratcliffe while acting as legal counsel for the Thomson Reuters Foundation, said the Foreign Office failed to take into account Britain's obligations to protect its citizens abroad.
"Speaking as a British-Australian dual national, this obligation can be found in my passport, which says, 'Her Britannic Majesty's Secretary of State requests and requires in the name of Her Majesty all those whom it may concern to allow the bearer to pass freely without let or hindrance, and to afford the bearer such assistance and protection as may be necessary,'" Mr. Robertson said.
"So whenever you become a citizen of this country, you have what is called a legitimate expectation to consular assistance if you are not allowed to pass without let or hindrance, and one couldn't think of a better example of letting or hindering than being entombed in Evin prison, Tehran. The claim that Britain has no obligation to these poor people, having promised them that assistance is simply wrong," he added.
Mr. Robertson noted that this was a matter of common law: the passport wording "amounts to a promise by the government to do what it can, and I think that's significant when it comes to Iran, which has a duty to allow consular assistance to foreign nationals and dual nationals."
British officials have not been able to meet with Nazanin since her arrest after the Iranian government turned down the Foreign Office's request for consular access.
Nazanin's husband, Richard Ratcliffe, told Kayhan Life that the British position as laid out in the letter could have dangerous repercussions.
"There seems to be a hollowing out of the government's obligations, which is worrying to watch — and in the push for new trade deals, reaching out to other equally opaque governments could put British citizens in danger," he said. "There isn't much trade interest with Iran at the moment, but if you're picked up by other rogue government authorities around the world, you've got even less hope of protection than Nazanin has now."
He said Britain had a "pragmatic case by case approach which is inconsistent and unfair," and concluded, "Unless we just keep pushing, efforts subside back to the position of 2016, which is essentially just asking Iran to do the right thing, being respectful of their sovereignty and not wanting to acknowledge any abuse at all."
In a response to the Foreign Office's letter sent last week which Mr. Ratcliffe shared with Kayhan Life, Ms. Zaghari Ratcliffe's lawyers asked for clarification on what responsibilities the government believed it had in relation to the mother of one, and whether the granting of diplomatic protection, which was given to Ms. Zaghari-Ratcliffe in 2019, created any additional government obligations.
The lawyers wrote: "We fail to comprehend how a reluctance to recognize government responsibility in Nazanin's case and a reluctance to recognize the extent of the abuses leveled against her helps the UK prevent further harm befalling British citizens or negative impact to UK-Iranian relations on a wider scale."
The process of requesting assistance for detained dual nationals and their families has been criticized by other lawyers assisting British-Iranians imprisoned or charged with offenses in Iran.
Nigel Edwards QC — a barrister in London who leads the legal team representing British-Iranian dual national Anoosheh Ashoori, detained in Evin prison since 2017 on spying charges — told Kayhan Life that it was unnecessarily cumbersome, requiring families to gather what could sometimes amount to hundreds of pages of documents, many of which were already held by the government.
"The process for unrepresented families going through the application is mind boggling. It's a maze of information, but if the Foreign Office communicated with the Home Office on the information these departments already hold, the Ashooris would have had two-thirds of the application done for them," he said. "Having some kind of guide to explain to families what the process is and how they need to go through that process is needed."
Ashoori's legal team is preparing an application for diplomatic protection on his behalf following reports that Covid-19 is spreading rapidly inside Evin prison. Ashoori's cellmate, a 74 year-old dual national has a high temperature and debilitating bodily pain, sparking concerns that he may have contracted the virus.
In an email to Kayhan Life, Annahita Moradi, a barrister in London who is assisting the legal team said, "As recognized by the Foreign Affairs Committee earlier this month, the UK government must recognize dual nationals arbitrarily detained in Iran, including Mr. Ashoori, as hostages. Convicted under a politically motivated charge, Mr. Ashoori continues to be arbitrarily detained in Evin prison where the presence of COVID-19 has been confirmed and where detention conditions have consistently been regarded by the UN as falling below international minimum standards."
The British government has acknowledged that several dual nationals have been arbitrarily detained, but it refuses to call them hostages in official statements.
Despite growing public awareness about the plight of dual nationals arbitrarily detained in Iran, analysts say Britain continues to prioritise existing financial agreements with Iran over the Islamic Republic's human rights violations.
Babak Emamiam, a political and economic analyst, and chair of the British Iranian Business Association (BIBA), told Kayhan Life,"I see this as a form of hostage taking which focuses purposefully on dual nationals, and which has become part of the regime's foreign policy. These cases have not had any significant impact on the UK's relationship with Iran, and the British government is happy with preserving the status quo," he said.
Former UK Foreign Secretary Jeremy Hunt, who has stated publicly that he believes Ms. Zaghari-Ratcliffe to be innocent, warned the Iranian government that further arbitrary detentions of dual nationals would come at a cost to the Islamic Republic, in a video interview published by the Times this week.
---