---
By Kayhan Life Staff
---
A day before the anniversary of the death of the Iranian blogger Seyyed Sattar Beheshti, security police raided the house of his mother Gohar Eshghi, arresting her and seizing some belongings, the Human Rights Activists News Agency (HRANA) reported on Nov. 3. The report added that the agents arrested other Beheshti family members, including his sister Sahar Beheshti and another relative, Mostafa Eslami.
The Sattar Beheshti Foundation has confirmed the report by HRANA, saying that Beheshti's mother, sister, and brother-in-law were arrested after 10 pm (local time) on Nov. 3. During a raid on Sahar Beheshti's house, security police confiscated mobile phones, laptops, and other electronic equipment, and beat up her husband, who had protested the search of their home and seizure of their belongings, the report added.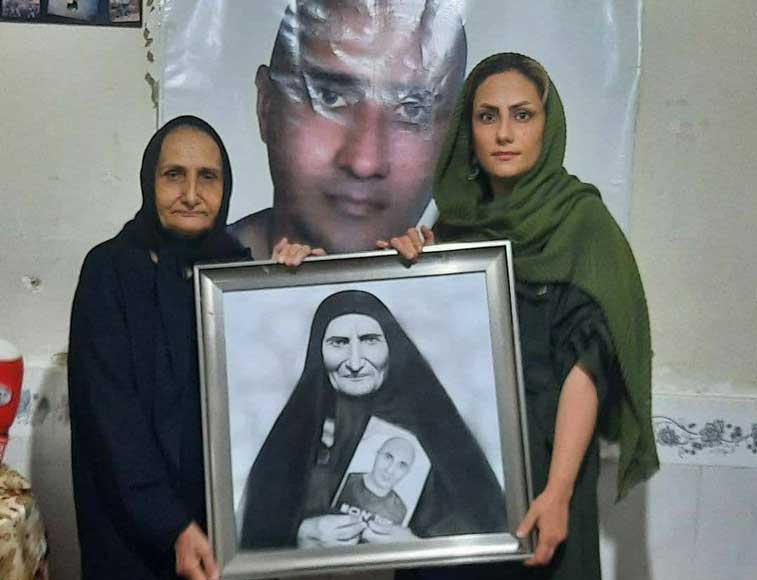 "Gohar Eshghi and Sahar Beheshti have been arrested," a tweet by the Sattar Beheshti Foundation said. "On the anniversary of the death of the late Sattar Beheshti, security agents carried out a violent, threatening and frightening raid, arresting all members of the Beheshti household."
Sattar Beheshti Foundation had organized an event on the anniversary of his death to honor him and the victims of the violent nationwide protests in November 2019, which started after a fuel price hike by the government, resulting in many deaths and scores of injuries and arrests.
Some human rights activists have alleged that Ms. Eshghi experienced shock and panic attacks during the raid and could not breathe properly for some time. The family had planned a memorial service for Sattar Beheshti at his gravesite on Nov. 4 to mark the anniversary of his death.
The Iranian National Democratic Front released a statement saying that Heshmatollah Tabarzadi, the group's secretary-general, and several of its members — including Esmail Mofitizadeh, Parviz Safari, Arash Soleimani, Mohammad Reza Khosravi, Ali Rostami, and Yasamin Hanifeh — were arrested on Nov. 3.
Several "plainclothes persons" arrested the group members in a cemetery in Robat Karim, northwest of the capital Tehran, shortly after they had visited Sattar Beheshti's grave and taken them to a local security office, the statement added.
Mr. Beheshti died in early November 2012, a few days after being arrested by the Iranian Cyber Police (FATA), for criticizing the Iranian government. His death came shortly after he made a signed complaint alleging that he had been tortured while in custody. His death sparked a public outcry and drew international condemnation, which ultimately led to the dismissal of the commander of the FATA.
Sattar Beheshti's mother, Gohar Eshghi, released a video message on the anniversary of her son's death in which she explained the events surrounding his arrest, saying she "could not imagine they would kill my son in four days."
In comments addressed to Iran's Supreme Leader Ayatollah Ali Khamenei, Ms. Eshghi said in the video: "Khamenei, I hope you experience the pain of losing a child. You [the Islamic Republic] have destroyed this country since you came to power. I hurt deeply, and I pray to God to give you the same pain."
The family of Beheshti were initially unaware of his whereabouts after his arrest, so some 41 political prisoners wrote an open letter saying: "Sattar Beheshti was kept in cellblock 350 of Evin Prison on Oct. 31 and Nov.1, 2012. Wounds resulting from torture were visible on this boy."
The letter alleged that security agents had suspended Beheshti from the ceiling and handcuffed him in such a way as to inflict maximum pain, all the while kicking him in the head and neck.
"There was a depressed fracture [blunt trauma] on his [Sattar Beheshti's] head. Parts of his head were covered with plaster, and his face was swollen," a report by the Center for Human Rights in Iran (CHRI) on Nov. 9, 2012, said. "Blood came out of his right knee and spread through the burial cloth as soon as the string tied around it became loose. There were signs of an autopsy on his body."