---
By Firouzeh Nabavi
---
Three female directors of Iranian descent are vying for top awards at the  prestigious Sundance Film Festival in Utah, which started on Jan. 19 and ends Sunday. They include Noora Niasari, whose debut feature "Shayda" stars Zar Amir-Ebrahimi — winner of the 2022 best actress award at the Cannes Film Festival — and is executive-produced by the Oscar-winning actress Cate Blanchett and her husband Andrew Upton.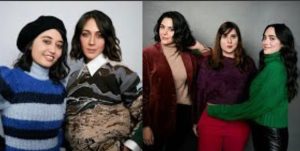 The other two Sundance contestants of Iranian origin are Maryam Keshavarz, director of "The Persian Version;" and Sierra Urich, with her documentary "Joonam."
The cast of "Shayda" also includes Selina Zahednia as Mona and Osamah Sami as Hossein.
"I never would have imagined that one day I'd premiere this film at the same time as a women-led revolution is taking place in my homeland," said the Iranian-born Australian writer-director Niasari in a video released by the Sundance Festival.  "I hope that this film can shine a light on the fight for freedom for Iranian women and for all women."
Niasari described her film as "an intimate drama with thriller elements" that follows "a young Iranian mother, Shayda, and her six-year-old daughter, Mona, as they seek refuge in an Australian women's shelter. Over Persian New Year, they take solace in Nowruz rituals and new beginnings, but when her estranged husband re-enters their lives, Shayda's path to freedom is jeopardized."
Niasari was inspired by the story of her own mother, and drew from personal experiences, painting a deeply emotional picture of an Iranian woman's perseverance and her deep connection to her daughter.
"I was born in Iran and raised in Australia by my Iranian mother," Niasari said in the video.  "When I was five years old, she sacrificed everything: her family, her ties to Iran, her place in the community, to protect us, to live a life on her own terms and to show me the true meaning of courage and resilience."
"Five years ago, I asked my mom to write a memoir to fill in the gaps of my childhood memories, and the first screenplay of 'Shayda' was born from that," Niasari added.
"And while 'Shayda' is inspired by our personal story, it speaks to a universal experience of finding freedom, of being a woman, of being a mother, and finding light in the darkest of times. Above all, this film is a love letter to mothers and daughters, to culture, and to the brave women and girls of Iran."
Keshavarz's family drama, "The Persian Version," is the story of the rebellious young Iranian-American Leila (played by Layla Mohammadi) who has a fraught relationship with her immigrant mother, caused by Leila's sexuality and their differing views on the role of women.
Keshavarz's debut movie "Circumstance," about two teenage Iranian girls who fall in love, won the 2011 Sundance Film Festival Audience Award.
Urich's "Joonam" is a documentary about three generations of Iranian women now living in Vermont (US-born Sierra, her mother Mitra and her grandmother Behjat). It chronicles her efforts to connect with and better understand her homeland by learning Farsi and interviewing her mother and grandmother.
Niasari holds a BA in Architecture from the University of Technology in Sydney and a masters in Film & TV from the Victorian College of the Arts. In 2015, she was mentored by the late Abbas Kiarostami in a filmmaking workshop in Barcelona.
She started her career in film writing short documentaries, including "Vehicles of Memory" (2009); "Beirut, Under the Bridge" (2011) which was awarded the 'Special Jury Prize' and 'Best Director Documentary' at the 11th Beirut International Film Festival; "17 Years and a Day" (2013); "The Guard" (2014); and "High Tide" (2015).
She was nominated for: an Australian Director's Guild Award for "The Phoenix" [Simorgh] (2015); Best Australian Short Film at the Melbourne International Film Festival for "Waterfall" (2017); and New Talent Award at the 24th Sheffield International Doc/Fest for her first long form documentary "Casa Antúnez" (2017).
In 2020, she released her short thriller "Tam."
Similar Articles to This Post