---
By Firouzeh Nabavi
---
A new artwork by the Iranian-born, Los Angeles-based contemporary artist Amir H. Fallah is set to be unveiled on the first day of the Frieze LA art fair on Feb. 17. The circular neon billboard will raise awareness of women's rights in Iran and of the popular uprising that has spread across the country in the last five months.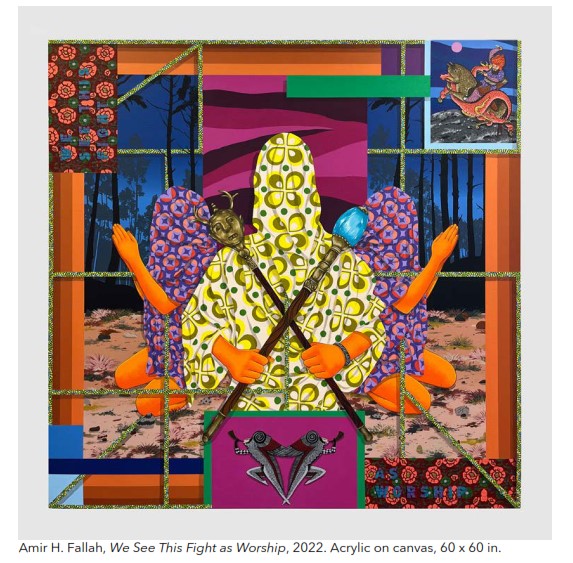 "Chant" — seven-and-a-half-feet in diameter, designed by Fallah – will be displayed on top of the Shulamit Nazarian Gallery in LA for its third solo exhibition of Fallah's work. The billboard will feature Khorshid Khanoom ('Sun Lady'): a female figure whose face appears on the surface of the sun, and who has historical resonance in Iranian culture.
"I wanted to bring this symbol of femininity and life and energy, and mix that with what's happening in Iran and the whole cause of this, this fight for equal rights," Fallah said in an interview with Forbes Magazine last month.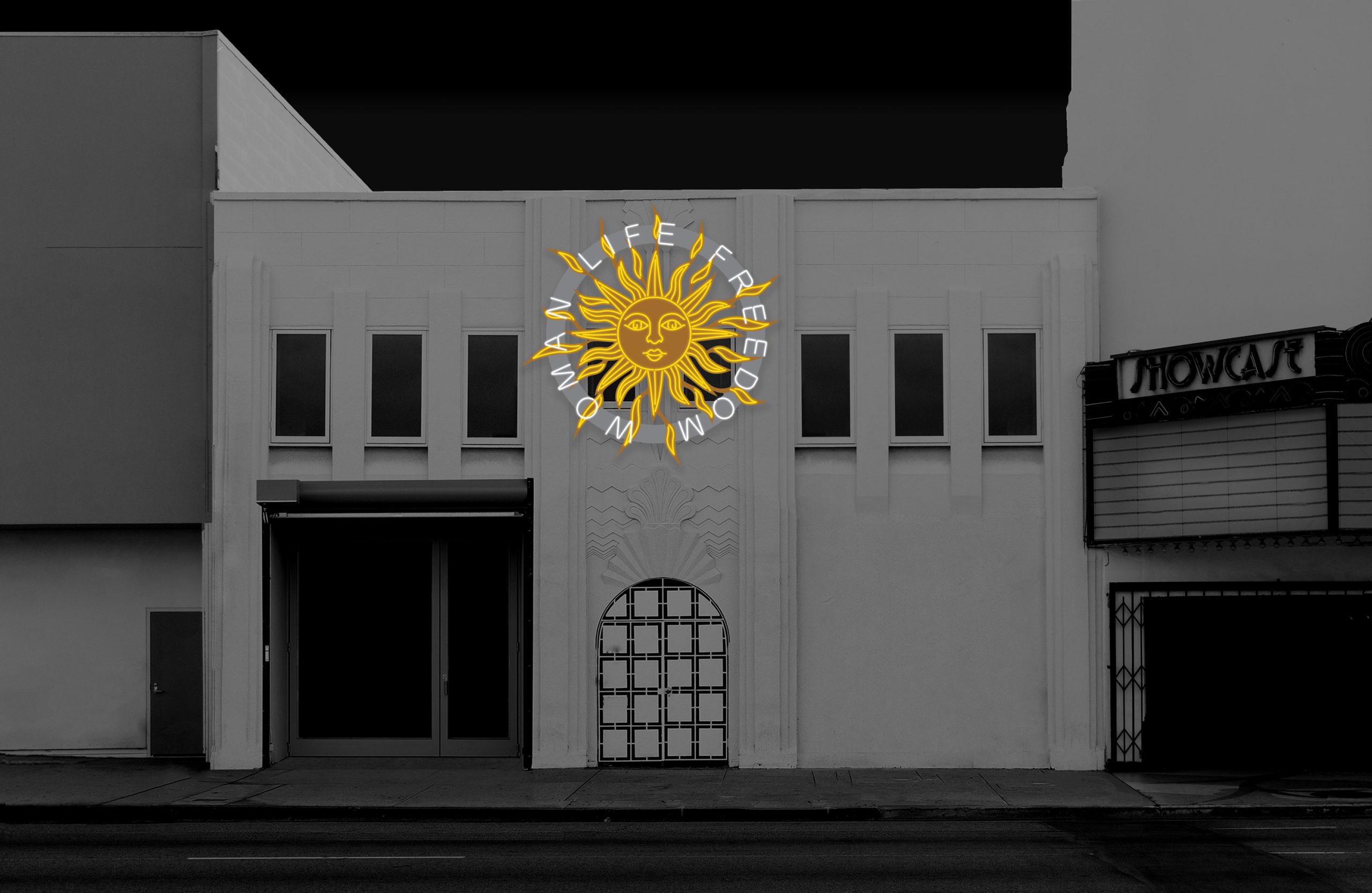 Surrounding the sun are three alternating texts which all read "Women, Life, Freedom." The texts are in English, phonetically spelled Persian, and Persian, and they flash back and forth between the three, in green, white and red — the colors of the Iranian flag.
"It's a nod to people like me who are in a cultural limbo of not necessarily being fully Iranian, and not being fully American, and embracing both parts of our identity," Fallah explained in the Forbes interview.
After its public display, "Chant" will be sold, and 100 percent of the proceeds will be donated to international human rights charities.
Fallah's exhibition at the  Shulamit Nazarian Gallery (titled "War on Wars") ends on March 25. It coincides with his first solo museum exhibition in LA, which runs through May 14 at the Fowler Museum at the University of California, Los Angeles (UCLA).
Titled "Amir H. Fallah: The Fallacy of Borders," the Fowler Museum exhibition presents art produced over more than a decade — more than 25 paintings, sculptures, stained glass and textile works in vivid colors dealing with the themes of cultural heritage and identity.
"A lot of my work deals with taking disparate symbols from various cultures and putting them together to tell a parable, a lesson, to describe a moment or talk about an anxiety or fear that I have," Fallah wrote in a piece published in the L.A. Times in October. "So although the painting isn't a portrait of me, per se, it encompasses how I see the world."
Fallah was born in 1979 (the year of the Islamic Revolution) and left Iran with his family at the age of four, moving to Turkey and later Italy before settling in the United States at the age of seven. He holds a Master of Fine Arts in painting from the UCLA School of Arts and Architecture.
Fallah founded, edited and published the art and design magazine Beautiful/Decay when he was just 16. It began as a small black-and-white, photocopied 'zine' in 1996, before being resurrected as a full color, internationally distributed  art and design magazine  between 2001 and 2009. It then took the form of a limited-edition ad-free art book series that continued through 2013.
Fallah's work has been presented in solo and group exhibitions across the United States and internationally and is part of the permanent collections of the Los Angeles County Museum of Art, Los Angeles; the de Young Museum, San Francisco; the Jorge M. Perez Collection, Miami;  Deste Foundation for Contemporary Art, Athens, Greece; and Xiao Museum of Contemporary Art, Rizhao, China.
"All of my art starts from a very personal place," Fallah wrote in the L.A. Times article. "In a lot of ways, the work is autobiographical, dealing with me coming to terms with being an immigrant in America, being a refugee in America and straddling two cultures, one very conservative, the other one very liberal. One very old, one very new. It  can be confusing – do I think of myself as just an American? Or am I Iranian American? What does it mean to distinguish between the two? I'm realizing that even when I make portraits of other people, what I'm really exploring is my own identity."
Similar Articles to This Post