---
By Firouzeh Nabavi
---
The Iranian-born artist Minoo Emami plans to destroy a number of her early paintings in a sacrificial burning on the campus of the University of Hartford on November 11th.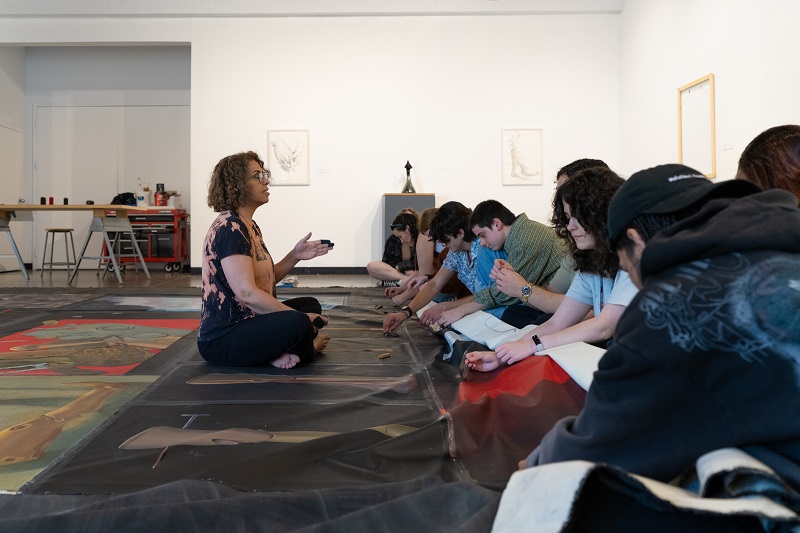 Motivated by the sacrifices  of those fighting for human rights and the fight of women in Iran, the artist has decided to burn her early "antiwar" works. She plans to destroy 22 of her paintings by fire, including early works dating from as early as 1998, in what Connecticut Public Radio described as "a daring, almost unthinkable piece of performance art."
"It's very unfortunate that people pay the price for multiple geopolitical games, and it doesn't matter which side, we all lose," the artist told the radio station in an Oct. 18 broadcast.
In a show of solidarity with those fighting for human rights in Iran, Emami, together with UHart's Silpe Gallery, has invited members of the public to help stitch together her early paintings and create a giant quilt that will go up in flames in the Harry Jack Gray Center quad at 2 p.m. on Veterans Day (November 11th.)
"I love my paintings, you know, don't take me wrong," Emami told the radio station. "But compared to veterans, veteran's families, and what they lose? It's nothing."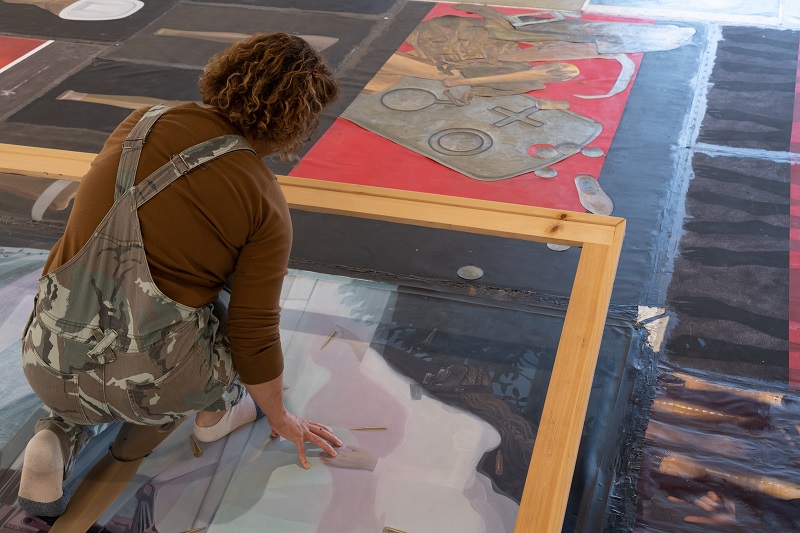 The sacrificial burning of her art work is, for Emami, a "ritual rooted in mourning."
"Because deep in my heart, I am mourning," she said. "I'm mourning for all the young Iranians who have been hurt during the past 45 years, and especially during the past year, and also for all families, everyone young and old who have been hurt with war and violence around the world in past years."
Carrie Cushman, the director and curator of the Joseloff Gallery at UHart, which is currently featuring an exhibition of Emami's works, said: "Emami will be sacrificing her artistic identity."
The exhibition "Minoo Emami: Under My Veil" is curated by Cushman and on display at the University of Hartford's Joseloff Gallery in Connecticut until Dec. 16. It features the artist's early paintings and drawings, prints, photography, prosthetic sculpture series, videos, and new unexhibited work related to the ongoing Iranian Women's Rights Movement.
"This retrospective exhibition highlights the artist's early career as a self-taught painter," said the University of Hartford, "alongside experiments in sculpture, photography, printmaking, video and installation art that come together to transform the trauma of war and oppression into objects of beauty and hope."
Emami was born in Iran in 1963 and grew up in Kermanshah in western Iran, near the Iraqi border during the Islamic revolution.  She later married a war veteran who had lost a leg in combat and began teaching herself painting and drawing, focusing much of her work on her husband's lost leg and the psychological trauma of coming of age in a war zone. Emami's work includes sculptures of prosthetics with varying materials, colors and patterns, each telling the story of someone injured in the conflict zone.
A multidisciplinary artist with an artistic practice that spans more than 25 years, Emami is a self-taught artist who began her formal art education well into her years as an artist, after moving to the United States. She obtained her Bachelor of Fine Arts degree in 2019 from the School of the Museum of Fine Arts (SMFA) at Tufts University and her Master of Fine Arts degree from the University of North Carolina- Chapel Hill in 2021.
Emami was the recipient of the SMFA Biot Award in painting in 2016 and the Hanse Sculpture Garden Grant by the University of North Carolina Chapel Hill in 2020.  Select solo exhibitions include "Selection II," (2013) Golestan Gallery, Tehran; "Conversation," (2014) Arts at 29 Garden, and "War Collection," (2015) Center for Middle Eastern Studies, both at Harvard University in Cambridge, MA; "Aura of War," (2016) Harbor Gallery, University of Massachusetts in Boston, MA; "Wounded Beauty,"(2019) Gallery Kayafas, Boston, MA; and "Andaruni," (2022) Allcott Gallery, University of North Carolina-Chapel Hill.
Similar Articles to This Post