---
By Ahmad Rafat
---
On Nov. 27, Mohsen Fakhrizadeh, dubbed the "father of Iran's nuclear program," was killed by unknown attackers who reportedly used a "remote control weapon" to fire on his car on Mostafa Khomeini Boulevard in Absard, 80 kilometers east of Tehran.
Mr. Fakhrizadeh was an academic physicist and a faculty member at the Imam Hossein University in Tehran, and the Founder of the Organization of Defense Innovation and Research. He was also a member of the Islamic Revolutionary Guards Corps (IRGC) with the rank of Brigadier General.
The assassination of Fakhrizadeh was the latest in a series of events throughout 2020 that signaled a weakening of the Islamic Republic's key institutions.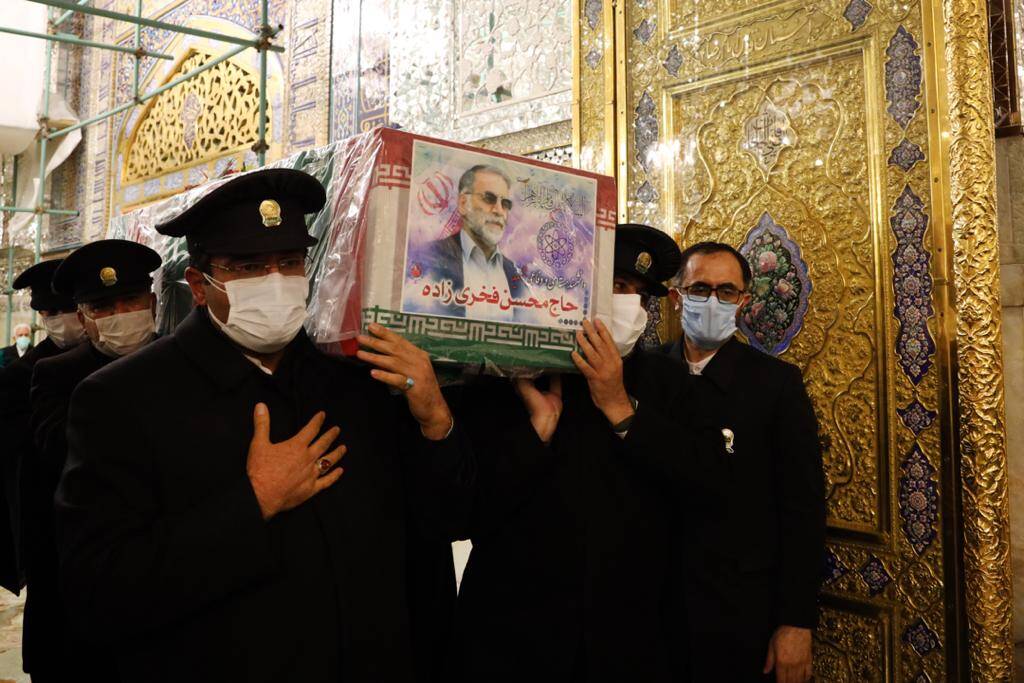 On Jan. 3, the former commander of the IRGC Qods Force (IRGC-QF), Lieutenant General Ghasem Soleimani — Iran's principal military strategist and tactician in the Middle East — was assassinated in a U.S. drone attack on Baghdad International Airport.
The attack also killed Abu Mahdi al-Muhandis, the commander of Kata'ib Hezbollah (Hezbollah Brigades), part of an Iraqi state-sponsored umbrella organization comprising some 40 militias that are mostly Shia Muslim groups.
It is unclear who provided the intelligence for these attacks.
Fakhrizadeh's death is significant for several reasons. The assassination eliminated the person in charge of Iran's nuclear and missile programs. It also showed that foreign powers had penetrated or even infiltrated Iran's security apparatus.
Fakhrizadeh was known to international agencies, including the UN nuclear watchdog, the International Atomic Energy Agency (IAEA), and the Israeli and U.S. authorities. He was even mentioned by name in UN resolution 1747, adopted on Mar. 24, 2007.
"Mohsen Fakhrizadeh is a senior MODAFL [Ministry of Defense and Armed Forces Logistics of Iran] scientist and former head of the Physics Research Center (PHRC). The IAEA has asked to interview him about the activities of the PHRC over the period he was the head, but Iran has refused," UN resolution 1747 said.
The Islamic Republic has faced severe challenges in 2020. Its power and influence in the region has diminished significantly after General Soleimani's death and nationwide protests in Lebanon against Iran's interference in that country's domestic affairs and its support for various Lebanese ethnic political groups under its control.
The assassinations as well as a series of explosions at Iran's nuclear sites have exposed Iran's security and intelligence weaknesses.
It is abundantly clear that the U.S. and Israeli intelligence agencies have been able to carry out sabotage and assassinations on Iranian soil and abroad with ease and success.
Meanwhile, U.S. economic sanctions and the COVID-19 pandemic have compounded Tehran's problems.
Under these conditions, the Islamic Republic is preparing for a possible fresh round of talks with the U.S.
US President-Elect Joe Biden has said that he is prepared to rejoin the Joint Comprehensive Plan of Action (JCPOA), better known as the Iran nuclear deal. However, Mr. Biden and his designated Secretary of State Antony Blinken have stressed that they will join Germany, Britain, and France in demanding that Iran curb its ballistic missile program and halt its regional activities before they revisit the JCPOA.
Meanwhile, it remains unclear who provided the crucial intelligence on Soleimani's secret travel itinerary from Damascus to Baghdad, which enabled the U.S. to carry out his assassination.
A series of unexplained fires and bombings at Iran's nuclear sites followed General Soleimani's death.
On Jun. 2, an explosion at Iran's largest Fuel Enrichment Plant (FEP) in Natanz, in the central province of Isfahan, destroyed most of the facilities' above-ground installations, which housed the new generation of advanced centrifuges.
Natanz is arguably the Islamic Republic's crowning achievement in its development of nuclear technology.
There have also been several other assassinations of Iranian nuclear scientists and foreign nationals on Iranian soil.
In August, the Mehr News Agency reported that unknown shooters had killed two Lebanese nationals on Tehran's streets. Citing a government report, Mehr identified the two as Habib Daoud, a history professor, and his 27-year-old daughter Maryam Daoud.
However, on Nov. 15, the New York Times reported — citing four former and current U.S. intelligence officials — that the "Israeli assassination squad known as the 'Tip of the Spear' killed the deputy leader of al-Qaeda in Iran earlier this year, at the behest of President Trump's administration."
"Abu Mohammed al-Masri was shot dead in his car in Tehran on Aug. 7, along with his daughter, who was Osama bin Laden's daughter-in-law," the paper added. "Iranian media reported at the time that the victims were a Lebanese history professor called Habib Daoud and his daughter. However, no trace of a professor by that name has been found."
Israeli Operatives Killed Al Qaeda's No. 2 Leader in Iran in August -New York Times
The Islamic Republic has consistently said that its ballistic missile program and regional activities are not open for discussions. Yet Tehran may be forced to return to the negotiation table, given the country's crippled economy, the Islamic Republic's diminished regional influence, and the assassination of the head of its missile program.
The question is, what could Tehran bring to the negotiation table, realistically? Iran must make substantive and substantial concessions before sanctions are lifted and $80 billion of its frozen assets in foreign banks are released.
As the death of Soleimani triggered a significant change in the regional dynamic, the assassination of Fakhrizadeh could give Tehran a path to scale down its missile program. Iran's Supreme Leader Ayatollah Ali Khamenei may have to enact once again his so-called "heroic flexibility," which he used as a face-saving measure to justify signing up to the JCPOA in 2015.
Other observers argue that Fakhrizadeh's assassination will make future talks between Tehran and Washington very difficult.
It is doubtful that a complex operation, like the assassination of Fakhrizadeh, could have been planned and executed within a few short weeks. So it is hard to argue that the operation was planned after the U.S. presidential election that handed Biden a victory. It is more likely that the killing of Soleimani and Fakhrizadeh was part of a longer-term and broader plan to force Iran back to the negotiation table.
It should surprise no one if the Islamic Republic suddenly shows flexibility in discussing its regional activities and ballistic missile program — which have been sacrosanct so far — to ensure its survival, given the country's ailing economy and the devastating effects of the pandemic.
This article was translated and adapted from Persian by Fardine Hamidi.
---