---
By Ahmad Rafat
---
The so-called "Axis of Resistance" — a political alliance between the Islamic Republic of Iran, the government of Syrian President Bashar Al-Assad and the Lebanese Hezbollah — has suffered several humiliating defeats in recent months.
The Islamic Republic is increasingly finding itself isolated and losing influence in countries such as Lebanon, Iraq,  and Syria, where it has so far played an instrumental role. The Axis of Resistance — one of Tehran's rare bargaining chips in its dealings with the U.S. and the West — has all but disintegrated, making it increasingly difficult for the Islamic Republic to maintain its power and influence in the region.
As far as Lebanon is concerned, the country can no longer support the regional military campaigns of Iran-backed Hezbollah. Lebanon is in the grips of a social, political, and economic crisis that has been severely exacerbated by the deadly explosion of an ammonium nitrate depot in the port of Beirut. Even before the explosion, hyperinflation, a shortage of goods, and the high cost of living had brought the country to the brink of complete collapse.
Beirut Reels From Huge Blast as Death Toll Climbs to at Least 135
In recent months, the Iranian-backed Hezbollah itself has lost backing following massive protests against it in Iraq and Lebanon. This has led Hassan Nasrallah, the Secretary-General of the group, to dial down his usual call to arms against Israel.
"The atmosphere does not point to a war [with Israel]," Mr. Nasrallah's deputy, Sheikh Naim Qassem, said in an interview with the Beirut-based pan-Arab Al Mayadeen TV on July 16. "War is unlikely in the next few months. Should Israel go to war with us, then we will confront them."
Hezbollah has also failed to retaliate against Israel even after the Israeli air force pounded the group's military bases in Syria. Expecting a (limited) response from Hezbollah, Israeli Prime Minister Benjamin Netanyahu and Defense Minister Benny Gantz (who is also the Alternate Prime Minister of Israel) had ordered the Israeli military to fortify the border with Lebanon.
To save face, Qassem disavowed the Shia militias who had carried out the failed attack against Israel, saying that they were not Hezbollah fighters, and promised that the group "will exact revenge at the right time."
To make matters worse, the coalition government of Lebanese Prime Minister Hassan Diab plans to buy oil supplies from several Arab countries, and not from Iran.
According to Reuters, Lebanese Minister of Energy and Water Raymond Ghajar said on July 9 that Lebanon had no plans to negotiate with Iran for fuel imports, and the current discussions were with Iraq.
In an interview with the Kuwaiti newspaper Al-Rai on July 14, the head of Lebanon's General Security Directorate Major General Abbas Ibrahim said: "We want to purchase 100 percent of our needs from Kuwait without going through agents or companies looking to make a profit." Mr. Ibrahim told Al-Rai that he had discussed energy imports with the Kuwaiti ruler.
Lebanon's refusal to buy much-needed oil, even at a huge discount, from Iran, a country that has long exercised influence on its government, shows the declining power and authority of the Islamic Republic in Lebanon and in the wider region.
The international community has also been pressuring Hezbollah to sever its ties with Tehran. In a statement, some 200 members of the European Union Parliament and the U.S. Congress and Senate called on the EU to designate Hezbollah's political and military wings as terrorist entities.
"Signed by 236 lawmakers from both sides of the Atlantic, the declaration said the EU's ban on Hezbollah's so-called military wing following a 2012 suicide bombing in Bulgaria that killed six people was not enough, and the distinction between the political and military arms is 'false,'" the U.S.-based Politico news website reported on July 7. "The statement denounced the group as 'the Iranian regime's most deadly proxy,' saying its 'violent and anti-Semitic ideology is poisoning the fabric of our pluralistic societies.'"
Already in April, German authorities designated Hezbollah a terrorist organization and banned its activities in that country.
Meanwhile, Iran is also losing its power and influence in Iraq.
On a visit to Tehran in late July, Iraqi Prime Minister Mustafa Al-Kadhimi's held one-to-one meetings with Iran's Supreme Leader Ayatollah Ali Khamenei, President Hassan Rouhani, the Speaker of the Majlis (Iranian Parliament) Mohammad Bagher Ghalibaf and the Secretary of the Supreme National Security Council Rear Admiral Upper Half Ali Shamkhani.
In his discussions, Prime Minister Al-Kadhimi drew several red lines in the relationship between Baghdad and Tehran, including his wish for U.S. forces to remain in Iraq — despite Mr. Khamenei's insistence that they leave the country and the region.
Mr. Al-Kadhimi reportedly refused to meet with the commander of the Islamic Revolutionary Guards Corps' Qods Force (IRGC-QF), Brigadier General Esmaeil Ghaani. Ghaani replaces General Ghasem Soleimani, who was killed during a U.S. drone attack on Baghdad International Airport on Jan. 8. Al-Kadhimi also informed Tehran that, from now on, General Ghaani and all other IRGC commanders must apply for visas before traveling to Iraq.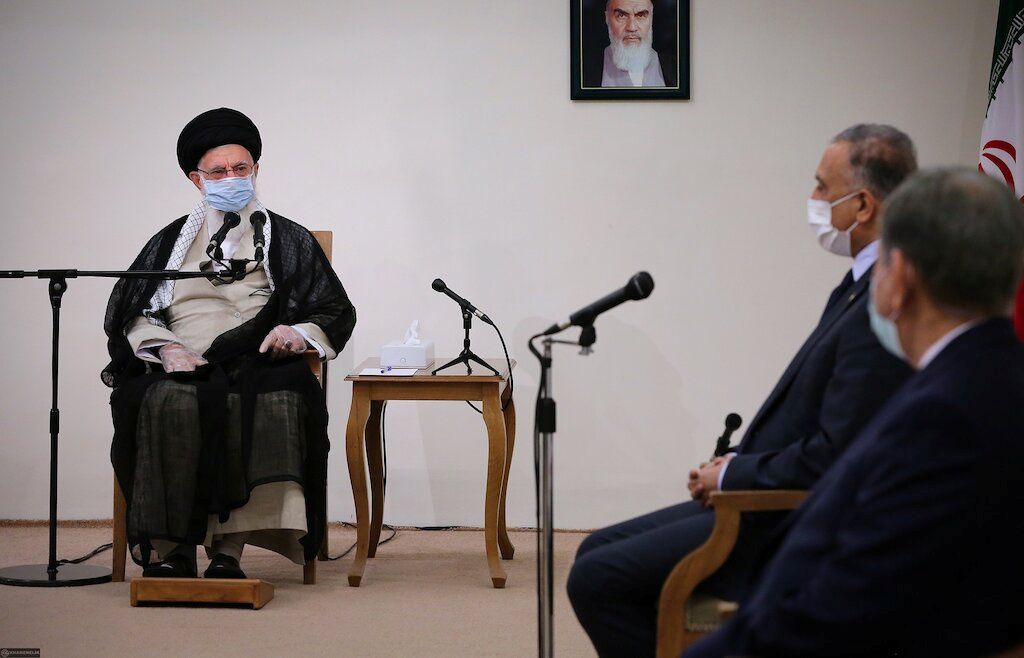 The so-called Axis of Resistance also includes the Popular Mobilization Forces (PMF),  an Iraqi state-sponsored umbrella organization of some 40 militias that are mostly Shia Muslim groups but also include Sunni Muslim, Christian, and Yazidi groups.
Before his trip to Tehran, Al-Kadhimi reportedly visited the Mandali border crossing in the eastern Diyala Governorate, which was closed for three months because of the coronavirus pandemic. Until recently, the IRGC-QF and the PMF had controlled both sides of the Mandali border crossing. Al-Kadhimi's government has reportedly regained control of the crossing. Officials from the Iraqi borders and customs office accompanied Al-Kadhimi on his visit to Tehran.
Al-Kadhimi was also quick to describe members of the PMF — who, according to eyewitness accounts, had shot dead three protesters in Baghdad last week — as murderers, and ordered an investigation into the killings.
Efforts to curb Iranian influence and the activities of the PMF have had consequences for the Iraqi government, however. Shia militia groups Asa'ib Ahl al-Haq (League of the Righteous, also known as Khazali Network) and Kata'ib Hezbollah — both members of the PMF — fired rockets at Camp Taji Air Force near Baghdad in July, destroying one military helicopter and damaging several others.
In retaliation, unknown forces bombed Camp Speicher, the PMF's stronghold approximately 170 kilometers north of Baghdad, destroying several tanks and armored vehicles given to the Shia militias by the IRGC last year.
Another air strike on the same day destroyed PMF's weapons depot at Al-Saqr base in southern Iraq.
Although the Global Coalition to Defeat ISIS has denied taking part in the attacks on the two PMF military bases, unconfirmed reports have suggested that, on direct orders from Prime Minister Al-Kadhimi, the Iraqi Air Force had used CH-4 military drones to bomb both sites.
Others believe that Israeli F-35 fighter jets bombed the weapons depot at Al-Saqr base. If the reports prove accurate, then the attack signals a new phase in the proxy war between Israel and Iran.
The Israeli Air Force destroyed several IRGC convoys last year which were carrying guided missiles and military equipment to Syria via Lebanon.
It is unlikely that the Islamic Republic and Israel will engage in direct military conflict. Israeli military analysts believe that the White House opposes direct military confrontation with the Islamic Republic, because U.S. President Donald Trump worries that war can hurt his chances in the November presidential elections.
Iran cannot afford to engage in direct military conflict with Israel or any other country, given the economic crisis and coronavirus pandemic which have crippled the country. Tehran also knows that its power and influence in the region has diminished significantly.
Although senior IRGC commanders like to boast about the combat capabilities of the troops under their command, most experts believe that the Iranian armed forces cannot match the firepower of the U.S. and Israeli militaries. If Iranian military forces were as powerful as the IRGC high command says they are, they would not have let some 300 attacks by the Israeli Air Force on IRGC bases in Syria go unanswered.
Iran's ability to carry out terrorist operations through its proxies has also visibly diminished. A Palestinian source told Kayhan Life that Hamas has refused to carry out any terrorist acts in Israel on behalf of Tehran. Although Hamas relies on Tehran's financial support, it is now much closer to President Recep Tayyip Erdogan of Turkey, which has diplomatic relations with Israel. Hamas does not wish to get involved in any new political crisis.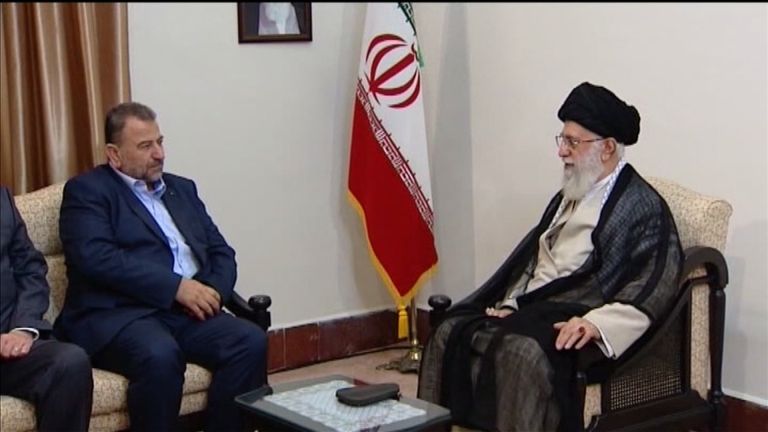 Meanwhile, Iran and Russia continue to drift apart over Syria. Moscow sees Tehran as a significant obstacle to its plan to end the Syrian Civil War, replace Assad and launch its $400 billion program to rebuild the country.
Clashes near the Israeli border between Iranian-backed Hezbollah militias and Syrian paramilitary groups operating under direct orders from Moscow have strained relations between the two capitals.
The rift between the two countries has worsened after Moscow supported mass protests in late July against Iran and Assad's government in the southern Syrian city of Busra al-Sham. Many members of the Syrian army had joined the protesters.
This article was translated and adapted from Persian by Fardine Hamidi.