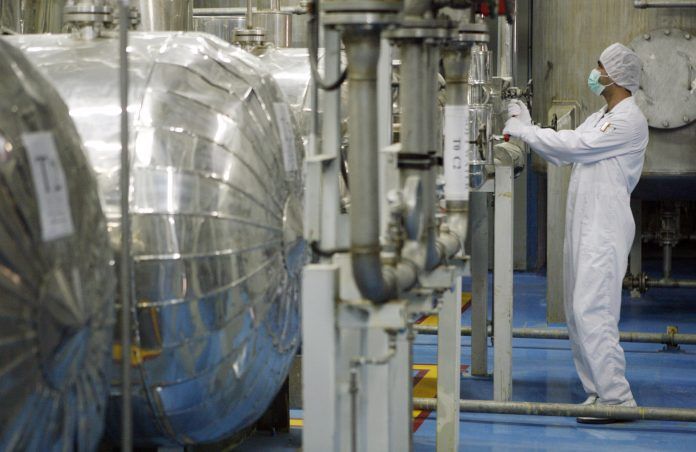 ---
By Ahmad Rafat
---
In June 2015, the Islamic Republic and the five permanent members of the UN Security Council, namely Britain, France, Russia, China and the U.S. plus Germany (P5+1), signed the Joint Comprehensive Plan of Action (JCPOA), better known as the Iran nuclear deal, which aimed to slow Iran's ability to develop nuclear weapons by at least one year.
The Islamic Republic has steadily scaled back its commitments to the agreement since the U.S. withdrew from it unilaterally in May 2018. According to some reports, Tehran is only three months away from developing long-range nuclear weapons.
On Nov. 9, the UN nuclear watchdog, the International Atomic Energy Agency (IAEA), released a report that said Iran's stockpile of low-enriched uranium had reached 2,442.9 kilograms (5,385.6 pounds), or nearly 12 times the amount permitted under the JCPOA.
"The Agency verified that Iran had installed the cascade of IR-2m centrifuges," the IAEA report said. "The Agency also verified that Iran had installed the cascade of IR-4 centrifuges but had not begun installing the cascade of IR-6 centrifuges."



A few days later, the Institute for Science and International Security, a U.S.-based non-governmental organization, released a report titled "Analysis of IAEA Iran Verification and Monitoring Report" that said: "Iran's estimated breakout time as of early November 2020 is as short as 3.5 months."
"Iran now has sufficient low enriched uranium to produce enough weapons-grade uranium for a second nuclear weapon, where the second one could be produced more quickly than the first," the report added. "Iran would require as little as 5.5 to 6 months to produce enough weapons-grade uranium for two nuclear weapons."
In an interview published on the Austrian newspaper Die Presse website on Oct. 10, IAEA Director-General Rafael Mariano Grossi said: "Iranians continue to enrich uranium, and to a much higher degree than they have committed themselves to, and this amount is growing by the month."
Asked about how long it will take Iran to build a nuclear weapon, Mr. Grossi said: "In the IAEA, we do not talk about breakout time. We look at the significant quantity, the minimum amount of enriched uranium or plutonium needed to make an atomic bomb. Iran does not have this significant quantity at the moment."
Under the JCPOA, Iran is limited to producing 300 kilograms of up to 3.67 percent in enriched uranium — a particular compound form (UF6), equivalent to 202.8 kilograms of uranium. Iran also reportedly has some 120 tons of heavy water.
In September, the Atomic Energy Organization of Iran (AEOI) spokesperson, Behrouz Kamalvandi, told reporters that the Islamic Republic was already completing the production of advanced centrifuges.
"The IR-6, IR-8, and IR-9 centrifuges are being well tested, and we are currently completing our research," Mr. Kamalvandi was quoted by the Iranian Students News Agency (ISNA) as saying. "These centrifuges are becoming more efficient day by day, and if decided, it will be possible to produce these machines on an industrial scale."
In comments reported by the Islamic Republic News Agency (IRNA) in November 2019, Ali Akbar Salehi, the head of the AEOI, said: "Iran was operating the IR-6 centrifuges, which allow the processing of uranium much faster than the IR-1 centrifuges Iran was allowed to use under the nuclear deal."
"It takes longer to enrich uranium from zero percent to 20 percent than to 90 percent, which is the level needed for building an atomic bomb," an Israeli nuclear expert told Kayhan Life recently. "The Islamic Republic can produce 25 kilograms of 90 percent enriched uranium in four weeks, using some 480 IR-6 centrifuges at Natanz Enrichment Facilities and 1,044 IR-1 centrifuges at Fordow Fuel Enrichment Plant (FEP), which is enough to make an atomic bomb."
"The 90 percent enriched uranium is not enough to make a bomb by itself," the expert explained. "It needs a delivery system comprising a missile and a warhead. According to our information, the Islamic Republic is working on this project and is only three to four months away from completing this phase."
The JCPOA is not the only agreement that bans Iran from developing nuclear weapons.
Iran signed the Treaty on the Non-Proliferation of Nuclear Weapons (NPT) in 1968 and ratified it in 1970. Although the Islamic Republic has threatened to leave the Treaty frequently in the past four decades, it has not done so. Some 188 countries have signed the NPT so far.



Under the NPT, countries which do not have atomic bombs agree to never acquire nuclear weapons and, in exchange, states with nuclear capabilities promise to "share the benefits of peaceful nuclear technology and to pursue nuclear disarmament aimed at the ultimate elimination of their nuclear arsenals."
This article was translated and adapted from Persian by Fardine Hamidi.
---