---
By Ahmad Rafat
---
The British-Iranian actress Nazanin Boniadi has just been appointed as an ambassador for Amnesty International UK. She has also been cast as one of the main characters in the new TV series "Lord of the Rings," produced by Amazon.
Boniadi served as an Amnesty International spokesperson between 2009 and 2015, and since 2015, has served on the board of the Center for Human Rights.
Boniadi was also the first Iranian-born actress to be under contract on a major American soap opera. One of her first jobs in the industry was playing Leyla Mir in 132 episodes of "General Hospital." She has since gone on to achieve critical acclaim in series like "Counterpart," "Homeland," and "How I Met Your Mother," and in her starring role in the film "Hotel Mumbai" for which she was nominated for the 2019 Australian Academy Cinema Television Arts (AACTA) Best Lead Actress award.
Born in Tehran during the Islamic Revolution, Boniadi moved to London when she was less than a month old. She then relocated to the U.S. and got a degree in biological sciences at the University of California.
In 2006, she switched from science to acting.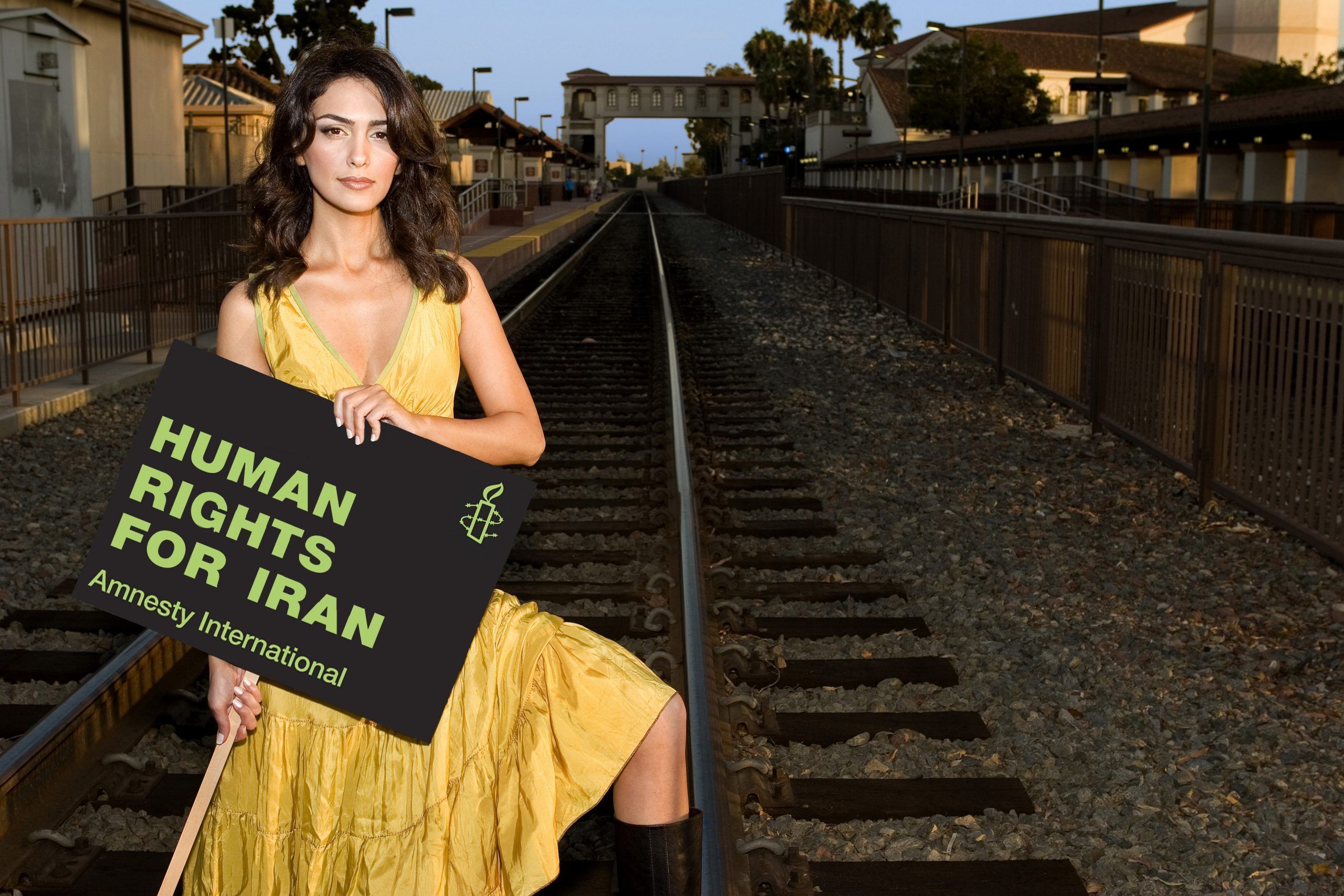 Kayhan Life caught up with her before she flew to New Zealand to start filming "Lord of the Rings."
Recently Amnesty UK has appointed you as its Ambassador. Why are you so interested in human rights? Is it because you're originally from Iran, a country where human rights and especially women's rights are regularly breached?
Yes. I've worked alongside Amnesty International since 2008 and witnessed their life-saving human rights work first hand. So it is a real honor to be able to work with Amnesty UK in my new role as an ambassador.
My passion for human rights started at a young age. I was born in Tehran in the [immediate] aftermath of the Iranian Revolution. My parents opposed the new theocratic system, and my father's life was in danger, so they moved to London when I was 20 days old and were granted political asylum in the UK. My life started amid political upheaval.
My parents didn't want me to be raised in a social, legal and political climate that was growing increasingly oppressive towards women and girls. [At the same time,] my dad would read me Hafez at bedtime. My mother sent me to Persian classes every weekend for several years. I stayed very connected to my Iranian roots while growing up in London. My parents tell me that when I was 5 years old, I would watch images of the Iran-Iraq war on the news and cry. They couldn't understand why I felt that level of empathy for a country and people I had not been in contact with for most of my life.
I can't explain it myself. I just know that I feel compelled to fight against injustice and suffering wherever I see it, and particularly for the Iranian people who have suffered for decades while the world has turned away.
What would be your role as Amnesty International ambassador?
I will be working with 9 other wonderful Amnesty UK Ambassadors, including Olivia Colman, Juliet Stevenson, Vick Hope, Anita Asante, Deborah Frances-White, Anish Kapoor, Chris Riddell, Sita Brahmachari, and the Kaiser Chiefs. We will use our platforms to educate, amplify and hopefully inspire human rights advocacy.
Not all actors of Iranian descent raise their voice against the Iranian regime. Why do you do it?
I cannot speak for other people. I personally get hundreds of messages from people in Iran every day asking me to keep up with my advocacy on their behalf. I feel like it is a personal responsibility now. It is impossible to ignore their messages. My heart breaks for them.
I think it is just something I was meant to do with my life. I have Sa'adi's poem Bani Adam on my bedroom wall and I read it every day to remind myself that we are all one. And as long as they are suffering in Iran, I cannot stay silent. That is why I decided to visit Iranian and other asylum seekers in Northern France last year and make my short documentary "Stateless". I encourage everyone to watch it.
You went back to Iran in your teens. What was it like? Any memories?
I visited Iran for two months with my mother when I was 13. We went to Tehran, Mashhad and Northern Iran. It was bittersweet. The beauty of the country and my compatriots is undeniable. But having lived my life freely in the UK, it was difficult for me to understand why Iranian law forced me to cover my head with a veil. And the lack of social freedoms was palpable.
On one occasion, I was walking down a street in Tehran with my uncle. My mother was a few steps behind us. A member of the Basij stopped us and asked me and my uncle to produce proof of marriage. My mother explained: "That's my daughter, and this is her uncle." The man continued to harass us for a while. I was a child. It was traumatizing.  I just couldn't understand what was happening or why — until I learned that the legal age of marriage for girls in Iran is 13.
Before the Revolution, it had been raised to 18 for women and 20 for men. But it was significantly reduced under the Islamic Republic. Seeing these injustices made me want to commit myself to championing the rights of the Iranian people, particularly women.
But I also have vivid memories of festive family gatherings, the majestic views of Mount Damavand and the roadside kabab stops on our way to Mazandaran. I really hope to be able to return someday.
What do you think of Iranian cinema? Many Iranian directors have moved abroad, such as Amir Naderi, the Makhmalbaf family, Babak Payami or Bahman Ghobadi. Others, such as Jafar Panahi or Mohammad Rasoulov, are still in Iran and are working under enormous constraints.
I am a great fan of Iranian cinema. Despite the heavy state censorship, filmmakers and actors have not sacrificed the quality of their storytelling. This takes incredible skill. I am in awe of them. I would be honored to work with them. I hope for a day when Jafar Panahi, Mohammad Rasoulov and all filmmakers can work freely and without the restrictions placed upon them by the Islamic Republic.
---