---
By Nazanine Nouri
---
Googoosh, one of the most influential Iranian pop artists of all time and a national treasure to generations of Iranians, is celebrating the 21st anniversary of her return to the world stage with a new album and a Twenty-One World Tour.
Her new album is a collaboration with Thomas Lauderdale — the founder and artistic director of Pink Martini.
In 2000, after being silenced for 21 years following the 1979 Islamic Revolution, the "Voice of Iran," as she is often called, made a comeback tour that took her from Canada to the U.S., Germany, the U.K., Sweden, France, Austria, and the UAE.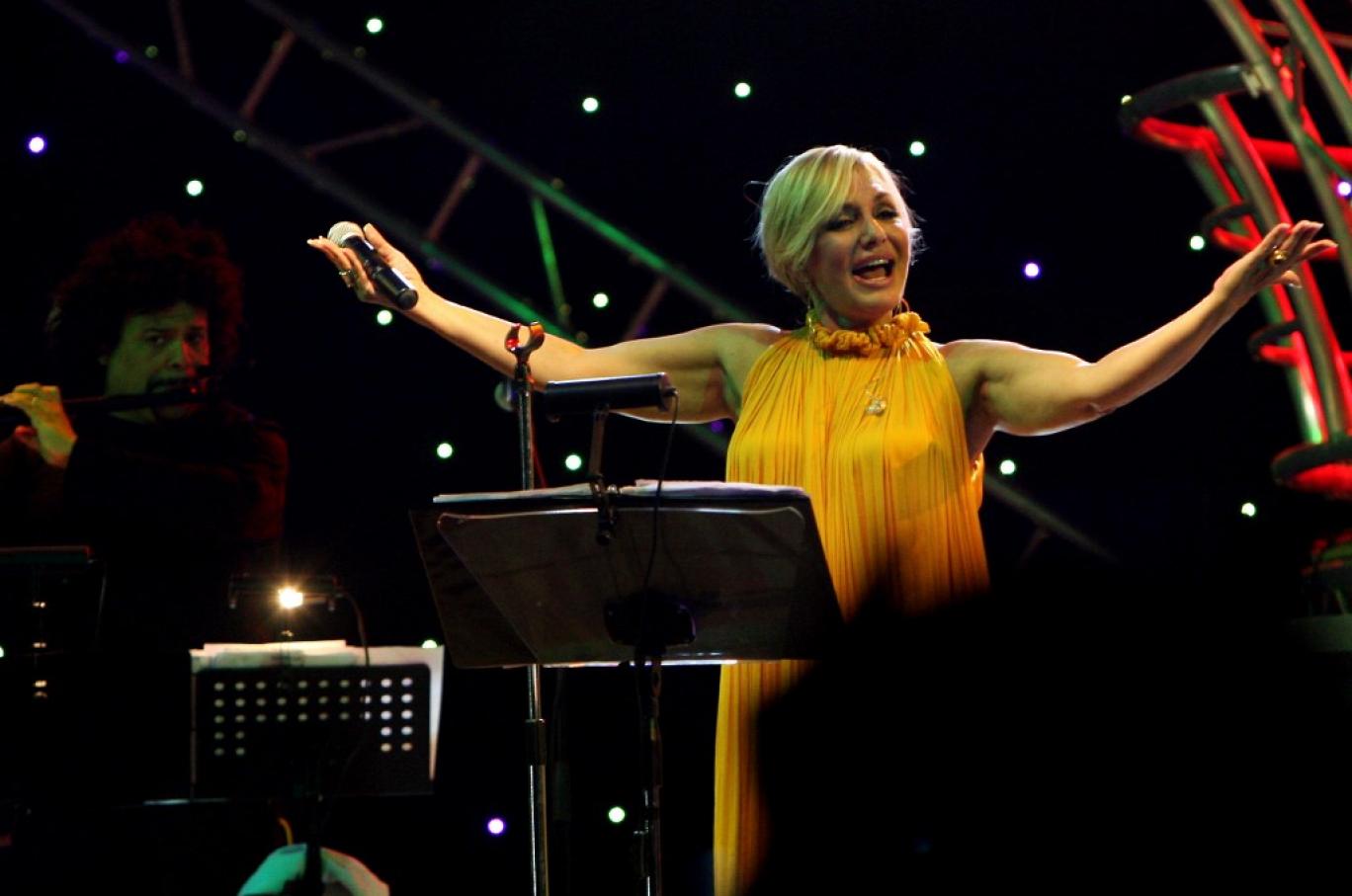 In an interview with NPR last week, Googoosh reminisced about that auspicious day 21 years ago when she returned to the stage.
"I was speechless," she recalled. "And I had fear. I didn't know if I can take care of these people, you know? But it happened."
She expressed concern that the younger generation of Iranians, whose parents were forced to live outside of Iran, were forgetting their language.  That's why she was determined to continue to sing in Farsi: so her songs could help those younger generations stay connected with their language and culture.
"I love my country," she said. "Children are growing up as non-Iranian, but I'm trying to remind them" of their heritage, she added.
Pink Martini's Lauderdale told NPR: "In the world, there are these singers – people like Fairuz, Edith Piaf, Chavela Vargas, Billie Holiday or Nina Simone – who represent and are the voice of the people. They transcend politics. They transcend religion. They transcend all of these constructs. For the people of Iran, wherever they live, the voice of Googoosh is everything."
View this post on Instagram
Googoosh was born Faegheh Atashin in Tehran on May 5, 1950. Her father Saber Atashin was an Iranian Azeri and her mother Nasrin, an émigré from Soviet Azerbaijan.   She was named Faegheh, after a clerk at the civil registry did not accept the name given to her by her father, Googoosh, an Armenian name for a boy.
Her parents divorced when she was two, and her father was awarded full custody of the infant. Saber, who was an actor and acrobat, took Googoosh on the road, performing in towns and cities around the country, and using her as part of one of his own acrobatic acts.  Soon recognizing her natural gift for singing and impersonating well-known singers such as Delkash and Pouran, he put her on stage.
Her talent quickly eclipsed his own, as she drew enthusiastic crowds wherever they went.  Googoosh became a paid performer from the age of four, and the family breadwinner.
She sang regularly in public, putting her own stamp on the songs of such established singers as Ghazal, Delkash, Elaheh and others. People from all over the country came to the "Shokoufeh No" cabaret in Tehran to see the child prodigy.
By the age of seven, she began her acting career in Bim va Omid ("Hope and Fear,"1960) and Fereshteh Farari ("The Runaway Angel," 1961), both written and directed by George [Gorgi] Obadiah. Being a professional performer from such an early age meant that she was unable to pursue an education, and left school after completing primary school.
Googoosh never got a chance to live with her mother, who remarried and was unable to see her until she was 13.  Even then, they met secretly.  She had a brother who was a year younger, and who would die at the age of 24, struck by heart rheumatism.
Her father also remarried. Little Googoosh grew up with an abusive stepmother who put her in charge of raising one of her half-brothers – even as she was earning money for the family. Those were excruciatingly difficult years for the young girl, and she married at the age of 17 to break away from her painful home life.
By the 1960s, Googoosh was recording with Iran's finest composers, releasing Ghesseyeh Vafa in 1966, the first of many compositions written for her by Parviz Maghsadi with lyrics by Iraj Janatie Ataie.  This would mark the beginning of a phenomenally successful career.
Her trendsetting hairstyles and fashion choices would soon be closely followed by a generation of Iranian women, who wore miniskirts when she did, and got a boyish "Googooshi" haircut like she did in 1975.
Googoosh would dominate Iranian popular music until the Islamic Revolution of 1979, combining elements of Iran's traditionally melodramatic singing style with musical techniques drawn from soul, funk, rock and other forms of popular Western music.
In parallel, the pop icon pursued a movie career until just before the Iranian Revolution, starring in a total of 25 films. They included Partgahe Makhouf ("Cliff of Fear," 1963), Sheitune Bala ("The Naughty One," 1965), and Bita (1972) for which she received a Sepas Award in 1973.
Googoosh would also be the female lead in Mah-e Asal ("Honeymoon," 1976), Hamsafar ("Fellow Traveler," 1975) and Mamal Amricayi (1975) with her second husband, Behrouz Vossoughi, the most popular male actor of his time.
Her movie Dar Emtedadeh Shab ("Along the Night," 1978) written and directed by Parviz Sayyad with Saeed Kangarani in the lead male role – was released months before the Iranian Revolution. It  would be one of the most successful Iranian motion pictures of all time.
Googoosh was married four times. In 1967, she was wedded to the music promoter and owner of Tehran's 'Miami' Nightclub, Mahmoud Ghorbani, with whom she had a son, Kambiz. They would divorce six years later, in 1972.  Googoosh would move on to another short-lived marriage with Iranian superstar actor Behrouz Vossoughi in 1975.
She married her third husband, Homayoun Mestaghi, just before the Revolution; the couple separated 12 years later.   Her fourth husband Masoud Kimiai, whom she married in 1991, was a renowned movie director and part of the new wave of Iranian cinema. They divorced in 2003 after Googoosh left Iran.
Googoosh was in the US in 1979 when the Iranian Revolution broke out. "After a few months, I had to go back to my country because I couldn't stay here," she told NPR. "I didn't have anything, and I couldn't work."
After her return, she was summoned for questioning four times by the Revolutionary Court and imprisoned for a month at the outbreak of the Iran-Iraq war in 1980. She was banned from the stage, and distanced herself from music and from all public activities, leading a reclusive life for the next 21 years.  Yet, her music was never forgotten, and a black market in illicitly-produced Googoosh recordings flourished in Iran.
"They tried hard to erase me," she told NPR. "I mean, erase my name, erase my position, erase my songs, erase my face, erase the memory of me. But they couldn't."
Then, in 2000, during the presidency of Mohammad Khatami, Googoosh was granted permission to leave the country to accompany her husband, Masoud Kimiai, to Canada on a film project. After a comeback tour that took her from Canada to the U.S., Germany, the U.K., Sweden, France, Austria, and the UAE, the artist was ordered by the authorities not to return to Iran and has been living in exile since.
In 2009, following Mahmoud Ahmadinejad's disputed victory in Iran's presidential elections, Googoosh rallied outside the United Nations in New York for the release of political prisoners held by the Islamic Republic. In 2014, she made headlines again by speaking out against homophobia in Iran and backing the LGBT community. The video of her song Behesht ("Heaven"), written and directed by Navid Akhavan, portrays a young woman as seen through the eyes of her female lover, a relationship that's frowned upon by her father and by society.
The diva's comeback tour would be the first of many world tours taking her to North America, Europe, the UAE, Australia, Malaysia, Turkey, Iraqi Kurdistan, North Cyprus, Georgia and Armenia. She performed in such prestigious venues as New York's Madison Square Garden (2006) and London's Royal Albert Hall (2013).
Googoosh was also in the spotlight for her talent show, Googoosh Music Academy, which aired for three seasons starting in 2010 on the London-based satellite channel Manoto1.  Secretly watched by millions in Iran, it became an instant hit, and a hot topic of conversation.
In 2014, the superstar was voted Best Iranian Female Artist at the World Music Awards.
---