Have Anthony Bourdain and Guy Fieri met their Iranian matches? A popular new web page on Facebook called "L.A. Foodies Social Club" is showcasing Persian...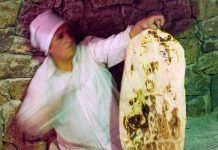 Lavash – the flatbread cherished and consumed by Iranians across the ages – is now on one of UNESCO's key cultural heritage lists.
By Paola Totaro
She calls him 'Mr. Shopkeeper.' He smiles at his wife with a quiet pride. Together, they run the Persian emporium Persepolis, now one of Southeast London's most intriguing shops – and an Iranian vegetarian haven.